WCOOP – Event #15, $320 7/S: 'Ubsolute' Tops Stud Field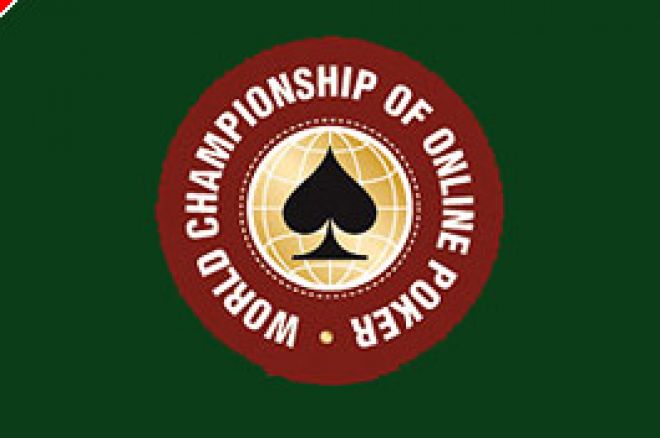 The PokerStars World Championship of Online Poker (WCOOP) continued its run on Monday with Event #15, $320 7-Card Stud. This event exceeded the number of entrants from last year's counterpart, and even though it had a guaranteed prize pool of $100,000, it managed to generate double that amount with $208,000 being distributed to the top 88 players, and first place securing a nice payout of $48,963.60.
The event saw several noteable players, including Humberto 'Humberto B' Brenes, 'THAY3R,' Katja Thater, and 'Nikstar,' winner of last year's event. ' wNwNw1,' who final-tabled in Event #5, finished in 12th place, missing a second final table by only four spots.
Despite there being 696 participants in the event, play continued at a brisk pace and things wrapped up quicker than any event so far this year. It took only ten hours to reach the final table, where all eight players were relatively equal in chips. The final table was reached when 'Randers', facing a completion by 'Ubsolute', raised with the blinds at 10,000/20,000 and was reraised by 'Lystig.' Ubsolute folded while Randers called. Randers had the
showing, while Lystig had the
. Fourth street brought the
for Randers and the
for Lystig. Lystig bet out while Randers called and found himself all-in after calling a bet on fifth street when he paired his seven with the
and Lystig caught the
. Lystig showed
for two pair while Randers finished with
for a weaker two pair and was eliminated.
The final table was made up of 'bull_99,' 'Dersu Uzala,' 'Grape,' 'spielraum.at,' 'sascos,' 'scrubbyz,' Lystig, and Uboslute. spielraum.at won this year's Event #5, while Lystig took fourth place in Event #8. This is the first time a player has reached two final tables this year in the WCOOP.
scrubbyz, the shortest stack, was the first player eliminated from the final table. scrubbyz started the final table with 200,000 in chips and after just a few hands saw it dwindle down to 100,000. After reaching 69,000 and being the bring-in, scrubbyz raised into Grape's bring-in and the two continued heads up. Grape appeared to be behind in the hand and checkcalled to sixth street until his board paired sixes. Grape led out and scrubbyz raised, going all-in. Grape called and held
against scrubbyz's
. scrubbyz couldn't improve with the
on seventh and was eliminated in eighth place.
bull_99 picked up a huge pot against Ubsolute for 262,000 and was among the average stacks at the table. Ubsolute was down to just 78,000, but quickly doubled up and continued to climb when he later butted heads again bull_99 and picked up a 346,000-chip pot, short-stacking bull_99 down to just 17,000. bull_99 put his remaining chips in against Dersu Uzala, who ended up with just a pair of jacks, which were good enough to beat bull_99's ace high.
After that elimination, the remaining players all had roughly 300,000 in chips and a deal was discussed. The deal would give Ubsolute: $18,352, Lystig: $18,828, sascos: $19,902, spielraum.at: $19,805, Grape: $21,658, and Dersu: $22,360. Ubsolute was disappointed in the deal, claiming that if it had come one hand later he'd easily have $19,000. After some discussion, Grape offered to give $650 of his share to Ubsolute in order to complete the deal. With everyone in agreement, play continued on for the bracelet and a $6,000 bonus to the winner.
Ubsolute and Dersu Uzala made quick work of the final table. Both quickly took a two-to-one lead over the others while grape and sascos dropped down to short stacks. Lystig was eliminated after losing a 500,000 pot to Dersu Uzala when Lystig, showing a pair of nines on the board, failed to beat Dersu Uzala's aces up. Lystig, down to just 18,000, moved all-in on the next hand when he completed with a
showing. Both sascos and Grape made the call and the two battled it out down to seventh until Grape showed
for two pair while sascos made a pair of queens and Lystig only made a pair of kings. Lystig was eliminated in sixth place.
The next elimination happened on the very next hand when Grape called a raise on third street by Ubsolute, who had the
showing. Grape had the
and called raises by Ubsolute all the way down to seventh street. Grape started the hand with 150,000 in chips but was eliminated in fifth place when his pair of sevens failed to improve over Ubsolute's two pair.
spielraum.at continued to lose hand after hand, including a 402,000 pot against Ubsolute, which left him with just 192,000 with the blinds at 20,000/40,000. Spielraum.at found himself all-in after completing the betting with the
showing. Ubsolute raised back with the
and spielraum.at made the call. Fourth street brought the
for Ubsolute while spielraum.at hit the
. spielraum.at led out, was raised by Ubsolute and moved all-in. Ubsolute made the call and showed
for two pair while spielraum.at ended with
for just a pair of tens.
Dersu Uzala was eliminated next after losing a big pot to Ubsolute, which shorted him down to just 189,000 in chips. Dersu started with just
and although he made a pair of aces by seventh street, he was defeated by sascos's two pair, tens and fives. Dersu Uzala's third-place exit left Ubsolute and sascos to play heads up, with Ubsolute holding 12 million in chips against sascos's 8.6 million.
With both players so close in chips, it took quite a while of playing before the outcome was decided. The battle lasted over 30 hands, while sascos failed to make a successful move against Ubsolute. The final hand of the night came when Ubsolute completed with the
showing against sascos's
. sascos raised, while Ubsolute re-raised and the betting quickly became capped. Fourth street gave Ubsolute the
while sascos caught the
. Ubsolute raised again and was called by sascos. Ultimately, sascos failed to improve and finished with the
for a busted straight draw. Ubsolute showed
and won the tournament with a pair of aces.
Final Results:
*1. Ubsolute: - $25,000
*2. sascos: - $19,902
*3. Dersu Uzala - $22,360
*4. spielraum.at: -$19,805
*5. Grape: - $21,011
*6. Lystig: - $18,828
7. bull_99 - $6,096.60
8. scrubbyz - $3,967.20
* represents six-way chop for remaining prize money; $6,000 to eventual winner