Sexton's Corner, Vol. 14 - In The Zone, Part 1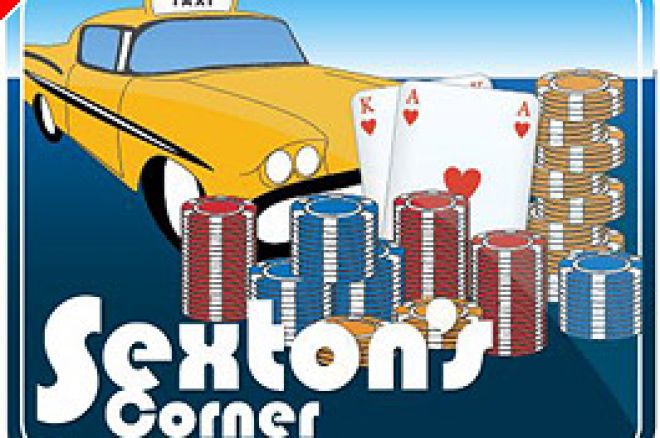 Legend has it that the slogan "A Chip and a Chair" was coined when Jack Straus bet about $15,000 on the second day of the 1982 WSOP Main Event. Jack made no verbal declaration he was all-in, but thought he had bet all of his chips on the hand. He got called and lost the hand. As he stood up to leave the table, the dealer asked, "Jack, is that one chip tucked under the rail yours?" A floor man was subsequently called in to make a ruling, and said since the player made no verbal declaration that he was all-in, and no further betting action occurred after being called, the one chip was still in play. Jack smiled, sat down, and began to make poker history, as he went on to win the 1982 WSOP Main Event! Jack had to win his first several pots, and then went on an amazing rush. He definitely found himself in the zone, where he felt he couldn't lose!
Being in the zone is like being in heaven to any poker player. The player feels like a jockey on a horse, with all that speed and power underneath him. He is coming into the home stretch, and he just knows... just feels his way, as to how much, and when to let it all go! It is almost as if the player in the zone has ESP. He seems to know what cards his opponents are holding, when to bet, bluff, or fold at just the right time. He is in total command of the table, where his good hands hold up and his draws come in like clockwork. The mystique of this phenomenal feeling requires positive thinking, with no negative thoughts. When you think positive, positive things happen!
In truth, every WSOP bracelet winner and every World Poker Tour champion has found his or her way into poker's unique twilight zone, where amazing things happen to bring them into the winner's circle. The hottest player on the planet, following the tournament circuit, has done what players can only dream about this year: he won both a 2007 WSOP gold bracelet and a WPT title, including eight cashes, totaling over $2,600,000 in winnings. If all of this wasn't enough, the player also this year won a big $10,000 buy-in heads-up tournament, defeating Barry Greenstein in the finals. Wow... that's about all you can say! I might add he is about the nicest guy you'll ever talk to in the poker world. His diplomatic demeanor and modesty is overwhelming. His name is Bill "The Stunning One" Edler.
Bill won $904,672 in the WSOP $5,000-buyin short-handed no-limit hold'em event, which was the most money won in any of the 55 events, other than the Main Event or the high-buyin H.O.R.S.E. tourney. He also cashed in over $300,000 in the WSOP Main Event, placing 33rd in a field larger than 5,000. However, just recently, he turned two chips into WPT history, winning $747,615 for first place in the first Gulf Coast Poker Championships at the Beau Rivage Hotel and Casino in Biloxi, Mississippi.
The comeback he pulled off perhaps rivaled, if not surpassed, the legendary Jack Straus's feat from 1982. On the third day of the tournament, with 17 players left, the blinds were $4,000 and $8,000 with $1,000 ante. The average chip count was extremely high at this point, which made his feat all the more amazing! Bill was in the big blind and only had two $1,000 chips left. He won several all-in pots, and incredibly landed into the top six at the final table with $1,005,000 in chips! He found himself once again <in the zone[/I], as he hoisted the winner's trophy in another victory, after another very tough battle.
The next time you read an article on Bill Edler, pay close attention, because most of us wonder, "How does he do it?" We have to admire how any one player can consistently find so much success in one season! Congratulations, Bill.
Stay tuned for Part 2 next week. There is a classic movie scene that happened 46 years ago that I want to share with you, which underscores this great feeling of being in the zone.
The Cab is Parked,
Tom Sexton
Tom Sexton is a featured columnist for PokerNews.com. Tom attended the University of Oklahoma on a full gymnastic scholarship, where he was captain of the team four straight years, becoming the first NCAA All-American and Big Eight Champion in OU's gymnastics history in 1968. The Sexton family is well established in poker and includes Tom's brother Mike, the World Poker Tour commentator and poker's "First Ambassador", as voted by his peers. Tom welcomes your thoughts and comments about any of his articles. His e-mail is TSStarbuck1@aol.com.