Sexton's Corner - Vol. 12 - Poker's Seven 'Majors'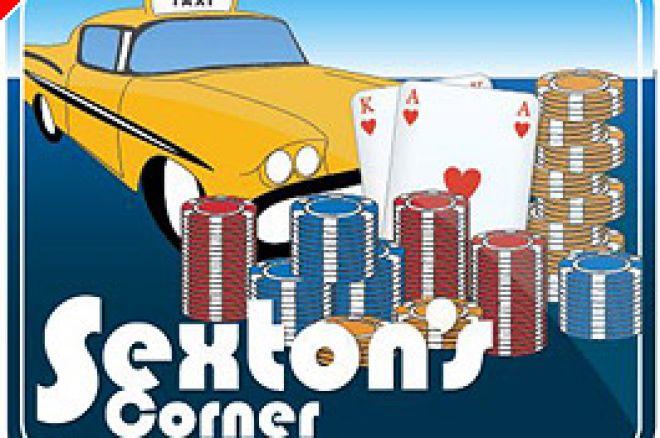 Only one poker player in the World has won both the WSOP Main Event and the WPT Main Event in Poker History - Carlos Mortensen. This has to be considered one of poker's most amazing feats! If the modern poker world had its version of golf's Grand Slam, the four events would have to be:
1. WSOP Main Event - LV 2. WPT $25,000 Main Event
3. WSOP $50,000 Horse Event 4. WSOP Europe Main Event
Imagine the prestige, if any one poker player in today's world won all four of these events!! This may be such an exclusive club, that there will never be one member. If you go back in time, there was only one poker player who won the WSOP Main Event and the Super Bowl of Poker - and he won both of these Championships three times each! This created a large part of the mystique of the legendary Stu Ungar.
Even if you go back in time to Bobby Jones' Grand Slam in golf, the Masters and PGA didn't exist yet. His four majors consisted of The US Open, US Amateur, British Open, and British Amateur. At the time, they were golf's biggest four events. My point is, majors in all sports have a way of evolving over time. Change is inevitable - and so it is, in the poker world.
There used to be big events in the past in poker called the Grand Prix, WSOP's Hall Of Fame, Amarillo's Super Bowl of Poker, and the Super Stars of Poker at Caesars in Lake Tahoe, plus others. We would need an expert committee to research and go back in time to put majors of the past in the poker world in perspective. Is it fair to say the four events listed at the top are the only majors in poker, with a life expectancy of one year (WSOP Europe), two years (WSOP HORSE), and six years (WPT) so far? The great players of the past, wouldn't have even had a chance to play them, and the reverse is true for our young super stars of today. They had no chance to play poker's biggest events of yesteryear.
Phil Hellmuth taking the WSOP gold bracelet lead at 11 is one of poker's greatest feats, but with 55 WSOP events now, plus a few more added in Europe each year…perhaps it is time to focus on the 'majors,' of which the biggest events at the WSOP would be part.
The measurement of true greatness in the poker world should be victories in the major events. As great of a tournament player that Phil is, taking the lead in the majors during his career is something very possible as well.
So ask yourself………what should be considered the poker majors of today?? Since this is my column, I'd like to give you all seven of mine:
** Poker's Seven 'Majors'**
1. WSOP Main Event - LV
2. WPT Main Event - LV
3. WSOP HORSE Event - LV
4. WSOP Main Event – Europe
5. NBC's National Heads Up Poker Championship – LV
6. WSOP Tournament Of Champions
7. High Stakes Poker
A few points I would like to make about the WSOP TOC:
FIRST... the first three champions were Annie Duke, Mike Matusow, and Mike Sexton. Yes, these were invitational events, with a small but extremely tough field. My sources tell me, that very strong consideration is being given to a tremendous format, where every past gold bracelet winner in WSOP History, will be eligible to play in the next TOC. This title will be a major event of epic proportion, once this format is utilized. The prestige of being crowned Champion of Champions would be simply awesome!
SECOND... I rank "High Stakes Poker" as the seventh major, because it is the biggest event featuring the biggest cash games in the world. It is televised and has mesmerized the viewing audience. It is only right to include one major that rewards top play in cash games. The poker legends that play in Bobby's Room at the Bellagio play in this event, and what goes on all year in Bobby's Room is not documented. "High Stakes Poker" is the right format to make a major event for cash-game play.
What you are looking at are a few of my thoughts on this topic. I hope this article inspires the great poker players to create a committee to more closely examine this issue. Perhaps the WSOP Players advisory committee, top executives at the WSOP and WPT, members of poker's Hall of Fame, media, Tournament Director's Association, Poker Players Alliance, with proxy votes from all known WSOP gold bracelet winners from the past to be added to the mix, to provide the Committee with the best information and guidelines. Perhaps the majors could be designated around the planet, with both International and US majors.
The poker world has grown to amazing heights, and it is time to identify the majors. The point value of winning any major should be dramatically higher in any Player of the Year awards. Majors will always be the most difficult to win, and deserve to be appropriately rewarded. The measure of a player's greatness should be how many majors he or she has won! Remember, with the changes that happen in the poker world, this important committee duty will be an ever on going process. Let's get our best minds together to lead the way!!
The Cab is Parked,
Tom Sexton
Tom Sexton is a featured columnist for PokerNews.com. Tom attended the University of Oklahoma on a full gymnastic scholarship, where he was captain of the team four straight years, becoming the first NCAA All-American and Big Eight Champion in OU's gymnastics history in 1968. The Sexton family is well established in poker and includes Tom's brother Mike, the World Poker Tour commentator and poker's "First Ambassador", as voted by his peers. Tom welcomes your thoughts and comments about any of his articles. His e-mail is [email protected]