2008 WSOP Schedule of Events Released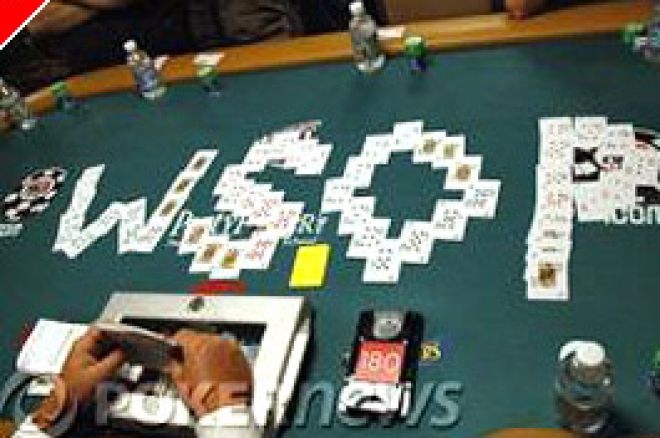 Harrah's Entertainment has released the official schedule of events for the 39th World Series of Poker® Presented by Milwaukee's Best Light, which will again return to the Rio® All-Suite Hotel & Casino in Las Vegas. The 2008 WSOP will run from May 30 – July 16, 2008, and as in 2007, will offer 55 different events.
World Series of Poker activity will commence on May 28, two days before the first scheduled event, when registration opens and on-site cash games and single-table and mega-satellites begin. Mega-satellites for the prominent $50,000 H.O.R.S.E. championship are also planned. Several other cosmetic changes highlight this year's schedule, which begins with the $10,000 World Championship Pot-Limit Hold'em event, one of eight different $10,000 World Championship events on the docket.
The $10,000 No-Limit Hold'em Main Event begins on July 3 with the first of four opening days. A scheduled off day for the Main Event on July 7 will be used for the long-running Casino Employees event, which in previous years was the WSOP's opening event. Other 'traditional', limited-field events include the Ladies event (June 8) and the Seniors event (June 23).
The important $50,000 H.O.R.S.E. World Championship, Event #40, is scheduled for a five-day run beginning on June 22. The WSOP has also increased to eight the number of $1,500 No-Limit Hold'em events sprinkled throughout the schedule. The first of these, beginning on May 31, will have two starting days in anticipation of a large number of entries.
"We're holding steady at 55 events this year," said Jeffrey Pollack, commissioner of the WSOP. "But, we've mixed it up a bit to keep it interesting for our players and fans." Pollack also noted that the mix of events is designed to attract a wide mix of poker enthusiasts, saying, "Both amateur and professional poker players will have new opportunities to compete for a WSOP bracelet and can choose from the widest variety of games and buy-ins ever offered in one poker tournament and certainly at the WSOP."
Pollack also noted that the infamous 'Poker Pavilion' will not return in 2008. "The poker tent is gone," said Pollack. "We heard folks loud and clear last year, and there will be no tents used for tournament play at the 2008 WSOP."
The 2008 WSOP also includes the return of the 'Ante Up For Africa' charity fundraiser, again co-hosted by Annie Duke and Don Cheadle. The event, which benefits humanitarian relief efforts in war-torn Darfur, takes place on July 2, the day preceeding the kickoff of the Main Event.
Swiss watchmaker CORUM will again provide the custom winner's bracelets for the WSOP.
Pre-registration for WSOP events is scheduled to begin in February, both on-site at the Rio and via the official WSOP site at worldseriesofpoker.com.
One more wrinkle added to keep players onsite is the addition of nightly $340 No-Limit Hold'em tourneys; while not bracelet events, they will kick off each evening at 7pm from May 29 through July 15 as table space in the Amazon Room becomes available.
The complete schedule of events for the 2008 WSOP (revised February 19, 2008):
Date Time (Event #) Buy-In
5-28 9 AM Registration Opens, Live Action & Satellites Begin
5-29 Registration, Live Action & Satellites
5-30 Noon (#1) *Pot-Limit Hold'em (3 days) $10,000
5-31 Noon (#2A) No-Limit Hold'em (4 days) Day 1A $1,500
6-1 Noon (#2B) No-Limit Hold'em Day 1B
6-2 Noon (#3) Pot-Limit Hold'em (3 days) $1,500
6-2 5 PM (#4) Mixed Hold'em (Limit/No-Limit, 3 days) $5,000
6-3 Noon (#5) No-Limit Hold'em w/Re-Buys (3 days) $1,000
6-3 5 PM (#6) Omaha Hi-Low Split-8 or Better (3 days) $1,500
6-4 Noon (#7) No-Limit Hold'em (3 days) $2,000
6-4 5 PM (#8) *Mixed Event (3 days) $10,000
(Limit Hold'em, Omaha Hi-Low Split-8 or Better, Seven Card Razz , Seven Card Stud, Seven Card Stud Hi-Low Split-8 or Better, No-Limit Holdem, Pot-Limit Omaha, 2-7 Triple Draw Lowball)
6-5 Noon (#9) No-Limit Hold'em / Six Handed (3 days) $1,500
6-5 5 PM (#10) Omaha/Seven Card Stud Hi-Low-8 or Better (3 days) $2,500
6-6 Noon (#11) No-Limit Hold'em Shootout (3 days) $5,000
6-6 5 PM (#12) Limit Hold'em (3 days) $1,500
6-7 Noon (#13) No-Limit Hold'em (3 days) $2,500
6-7 5 PM (#14) *Seven Card Stud (3 days) $10,000
6-8 Noon (#15) Ladies No-Limit Hold'em World Championship (3 days) $1,000
6-8 5 PM (#16) Omaha Hi-Low Split-8 or Better (3 days) $2,000
6-9 Noon (#17) No-Limit Hold'em Shootout (3 days) $1,500
6-9 5 PM (#18) No-Limit 2-7 Draw Lowball w/Re-Buys (3 days) $5,000
6-10 Noon (#19) Pot-Limit Omaha (3 days) $1,500
6-10 5 PM (#20) Limit Hold'em (3 days) $2,000
6-11 Noon (#21) No-Limit Hold'em (3 days) $5,000
6-11 5 PM (#22) H.O.R.S.E. (3 days) $3,000
6-12 Noon (#23) No-Limit Hold'em (3 days) $2,000
6-12 5 PM (#24) Pot-Limit Holdem/Omaha (3 days) $2,500
6-13 Noon (#25) *Heads Up No-Limit Hold'em (256-player max, 3 days) $10,000
6-13 5 PM (#26) Seven Card Razz (3 days) $1,500
6-14 Noon (#27) No-Limit Hold'em (3 days) $1,500
6-14 5PM (#28) Pot-Limit Omaha w/ Rebuys (3 days) $5,000
6-15 Noon (#29) No-Limit Hold'em (3 days) $3,000
6-15 5 PM (#30) *Limit Hold'em (3 days) $10,000
6-16 Noon (#31) No-Limit Hold'em / Six Handed (3 days) $2,500
6-17 Noon (#32) No-Limit Hold'em (3 days) $1,500
6-17 5 PM (#33) *Seven Card Stud Hi-Low Split-8 or Better (3 days) $5,000
6-18 Noon (#34) Pot-Limit Omaha W/Re-Buys (3 days) $1,500
6-18 5 PM (#35) Seven Card Stud (3 days) $1,500
6-19 Noon (#36) No-Limit Hold'em (3 days) $1,500
6-19 5 PM (#37) *Omaha Hi-Low Split-8 or Better (3 days) $10,000
6-20 Noon (#38) Pot-Limit Hold'em (3 days) $2,000
6-21 Noon (#39) No-Limit Hold'em (3 days) $1,500
6-22 Noon (#40) 2-7 Triple Draw Lowball (Limit) (3 days) $2,500
6-22 5 PM (#41) Mixed Hold'em (limit/no-limit, 3 days) $1,500
6-23 Noon (#42) *Seniors No-Limit Hold'em (3 days) $1,000
6-24 Noon (#43) Pot-Limit Omaha Hi-low Split-8 or Better (3 days) $1,500
6-25 Noon (#44) No-Limit Hold'em w/Re-Buys (3 days) $1,000
6-25 5 PM (#45) *H.O.R.S.E. (5 days) $50,000
6-26 Noon (#46) No-Limit Hold'em / Six Handed (3 days) $5,000
6-26 5 PM (#47) Seven Card Stud Hi-Low-8 or Better (3 days) $1,500
6-27 Noon (#48) No-Limit Hold'em (3 days) $2,000
6-28 Noon (#49) No-Limit Hold'em (3 days) $1,500
6-29 Noon (#50) *Pot Limit Omaha (3 days) $10,000
6-29 5 PM (#51) H.O.R.S.E. (3 days) $1,500
6-30 Noon (#52) No-Limit Hold'em (3 days) $1,500
7-1 Noon (#53) Limit Hold'em Shootout (2 days) $1,500
7-2 10 AM Media Event
7-2 Satellite Day
7-2 2 PM Ante Up For Africa Charity Event (1 day) $5,000
7-3 Noon (#54A) *No-Limit Hold'em (Main Event) Day 1A (2,500 players) $10,000
7-4 Noon (#54B) *No-Limit Hold'em (Main Event) Day 1B (2,500 players)
7-5 Noon (#54C) *No-Limit Hold'em (Main Event) Day 1C (2,500 players)
7-6 Noon (#54D) *No-Limit Hold'em (Main Event) Day 1D (2,500 players)
7-7 Main Event Off Day
7-7 Noon (#55) Casino Employees No-Limit Hold'em (2 days) $500
7-8 Noon (#54) *No-Limit Hold'em (Main Event) Day 2A
7-9 Noon *No-Limit Hold'em (Main Event) Day 2B
7-10 Noon *No-Limit Hold'em (Main Event) Day 3
7-11 Noon *No-Limit Hold'em (Main Event) Day 4
7-12 Noon *No-Limit Hold'em (Main Event) Day 5
7-13 Noon *No-Limit Hold'em (Main Event) Day 6
7-14 Noon *No-Limit Hold'em (Main Event) Day 7
7-15 Main Event Off Day
7-16 Noon *No-Limit Hold'em (Main Event) Final Table
* — indicates 'World Championship' event