The PokerProForAYear Final Table is Finally Revealed!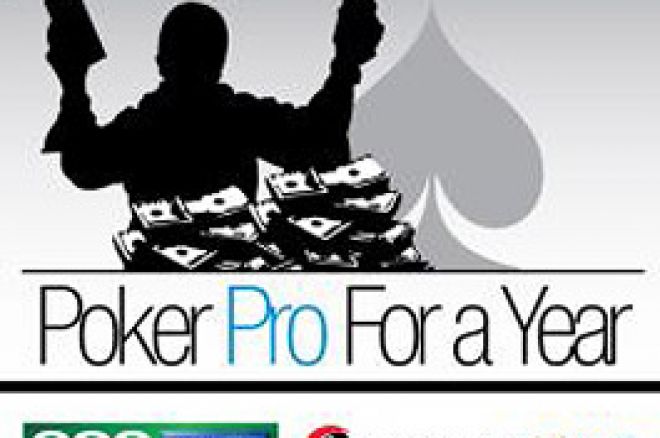 PokerNews and Pacific Poker are proud to host the fantastic PokerProForAYear competition. After many weeks of lively poker competition, we finally have the ten finalists that will compete for the grand prize; the chance to be a PokerProForAYear.
The winner of this year long promotion will receive a fantastic package that consists of entry to four major poker tournaments in 2008 (including the Aussie Millions and World Series). All buy-ins, accommodation, flights and expenses will be covered, giving the lucky winner a chance to live like a PokerProForAYear. The winner will also be able to blog about their experience and let everyone know what it's like to tour the world like a real international poker player. This first prize is valued at an amazing $50,000.
We are now at the business end of this excellent promotion and looking forward to the Final on Monday January 7 at the Crown Casino in Melbourne, Australia. However, PokerNews players are keen to know; who are the finalists? Where do they come from? How did they get their shot at PokerProForAYear glory? We take a look back at the PokerProForAYear competition that was.
This competition kicked off early in 2007 and consisted of six series. Players competed for League Points in each series, in an attempt to qualify for the series final. Within each series, a seat at the PokerProForAYear Final was up for grabs, and as one can imagine, each series bore witness to some fierce competition. Excellent player value also awaited players, in the form of numerous cash freerolls and even global freerolls that awarded seats to some of the biggest live poker tournaments, including the Aussie Millions, EPT events and the World Series.
Here are the ten players that make up the PokerProForAYear Final Table. Check out their profiles at the official PokerProForAYear site.
PokerProForAYear Series 1 was taken out by Ilja Smid. Born in Kazakhstan and now living in Germany with his wife and young son, Ilja has been playing poker for close to two years. Competing mostly online, Ilja prefers the action at the No Limit Texas Holdem tables, including sit-n-gos.
Englishman Martin Page emerged victorious in Series 2. The retired firefighter has competed in several big events, including the WSOP in 2006 and 2007 and is an avid poker player.
Carlo Carione, an Italian from Milan, fought hard to win Series 3. Playing poker for around two years, Carlo spends a lot of his time online, although he has been known to take a seat at the live tables. Tournaments are Carlo's preferred stomping grounds and he has previously competed at the Italian and Milan Poker Championships.
Always a gambler, Robert Price has been playing poker since early 2004. In that time, Robert has cashed in several big tournaments, including the 2006 WSOP. Robert is equally thrilled to have won PokerProForAYear Series 4.
Andrew Ritchie from Scotland managed a great win in Series 5. Playing poker for over two and a half years, Andrew has competed in tournaments from Barcelona to Las Vegas. The family man is equally as excited to share this experience with his children.
Luke Abolins from the UK emerged victorious in Series 6. Luke has been a poker player for around two years and spends most of his time competing online. Luke has previously competed in the 2007 PokerNews Cup Australia and is thrilled to be returning to Crown Casino in the search of greater poker glory.
After all the dust had settled from the six PokerProForAYear Series, it was Estonian Kairit Leibold who managed to place first on the overall points Leaderboard. Her top finish ensured her seat number seven at the PokerProForAYear Final Table.
The top 100 point scorers on the Overall Leaderboard then competed to fill the remaining three seats at the Final Table. After a great tournament, Italian Massimo di Marco finished first, followed by Jo Abolins (sister to Series 6 winner, Luke) and Robert Ritchie from the UK (brother to Series 5 winner, Andrew Ritchie).
After many weeks of tournaments, six action packed Series and numerous freerolls, the PokerProForAYear Final Table is ready to go. These players have spent many hours competing at the Pacific Poker tables and will now compete at the live final for a shot at $50,000 in prizes and to be crowned PokerProForAYear.
The PokerProForAYear Final will be filmed for PokerNews and distributed throughout our 28 language network. It's been a long and generous competition and now the finale is looming large.
So stay tuned to PokerNews to see who will be the PokerProForAYear!
Ed note: Pacific Poker offers PokerNews players a 60% first deposit bonus up to $100. Sign up and take advantage of this offer today!