Sexton's Corner, Vol. 23: Stu Ungar's Final Journey, Part 2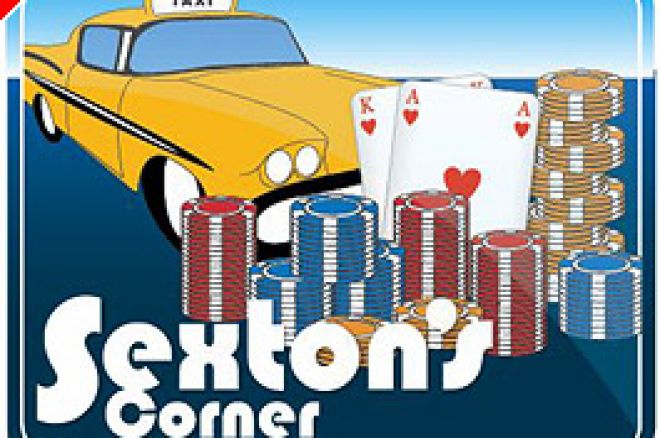 All of us in life have something in common... we will all someday make our final journey. For Stu Ungar, his funeral services were held at the Palms Mortuary, located at 7600 S. Eastern in Las Vegas. After passing away on Nov. 22, 1998, there were about 250 people who went to pay their last respects. It looked like a large contingent of the "Who's Who in the poker and gambling world." In the lobby before the services began, one could see poker's greatest players gather to look at Stuey's pictures and collages of his amazing accomplishments, beyond what any other poker player ever did.
There were three speakers who gave the eulogy, followed by Stu Ungar's 16-year-old daughter, Stefanie, who paid such an emotional tribute to her Dad, that there wasn't a dry eye in the house. The first three speakers were Mike Sexton, Bob Stupak, and Lem Banker. The family requested Mike represent the poker players that day, with gambling entrepreneur Bob Stupak, and New York sports bettor Lem Banker. All three did a wonderful job of taking all of us down memory lane, reflecting on the ups and downs of Stuey's life, with a few colorful stories mixed into the tribute. Mike being a lifetime friend to Stuey right up to the end, summed it up by saying: "Let's forgive Stuey for his problems and faults, and remember him for what he was – the greatest player to ever grace the green felt."
I recall a few poker players walking down the right side of the aisle towards the speaking podium to try and say a few words, like Ken "Skyhawk" Flaton, but they were politely turned away. It seems one unhappy poker player, who shall will remain nameless, had threatened to show up and push the coffin over, due to Stuey owing him money! This player reportedly did arrive, but was promptly led away before getting inside. Naturally, such a classless and nefarious act would be totally unfair to any of the family members or close friends that were there to pay their last respects.
Unfortunately, one of poker's nicest people, Ken Flaton, wasn't able to share his story as a result of these circumstances that day. However, at Stu Ungar's induction into Poker's Hall Of Fame posthumously in 2001, I was happy to see Kenny be able to share his Stu Ungar story then. Kenny cried with an emotional remembrance of Stuey, and it was very touching. It was only a few years later that Ken "Skyhawk" Flaton himself passed away, so it seemed to be poetic justice that he got to say his piece about Stuey that day.
The most memorable and touching moment at Stu Ungar's funeral was when his daughter Stefanie got up to speak. It's worth noting again, that there wasn't a dry eye in the house, as Stefanie talked about her Dad, not as the greatest poker player, but what he meant to her as her Dad she loved. One old-time poker player from the past, actually got up and said "I can't take this….I can't take this," – as he wiped his eyes and left the service prematurely, while Stefanie was still speaking. The sadness of listening to Stuey's beautiful young daughter talk about her Dad was overwhelming, and pulled the heartstrings of all of us that were there.
We all understood how much Stuey loved his daughter, and remembered that picture he carried in his pocket of her in 1997 for good luck, while winning his third WSOP Main Event Title. That was a wonderful story, but here was his daughter in one of life's toughest moments, coming to life before all of us, demonstrating the class, dignity, and the meaning of true love. Her Mom, Madeline, and all of us were so very proud of Stefanie of the class and poise she demonstrated while paying tribute to her Dad. How proud Stu Ungar would have been of his beautiful daughter that day!
In reflection, it was heart warming to watch so many of the poker greats gather to pay their respects to Stuey, many of whom sat directly across from him in the past, at the poker tables. Nobody needed to remind them of his unique genius at playing cards - they all had ringside seats. There were so many there, like Puggy Pearson, who helped Stuey out numerous times, as many of the others had before. Puggy has since passed away himself. The Godfather of poker, Doyle Brunson, was there. Doyle was the 1975 and 1976 WSOP Main Event Champion, but few remember that Doyle was also the 1980 WSOP runner-up to Stuey, and had many memories of Stuey both on the poker tables and the golf course from the past. The CEO and President of the Bellagio at the time, Bobby Baldwin, came to pay his respects. Bobby zoomed to the top of the world in terms of his business success since winning the 1978 WSOP Main Event. Ironically, Stuey didn't have a bank account or even any ID, yet there is this amazing mystique about Stu Ungar as to what he did so well, when he was in stroke, that Bobby and the other players will always be in awe of.
After the service concluded inside, we all followed the pall bearers carrying Stuey's casket to its final resting place. Along side walked his ex-wife Madeline and their daughter, Stefanie. Once we all gathered around the gravesite, a very poignant thought hit me as I looked at Danny Robison, who was standing in front looking at Stuey's coffin. His hands were folded in front of him, with his head down, in deep contemplation. I don't think anyone understood the drug world and its gripping power more than Danny. He'd be the first to tell you that he pushed the envelope to the edge of life, and got caught up with drugs as much as Stuey! Yet, here he was at Stuey's gravesite. I wondered if he was reflecting about that night at the Dunes Hotel back 30 years ago, when he lost $100,000 to Stuey in that pivotal gin rummy match. This was the windfall for Stuey that brought him to Las Vegas permanently. The journeys that happened for both Stuey and Danny are as legendary as it gets, and if you were to add poker legends Doyle Brunson and Chip Reese into the mix, the material for a major motion picture blockbuster would be guaranteed! The way their four lives intermingled over time in Las Vegas is more colorful than any story a writer could ever imagine!
One of the unique things that happened at Stu Ungar's funeral was the sight of Bob Stupak walking around collecting donations from many of the big time poker players. To Bob Stupak's credit, he prepaid for the expenses himself, to insure Stuey would have a first class funeral. Many of poker's most famous players reached into their pockets and gave $2,000 to $3,000 each. There is a lot of camaraderie in this circle that was very evident this day on behalf of Stu Ungar.
One last thought: Madeline and Stefanie Ungar have set up a wonderful foundation in Stuey's honor called The Ungar Foundation. Information can be found online at ungarfoundation.org. In a brochure now available, here are a few quotes:
The mission of the Ungar Foundation is to offer hope and awareness to those affected by addictive behavior and to provide necessary funds to established organizations that provide treatment.
On the first page of the brochure there are two pictures: one of Stu Ungar at the top, and his 18-year-old son, Ritchie. Here is what it says:
A world-renowned poker player, often referred to as the best, Stu seemed to have it all, a loving family, money & fame. Those closest to him will tell you that Stu was an honest, compassionate man with a heart of gold. Unfortunately, he was also a very troubled man, plagued by a lifetime of addiction. Prior to his death in 1998, Stu had managed to leave a legacy in the poker world that will not soon be forgotten. A new legacy begins as the Ungar Foundation helps others cope with the issues that Stu was unable to conquer in his lifetime.
Despite his father's great success, Ritchie was your typical kid; he played baseball and teased his sister. He was funny and well liked by his peers. Tragically, this young man with so much to live for would take his own life at the age of 18. Richie's death will not be in vain as The Ungar Foundation dedicates its efforts to seeing broken lives restored.
With your support, The Ungar Foundation will work to restore hope in the lives of those who otherwise might not receive treatment.
This story completes the five part story I've written on Stu Ungar. Amazingly, as I was writing this last episode, I got a call from Madeline Ungar, who wanted to tell me about The Ungar Foundation that is brand new and what it is going to represent. To be able to genuinely help other people's lives caught up in various addictions is such an inspirational and meaningful tribute to Stuey's legacy. His final journey on earth may be over, but his name and legend promises to reach out to restore hope in the lives of those who otherwise might not receive treatment. I'm so proud of Madeline and Stefanie for having the foresight and courage to create The Ungar Foundation.
The Cab is Parked,
Tom Sexton
Tom Sexton is a featured columnist for PokerNews.com. Tom attended the University of Oklahoma on a full gymnastic scholarship, where he was captain of the team four straight years, becoming the first NCAA All-American and Big Eight Champion in OU's gymnastics history in 1968. The Sexton family is well established in poker and includes Tom's brother Mike, the World Poker Tour commentator and poker's "First Ambassador", as voted by his peers. Tom welcomes your thoughts and comments about any of his articles. His e-mail is [email protected]