College Poker Life: School of Art Institute of Chicago, Chicago, IL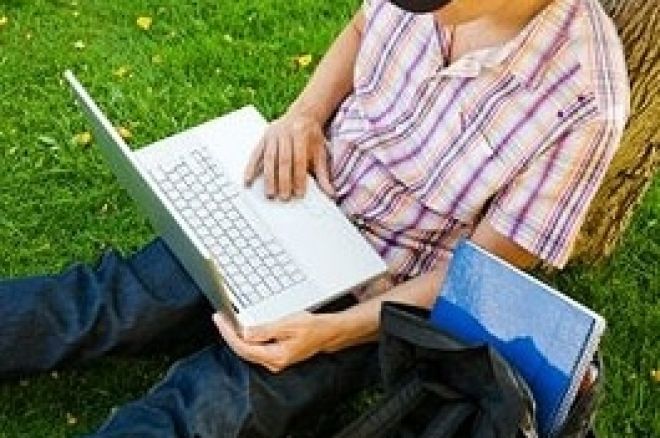 With winter break just finishing up for students attending the School of Art Institute of Chicago, poker games and tournaments around the city are set to begin again as well. Whether you're looking for on-campus ring games, casino action, or local freeroll tournaments, The Windy City has many ideal options for students. With a semester full of events left in the school year, students at SAIC have plenty of poker action to enjoy.
Students attending SAIC not only have plenty of poker options available to them around the beautiful city of Chicago, but are also fortunate enough to have Jim McManus as one of their professors. McManus's poker story is that of legend; he was on assignment in Las Vegas to write a story about women players in the 2000 World Series of Poker and decided to buy into a single-table satellite for the Main Event. After winning the satellite, McManus went on to take fifth place in the ME, competing in a field of over 500 entrants and taking home $247,760 for his success. His accomplishments in the literary field supersede his accomplishments at the poker table, and students fortunate enough to enroll in his classes are certainly learning from the best.
The class has made quite an impression on his students, and even one of his former teaching assistants, Shawnee Barton, has been making a name for herself in the poker world, including second place in the WSOP Ladies Event in 2006. For the winter semester, McManus is teaching the class Literature of Poker, which will focus on essays, films, game theory, mathematics, and the philosophy of poker. Student poker players certainly won't want to miss out.
For students interested in putting their poker skills to the test, the city of Chicago has a tremendous amount of ring-game options available. Whether it's a regular weekly cash game or a big $250-buyin tournament, student poker players can always find a game that suits their style and bankroll. Some of the 'underground' options can be a bit of a hassle, however, with occasional raids taking place across the city. Games closer to campus may have smaller profit margins, but will be friendlier and are less likely to give you any trouble.
If you're interested in free poker tournaments, make sure to check out information regarding the Chicago Free Poker tournaments, which are scheduled to start up during January. The tournaments are put on by the Main Event Poker League, and will feature an eventual prize seat into one of the many $1,500 buy-in events at this year's World Series of Poker. Students interested in honing their skills at the game without risking their bankroll will most certainly want to check out the website at chicagopokernews.com for even more information regarding local charity events and freerolls.
Though it might be a short, 50-mile drive from campus, the Hollywood Casino in suburban Aurora is one option for cash games. The poker room there may only hold six tables, but you'll find $5/10 and $10/20 limit games, plus some no-limit. On Monday, Tuesday, and Thursday nights there's also a bigger limit game, with blinds at $20/40. The action is great for students looking to build a modest bankroll, yet players somewhat new to poker will want to stay away from the $20/40 game. On Wednesday afternoons, the casino holds a $150 NL Hold'em tournament, which caps at eighty entrants. Expect a wide range of awful-to-great players in this tournament, though, so be prepared to play great poker if you expect to make it deep. While the drive may be a bit out of the way, Hollywood is a great place for students looking for casino poker action. The only drawback is the age restriction, which keeps students under 21 from playing.
Other casino options also exist, if also not right in Chicago itself. Majestic Star, in Gary, IN, is not much farther of a drive, and the Potowatomi Casino in downtown Milwaukee, an hour and a half to the north, draws a selection of Chicagoans and students as well.
Whether you're looking for low-stakes ring games or a place to seriously strengthen your bankroll, Chicago has plenty to offer any college student. Student poker players attending the School of Art Institute of Chicago have yet another great semester ahead, and certainly plenty of poker to look forward to.