'NBC Heads-Up Poker Championship' Invitation List Complete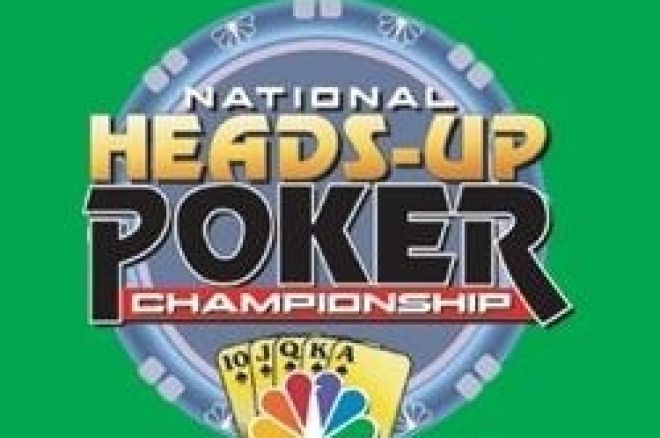 What do former MLB World Series MVP Orel Hershiser and poker player Sam Grizzle have in common? They are both among the 60 players invited to participate in the NBC Heads-Up Poker Championship. Last week the final list of invitees was released for what will undoubtedly be another interesting year for the highly acclaimed event.
With the majority of the field set, it is apparent that one of the dynamics at play will be pitting some of the biggest and established names in poker against some of poker's young up-and-comers. Almost every World Series of Poker champion in recent history has been invited, including 2007 WSOP winner Jerry Yang; only former WSOP champ Carlos Mortensen appears to among the missing. All the 2007 Player of the Year recipients will be represented: David Pham (Card Player), J.C. Tran (All In), Bill Edler (Bluff), and Tom Schneider (WSOP).
NBC has also given a decided nod to "new school" of poker by inviting a number of younger players, most of whom honed their skills online. Representing the online rounders will be 2007 Heads-Up World Series of Poker bracelet winner Daniel 'rekrul' Schreiber, Brian 'sbrugby' Townsend, Jonathan 'FieryJustice' Little, Scott 'BigRiskky' Clements, and Tom 'durrrr' Dwan.
NBC always has a short list of celebrities adding spice to the field and this year is no different. Comic actors Brad Garrett and Jason Alexander have both made appearances at the WSOP and will be battling on the heads-up felt here. Academy Award nominee and "Ante Up for Africa" organizer Don Cheadle will be present as well. And although his "Welcome Back, Kotter" roots will be how most casual viewers remember him, we know invitee Gabe Kaplan as the acclaimed host/commentator of "High Stakes Poker." Jennifer Tilly and Shannon Elizabeth will also be returning this year. While some might find Orel Hershiser's name a surprising add, the Las Vegas resident is no stranger to the felt. Hershiser played in the WPT Invitational at the Commerce last year and has been known to partake in the $30/60 game at the Bellagio.
Each of this year's players will put up a $20,000 buy-in for a shot at the $500,000 first-place prize. The field will be capped at 64 players, comprised of 60 invitees and four special qualifiers; those four have yet to be determined. The event will begin with a drawing party at the Pure nightclub inside Caesars Palace in Las Vegas on February 28, 2008, with the tournament taking place the following three days. The NBC Heads-Up Poker Championship debuted in 2005 as replacement programming during the NHL lockout. The format was a surprising success and the event has continued to pull in poker's highest television ratings. With the announcement of the 2008 invitees, it looks like another great year for the event. Replacements for any invitee not able to attend will be announced at a later date.
The total list of invitees follows:
1. Alexander, Jason
2. Antonius, Patrik
3. Bellande, Jean-Robert
4. Benyamine, David
5. Brown, Chad
6. Brunson, Doyle
7. Brunson, Todd
8. Chan, Johnny
9. Cheadle, Don
10. Clements, Scott
11. Cloutier, T.J.
12. Cunningham, Allen
13. Deeb, Freddy
14. Duke, Annie
15. Dwan, Tom
16. Edler, Bill
17. Elezra, Eli
18. Elizabeth, Shannon
19. Esfandiari, Antonio
20. Farha, Sam
21. Ferguson, Chris
22. Fischman, Scott
23. Forrest, Ted
24. Garrett, Brad
25. Gold, Jamie
26. Gowen, Clonie
27. Greenstein, Barry
28. Grizzle, Sam
29. Hachem, Joe
30. Hansen, Gus
31. Harman, Jennifer
32. Hellmuth, Phil
33. Hershiser, Orel
34. Ivey, Phil
35. Juanda, John
36. Kaplan, Gabe
37. Laak, Phil
38. Lederer, Howard
39. Lindgren, Erick
40. Little, Jonathan
41. Matusow, Mike
42. Mizrachi, Michael
43. Negreanu, Daniel
44. Nguyen, Scotty
45. Pham, David
46. Raymer, Greg
47. Rousso, Vanessa
48. Schneider, Tom
49. Schreiber, Daniel
50. Seed, Huck
51. Seidel, Erik
52. Singer, David
53. Smith, Gavin
54. Tilly, Jennifer
55. Townsend, Brian
56. Tran, J.C.
57. Tran, Kenny
58. Wasicka, Paul
59. Williams, David
60. Yang, Jerry