Sexton's Corner, Vol. 26: The Golddust Twins, Part 3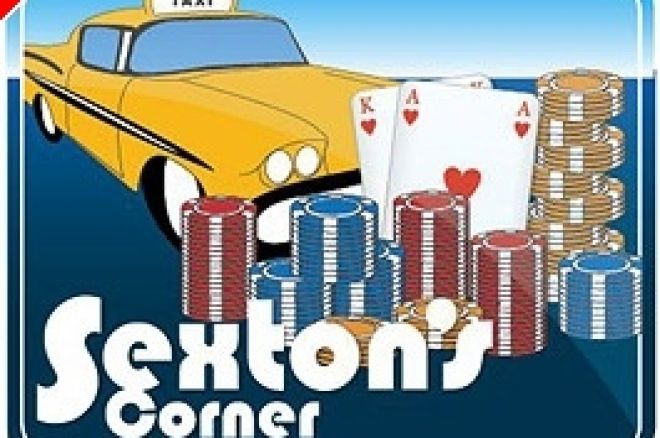 Chip Reese and Danny Robison were partners from 1973 through 1978 in Las Vegas, right up and through the pressure they each experienced from mob enforcer, Tony Spilotro, so aptly portrayed by Joe Pesci in the movie Casino. While Benny Binion looked out for his old Texas buddies Johnny Moss and Doyle Brunson, the young Golddust Twins were more than a little vulnerable to shakedown artists and an enforcer such as Spilotro. The thousands that Chip and Danny were winning every day was too attractive to be ignored.
A mob soldier out of Florida named Dominick called Robison and wanted to borrow $50,000, hinting this would buy him and Chip protection. The implication was obvious; don't expect to get paid back. This was the first time the dark side of life interrupted their happy parade. When a connected friend offered the solution of contacting Tony Spilotro, who had previously bothered Puggy Pearson and Amarillo Slim, among others, Robison said, "I'm scared!"
His friend said, "I'm scared of him, too. He's a killer!"
In the sure-to-be-classic book Aces and Kings, authored by Michael Kaplan and Brad Reagan, one can accurately read the subsequent meeting arranged at a Denny's Restaurant with Chip, Danny, and Dominick and the entrance of Tony Spilotro. From pages 72 and 73, here is the book's very accurate portrayal of what happened:
According to Robison, he and Reese feared the consequences if they said no to Dominick, so they authorized their friend to speak to Spilotro. Several days later, the Golddust Twins showed up as agreed at Denny's next to the Dunes Hotel to discuss the "loan" with Dominick. Just as Dominick began to talk tough, Spilotro arrived.
"Okay, here's the way it's going," Spilotro told Dominick. "These boys are with me. You don't ask them for money, you don't demand any money. If I hear of you ever opening your mouth and even indicate that you might not pay them any money you lost gambling, you answer to me."
Dominick predictably backed down. When Spilotro asked him if he still needed the $50,000, Dominick said he would manage to get by without it. Robison says Spilotro then demanded 25% of his and Reese's poker winnings, in exchange for his protection from the cheaters and the mafia muscle in town. Robison says it took him and Chip more than a year to break free of the extortion. "We were never good friends with him. We acted like we were, but we were terrified of what he could do."
In 1978, Spilotro was placed in the black book of people barred from entering its casinos. At about the same time, Reese was appointed to run the poker room at the Dunes, which meant by order of the Nevada Gaming Commission, he was not allowed to associate with anyone listed in the black book. Still, Spilotro continued to pester him for favors. When Reese politely declined, according to Robison, Spilotro replied, "Have a real nice life, as long as it lasts." Spilotro never carried out the implied threat. The Chicago mob bosses wearied of his increasingly high profile and, in 1986, his body was discovered in an Indiana cornfield along with that of his brother, Michael. An autopsy later showed that he had been buried alive.
A couple of weeks ago, I was interviewing Danny Robison about all of this, and would like to share his answers to two main questions I asked him. First, I inquired, "Was there ever a moment Tony Spilotro ever really muscled you or scared you to death?"
Danny said, "Yes, particularly on this one night. I was at this Italian restaurant on W. Sahara at Valley View. Truthfully, I was out of my mind that night high on cocaine, and was acting wild and loud at the bar. I guess I was putting on quite a show, and had no idea that Tony Spilotro was at the restaurant that night. He had warned me in the past many times, not to let him catch me high on drugs. Since he was getting 25% of my winnings, he didn't want me ruining my earning power at the tables. So, I left the bar to go to the bathroom to snort some more cocaine, and as I entered a stall and pulled my cocaine out, I heard this loud noise as Spilotro kicked open the main bathroom door. He said, 'Danny, I know you're in here taking that damn cocaine, and I'm going to kick your ass and beat you to a pulp!'"
Robison continued, saying that he was throwing all of his cocaine down the toilet as fast as he could, just as Spilotro kicked the stall door open and grabbed him by the throat. Spilotro slammed Danny against the wall, and slapped him hard four times in the face while he was threatening to kill him. Danny said, "I was talking faster than I ever had in my life, trying to assure him that I only had a couple of drinks. Looking back now, it must have looked comical, with white powder all over my face. Somehow I survived that encounter that night, but knew I never wanted to repeat that awful scene again."
I then asked, "How did you get away from Tony Spilotro's extortion of 25% of your poker winnings after one year?"
Danny said, "We were able to escape, when he cheated us out of a $50,000 sports bet we had made. Our money was on a team that was the under dog, as we got six points. That team was plus six points all over town and at every sports book. Then Tony told us we didn't get six points… it was minus six points! He cheated us badly, and he allowed us to be dropped from his iron grip after getting away with it.
"Chip had been given a suite at the top of the Dunes as a perk for running the Dunes poker room. Being barricaded up there, while Tony Spilotro was put in the black book, was perfect timing for sure. It was about this time Chip and I dissolved our partnership, as I had gone off the deep end taking drugs all the time. Chip was the best, as he tried several times to help me with drug clinics, etcetera, but I wasn't ready yet to receive help."
Stay tuned for the rest of the story….
The Cab is Parked,
Tom Sexton
Tom Sexton is a featured columnist for PokerNews.com. Tom attended the University of Oklahoma on a full gymnastic scholarship, where he was captain of the team four straight years, becoming the first NCAA All-American and Big Eight Champion in OU's gymnastics history in 1968. The Sexton family is well established in poker and includes Tom's brother Mike, the World Poker Tour commentator and poker's "First Ambassador", as voted by his peers. Tom welcomes your thoughts and comments about any of his articles. His e-mail is TSStarbuck1@aol.com.