Sexton's Corner, Vol. 24: The Golddust Twins, Part 1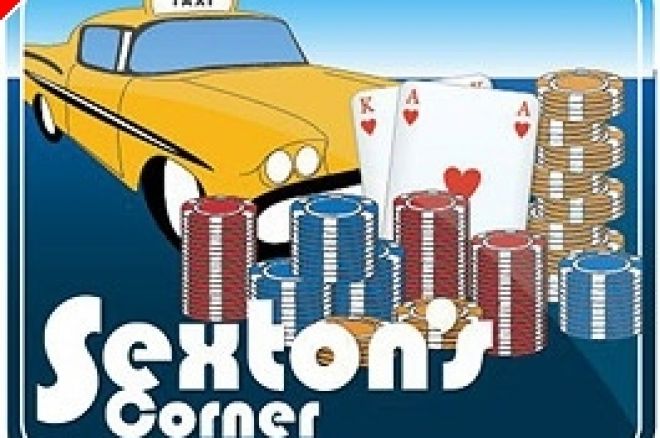 One of the most colorful episodes in Las Vegas poker history began with the arrival of Chip Reese and Danny Robison in late 1973. They won so much money so fast, that everything they touched seemed to turn into gold! Thus, the old legendary guard of Johnny Moss, Puggy Pearson, Doyle Brunson, and Amarillo Slim affectionately referred to them as the Golddust Twins!
Amazingly, in what was supposed to be a weekend getaway vacation to Las Vegas, with a combined bankroll of $800, they did what no one else has ever been able to do, playing $10/20 Seven-Card Stud. They stayed at the Stardust for $8 per night in the beginning, and played around the clock in twelve-hour shifts. That weekend stretched into a week, then a month, and the time went on and on. They found themselves playing at the Flamingo next, followed by the Sahara and Dunes Hotel.
Incredibly, at the end of two and a half years in Las Vegas, Danny and Chip had accumulated over $2,000,000 in poker winnings! All the information and books that are available today on poker weren't published in those earlier days. Chip and Danny had to learn things on their own. During that early period, there were a lot of colorful stories that happened to them along the way, while the two of them consistently increased the limits they played at. Throughout subsequent articles, I hope to cover many of the stories that happened to them. This promises to be an intriguing journey, that you will enjoy following.
Before doing this, I would point out that any other previous stories written about all of this are more than standard poker lore. I had a ringside seat to witness the results of this legendary period of time, where the Golddust Twins seemed simply unbeatable. My brother Mike and I were from Dayton, Ohio, just as Chip and Danny were. In fact, Danny only grew up two blocks from our house, and we were childhood friends from the same neighborhood. Danny had invited me to stay at their house for six weeks in 1976, on a vacation I took to Las Vegas, which was about the most memorable six weeks one could ever hope to have. Earlier in 1975, Danny visited Dayton, Ohio and told wild stories of him and Chip winning all this money. He would say, "Tom, you've got to come visit Las Vegas and see what is happening out there……you can stay with me and Chip." When Danny returned to Dayton, we would go out to a nightclub or restaurant for dinner, and he would be so excited talking about Moss, Puggy, Amarillo Slim, or Doyle. At the time, I didn't know who any of these guys were, or what they meant to the poker world. I could see Danny was excited just talking about the colorful poker players in Las Vegas, and all the money that was sitting there to win!
Danny was young, wild and carefree. He would visit Dayton dressed in these wild outfits, with $15,000 to $20,000 in 'walking around' money practically falling out of his pockets. One night we went to a place called the Lion's Den in Dayton. It was so crowded there, that there weren't any seats left for our group to sit down. Danny said, "Here Tom, take this $1,200 over to that table with those six pretty girls, and give them $200 each if they will let our group use their table."
I asked, "Danny, you can't be serious?"
He grabbed a big wad of cash, laughing, and peeled off $1,200 and said, "Yes, of course I'm serious."
I took the money over and said, "Ladies, see that guy over there in that black and white cowhide jacket? He is sort of an eccentric rich gambler from Las Vegas, and asked me to offer each one of you $200, if you would be kind enough to allow him and his group to use your table. It's crowded and there are no seats available."
One of the six girls quickly asked, "Is that all we have to do?" Everyone laughed, and I assured her and her colleagues that it was all they had to do, and the $1,200 was theirs to keep. They quickly got up, collected their $200 each and stood close by at the near wall, intensely staring and whispering, watching Danny entertain the whole table the rest of the night. This was classic, flamboyant, Danny Robison, and in reflection, as many times as Danny was partying and flashing money around in his life, it is an absolute miracle he wasn't robbed more, or hurt or killed. I'm convinced that there has been somebody up there looking out for him, for a very long time!
By 1976, Chip and Danny had accumulated a fortune that would seemingly rival Fort Knox. Danny took me to the money boxes he had filled up at the Sahara, and I couldn't believe my eyes! He said Chip had as much or more over at the Dunes. I had never seen so much money! Danny would play at the Sahara everyday, while Chip played at the Dunes. They would call each other up intermittently to get updated reports of their accumulated daily win. Danny would say, "I'm up about $11,000 so far today."
Chip would say, "I'm up $15,000, but they are getting ready to start a big mixed game up shortly. Today's winnings promise to go up!" The winning rush that the Golddust Twins were on was totally mind-boggling!
I remember Danny leaving his chips on the table at the Sahara one day, as he decided to go buy a brand new Lincoln. It seems his old car had broken down. When he got over to the dealership he told the salesman "I want a Lincoln. I hear they are good cars, and they don't break down. I don't have time to test drive one, because I've got to get back to the poker game over at the Sahara Hotel." He asked to have it delivered over to the valet there.
The salesman, not quite believing Danny was a legitimate customer ,asked, "How do you plan to pay for this son?" To his complete astonishment, Danny pulled big wads of cash out and said, "Here ya go! In fact, I better get my partner one, too, so he doesn't get mad. So, how much do I owe you for two Lincolns? I'll take this color and give him that one. My partner's name is Chip Reese, so have his Lincoln delivered to the valet at the Dunes, because he is in a poker game over there right now." "Here is a $400 tip to make sure the cars are delivered right away… as I've got to get back to the poker game right now." The salesman's mouth was left open when Danny left, and it was two sales he made in 1976 that he is probably still talking about today! Danny laughs today, remembering the Lincoln story, as he says: "I paid full sticker price, as there wasn't time to barter. I didn't want to lose my poker seat back at the Sahara Hotel."
Chip loved to learn new card games, while Danny was content to specialize in Seven-Card Stud. Nobody could accumulate money in Seven-Card Stud as much as Danny did at the Sahara around 1976. Whether he was playing $30/60, $40/80, $50/100, or $75/150, Danny was the best! On the other end of the strip at the Dunes in 1976, Chip was playing the high limits, all the way up to $800/1600. By 1978, Chip would be playing $2000/4000 at the Dunes, once he took the card room over from Johnny Moss.
Back at the Sahara one night, I watched Danny win 22 pots in a row in an unbelievable rush. He was playing against a guy named Pioneer Tommy, and literally caught three rolled-up sets in a row in winning his first 11 hands! Danny later said, "I have never had three rolled up sets in a row in three straight hands in my whole life, except for that night!" With such a lucky streak happening in this session, Danny said, "I'm not even going to look at my hole cards from now on." His rush still continued.
Pioneer Tommy soon called the floor man over and demanded that Danny be made to look at his hole cards. The floor man said, "Well, there is no rule for me to make him look at his hole cards if he doesn't want to."
With that, Danny laughed out loud, enjoying the unfolding scenario and said, "I'll tell you what I'll do: I'm going to start looking at my hole cards, but just close my eyes! You'll never know if I'm looking at my cards or not!" After those three rolled0up sets, Danny won another 11 hands without looking at his hole cards, completing his 22-hand win streak. What a sight it was watching Danny jumping and running around the room laughing, circling the tables, and putting quite a show on in his own flamboyant way.
During this remarkable rush, Danny leaned over to a dealer and placed a $25 chip in his pocket for a tip, laughing as he caught another needed river card again. His opponent got mad then, and said, "Danny, I'm quitting if you start doing that!"
Danny, in his likeable way, gently lifted the toke back out of the dealer's pocket and said laughingly, "I'm sorry about that, but I don't want him to quit." Of course, the dealer knew Danny would quietly take care of him later on. By contrast, Chip was taking on anyone who wanted to play in the highest limits in town at the Dunes. Chip was calm and collected during any game, as nothing ever rattled him. His quiet and demure demeanor was totally opposite of his wild partner, but their styles worked beautifully for each. From the very beginning of Chip's poker career, he was the essence of class and composure. Danny had this special gift for gab that was entertaining and fun to watch. If you haven't ever watched Danny play, and get the chance, you're in for a big treat Both Chip and Danny were talents extraordinaire, and complimented each other brilliantly as partners.
What a great team and partnership Chip Reese and Danny Robison made together back in those early days. I feel lucky that I was in Las Vegas back then, to witness the Golddust Twins at the hieght of their success. However, as in life itself, nothing lasts forever. I'll be writing several more parts to this incredible saga in the next few issues that will tell the rest of the story, so stay tuned….
The Cab is Parked,
Tom Sexton
Tom Sexton is a featured columnist for PokerNews.com. Tom attended the University of Oklahoma on a full gymnastic scholarship, where he was captain of the team four straight years, becoming the first NCAA All-American and Big Eight Champion in OU's gymnastics history in 1968. The Sexton family is well established in poker and includes Tom's brother Mike, the World Poker Tour commentator and poker's "First Ambassador", as voted by his peers. Tom welcomes your thoughts and comments about any of his articles. His e-mail is [email protected].