The PokerNews Interview: Jennifer 'Jennicide' Leigh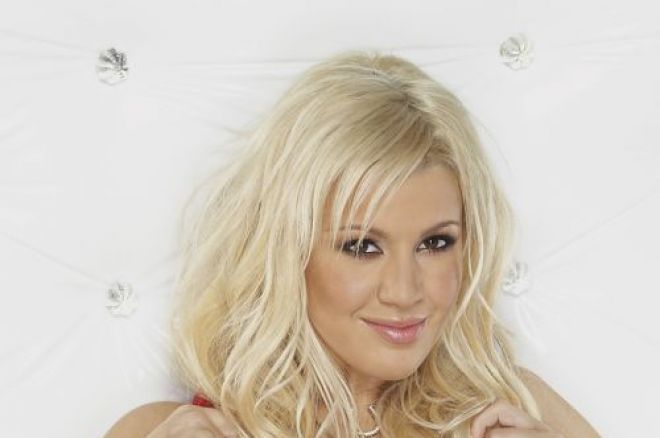 This week, online poker player Jennifer "Jennicide" Leigh made her appearance in the current issue of Playboy Magazine. PokerNews caught up with Jennifer for an interview just before she hit the stands. [Editor's note: The issue featuring Jennifer is also now available online at playboydigital.com.]
PokerNews: So your Playboy issue is just about to come out. How do you feel about it all?
Jennifer Leigh: I've already seen it. You know I don't think I had the greatest perception of my body. I'm kind of curvy. I have hips. I don't have the body of an athlete or model or anything. But the whole experience with Playboy really made me feel more comfortable and confident about my body. I once had an uncomfortable experience with a lingerie shoot. It was an open shoot and I was wearing a thong and I just remember feeling really exposed and wanting to cover up. But Playboy was amazing. The photographer, Arny Freytag, and all the people I dealt with at Playboy were great. They were very understanding. They talked with me and gave me time to get comfortable. When I finally saw the pictures, I went "wow." But I also like that they talked about online poker and the UIGEA in the article. I really wanted people to be aware of what's going on in online poker.
PN: Sometimes people are hesitant to do what you did, because they are afraid that they won't be taken seriously or that it might hurt them professionally. Did you consider that at all?
Leigh: I gave up my college career and thoughts of being a lawyer. I don't have that vision for myself anymore. I don't have to walk back into a courtroom or anything after this. You know, I'm a gambler. And I think you could argue that a lot of women's careers have actually been helped after posing for Playboy. I thought of it as an opportunity. It didn't hurt Pamela Anderson. And Shannon Elizabeth posed for Playboy. And after all, we're all born naked. Playboy is classic. I really look at it as an art form; a celebration of a woman's body.
PN: You are pretty active in some of the online poker forums and you know how critical they can be. What do you think their reaction to your Playboy spread will be?
Leigh: I don't care what they say and I guess I never did. I know that there are a lot of people that will knock you in the forums and, hey, that's OK. I mean the only people I feel like I have to prove something to are the people that genuinely care about me, myself, and (she giggles) maybe my pets. I guess if I had one wish about the forums it would be that they'd spend a little less time wondering about who's banging who, and more time standing up for their rights as players. I know the gossip can be fun and entertaining, but I think it's important to know what's going on in our industry.
I guess I'd like to see more of the online players and people active in the forums stand up for what they believe in. They complain about the UIGEA and how hard it is to get money online, but they need to start doing something about it. They need to work with organizations like the Poker Players Alliance. It's an election year. It's the information age. There are a lot of ways for people to get involved. The IGREA is a beautiful bill for online poker and players should be getting behind it. I just think sometimes we're too focused on the negative stuff that goes on in the industry.
PN: So what are you doing in poker these days? Are you still playing online? Are the games the same or are they getting harder? Are you planning to play in the WSOP this year?
Leigh: I'm still playing a lot online. I'm playing on a lot of new and different sites. I don't tell anybody where I play or what stakes I play. I don't mind it when tournament results are made available, but I hate when people can track your online cash games. I mean that's how I make my money. And yes, the cash games are a little slower than they used to be; I really miss the fish.
I am going to play the WSOP this year. Last year I had a lot of health issues I was dealing with and couldn't play much. So I'm really working on getting my health up to par. It takes a lot of stamina to play eight to ten hours a day and it really doesn't pay to play when you're not feeling well. I did that once. In the Bahamas I was running a 104-degree fever. I still cashed but that's about all I could manage. I think I spent most of my time with my head on the table. But I'm looking forward to playing the WSOP year. Maybe we can have dinner together after I win my bracelet.
PN: What is in your future? Do you see yourself playing poker and gaming online twenty years from now? Are you going to show your grandchildren the magazine?
Leigh: I'm sure I'll be playing online in the future, or whatever the next level of virtual reality is. I really love what I do. If I book a loss or get knocked out of a tournament, the only person I hurt or disappoint is myself. I like the law and I love psychology. But if I lost a case or couldn't help a patient, I wouldn't be able to sleep at night. It would be hard for me to deal with letting someone else down. I like just being accountable for myself; whether I win or whether I lose.
As far as my future goes, I don't really think farther out than three or four months at a time. But if I had grandchildren who were over eighteen, I'd probably show them. As soon as I got my pictures I took them over to show my Grandma. Hey it's a wonderful magazine; it's a piece of American history, a part of American culture.