Sexton's Corner, Vol. 46: Mike Sexton, Poker Visionary, Part 4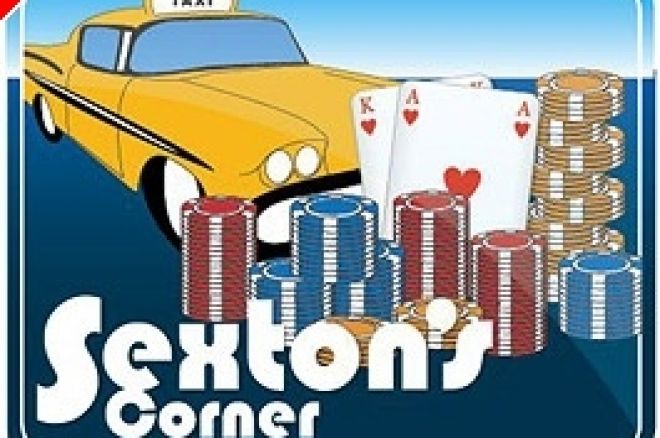 Television in the poker world has been the driving force behind poker's popularity. Today there are so many TV shows featuring poker, that if you record them all on your DVRs each week, you'll run out of room! The expansion and growth of these shows has been stunning. Equally as stunning is the one TV show in America that has been on the longest, that has turned into the pro's poker tour. Most people know it was this show that was the first to use the small cameras in a big way, while filming the show with a live audience that truly launched the poker boom by 2003. I am, of course referring to the World Poker Tour, simply known as the WPT.
We all owe a debt of gratitude to the creator of the WPT, Steve Lipscomb, and to Lyle Berman, who provided the financing. They took a huge gamble and it paid off for all of us who love poker! Before I elaborate on the role Mike Sexton played in helping the WPT come to life, special mention needs to go to someone outside the WPT, a person who actually survived the Nazi War camps of Germany in 1942, and much later won a WSOP Seven Card Stud bracelet at Binion's Horseshoe in 1996. If that wasn't enough, he went on to file 100 patents on various inventions, created the Super Stars of Poker, and was granted patent #5,451,054 in 1995 from the US Patent and Trade Office, for the invention of poker's hole-card camera, which, buried in the rail, brought access to a player's holdings! His name is Henry Orenstein, who, now in his eighties, is still very much active in the poker world.
Nobody took notice of Orenstein's poker invention for a couple of years, until a new TV show in England, called Late Night Poker, was filmed from 1999 to 2002. This show had no live audience, but for the first time, players' hole cards could be seen, as seven players were seated per show, with the winners of the first seven episodes advancing to the semifinals. All seven runner-ups would play for the eight and last seat for the Late Night Poker finals. Henry's special table with his TV cam invention deserves recognition, as he certainly was a pioneer in television's role in poker!
It is also fair to point out that the World Poker Tour took a different path in televising the player's hole cards with small lipstick tubes with a tiny camera inside, each attached on top of the table in front of each player. It was rumored that these small little cameras were a spinoff from the OJ Simpson trial, where some in the media were trying to cover the restaurant where Ron Goldman had worked. The restaurant didn't want all the media commotion, so the small lapel cameras were attached to a shirt or suit for filming purposes. Not until the WPT decided to expand the TV coverage with cameras embedded into the table a few seasons into the show did they have to litigate with Henry Orenstein's original invention, and a settlement was agreed to by both parties, for the good of the game.
There certainly is enough credit to go around, as to the evolution of television coverage and poker. One fact is abundantly clear: Until the audience had a way to follow the play seeing the hole cards, watching poker was like watching grass grow! ESPN for many years used to film the WSOP, but later showed it unannounced five or six months later at 3:00 AM, with very little marketing or fanfare. It wasn't until Travel Channel won the bid for the WPT versus ESPN that a major change happened for televised poker. Travel Channel could offer Steve and Lyle real estate, meaning every Wednesday night across America would be poker night at 9:00 PM in every time zone. Travel Channel could also offer a two-hour format per episode, while ESPN could only offer one hour. Travel Channel could repeat the two-hour show every Wednesday night after a one-hour show in between, and on Saturday each weekly episode would be repeated on Travel Channel. Steve's vision of how he wanted to do the show with a two-hour format and Travel Channel were a natural fit! The ratings for the popular new WPT on Travel Channel were enormous, and those little TV cameras used by the WPT changed everything for televised poker in America. The quality of each show's production was simply off the chart and captured the imagination of the whole industry. ESPN took a great deal of notice, and decided to re-evaluate their whole approach to televising poker. With their rights to cover the WSOP, the rest was history. Players and fans were both winners, as TV coverage with hole-card cameras made players into stars and satisfied audiences.
<center>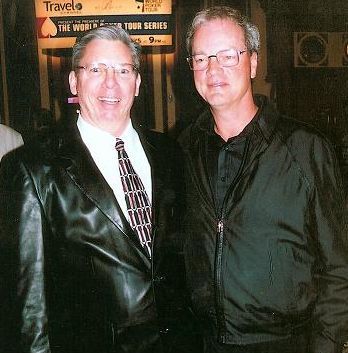 Mike Sexton and Bobby Baldwin at the celebration party
following the WPT's first episode</center>
The historical importance of the WPT and its contribution to the growth of televised poker is a fact, so let's go back in time and look at the connection between Steve Lipscomb and Mike Sexton and how the WPT came to life. One needs to go back to the 2001 TOC, where Steve was an independent filmmaker hired to film the event. I remember Steve holding the camera, getting Mike's closing comments about the tournament. Brian Saltus had just put on an amazing show, defeating poker legends TJ Cloutier, Scotty Nguyen, and "Miami" John Cernuto at the final table, stunning the whole audience! Afterwards, Brian gave an emotional speech about putting life and poker in proper perspective; you could have heard a pin drop. As it turned out, Brian, in his impromptu speech after his victory, told the audience he only had a few months to live. He had very advanced cancer, along with other problems, and as the audience intently listened there wasn't a dry eye in the house.
Steve filmed Mike on camera afterwards, asking him to summarize the 2001 TOC with his closing thoughts. This moment would be the last time Mike would be filmed on camera for his beloved dream, the Tournament of Champions he had created. The players and audience had already left the arena. Once Steve was done filming Mike's closing remarks, Steve put the camera down and walked over to me and said, "Tom, your brother is like some kind of poker god on that microphone. He can talk about poker like nobody's business, with no notes or anything. It's amazing… I can't believe how good he is. He is an absolute natural!"
Besides Mike's commentary skills, Steve Lipscomb had paid particular attention to the movie like set Mike had created setting up the TOC finals. All of us are products of our experiences in life, and Steve learned a lot watching Mike run the TOC. The subliminal input Steve learned covering the 2001 TOC, in my opinion, helped him create the unique movie-like set for the WPT. To his credit, Steve took it to new heights, wowing the whole poker world. The final table was spectacular, and the WPT would be the first venue in America to present poker every week, with cameras focused on the hole cards.
The first WPT show aired in January of 2003, with a spectacular final-table lineup of Gus Hansen, Scotty Nguyen, John Juanda, Freddy Deeb, John Hennigan, and Chris Bigler. Gus Hansen won the title, and America fell in love with poker as presented by the WPT on Travel Channel. A writer for Poker Digest, Lee Munzer, pointed out what Steve Lipscomb told him when this first WPT event was filmed at the Bellagio: "I'm standing here in front of a dream I had years ago. Thanks to Lyle, we're actually here and it is bigger, better, and more exciting than I ever imagined it to be. The mission statement of the WPT is to make poker as exciting to the audience as it is to the players by establishing new benchmarks in poker programming, including incredible camera work which will reveal the player's hole cards, a state-of-the-art 'Who Wants to Be a Millionaire'–type set, beautiful hostesses and professional analysis from WPT commentator Mike Sexton."
Mike had not only been a visionary who influenced Steve a great deal with his TOC and Party Poker Million projects, but ended up being the "Voice of Poker" as a commentator for the WPT. Mike was paired with an actor and former professional tennis player, Vince Van Patten, who did more of the color commentating. Mike's job was to analyze the play, and do it in a way that it would be easy to understand for the general audience. The commentating duo was a grand slam home run for the show, and they became household names, still going strong with Season VII ready to be filmed in 2008! Those first three seasons, Steve made another great decision to hire Shana Hiatt as the female hostess. What a great team Mike, Vince, and Shana made in front of the cameras for the WPT! Sometimes when any of us come out of a movie that is fabulous, we say "The casting for that movie was unbelievable! I can't imagine anyone else playing those key roles." The poker world was fortunate to have Mike, Vince, and Shana in their WPT roles right out of the gate. Add this factor to the creative vision Steve had in the editing and quality production of the show, where the TV audience got to feel like they were all right there at the final table, during each episode… the poker industry was the big winner!
To emphasize the importance that Mike Sexton played in Steve Lipscomb's life, consider the day Mike got that phone call from Steve about being his lead commentator on his new show, the WPT. The conversation went something like this: "Mike, I've got good news and bad news. The good news is I want you to be my lead commentator on my new show called the World Poker Tour. The bad news is you won't be able to play in the events, as we'll need consistency in the commentator booth." Mike decided to accept the challenge, when Steve asked him another question: "I've got a good business plan, but I'm missing between three to five million dollars to implement it. Do you know anyone in the poker world that loves poker, has that kind of money, and believes there is an audience out there like I do waiting to see poker with the hole cards exposed for the audience to follow?"
Mike answered, "Well, I can think of two guys in the poker world that might be able to do it. One is the owner of the LA Lakers, Jerry Buss. He loves poker and has a lot of money, but is probably too tied down with NBA regulations to really get involved in this. The other person is Lyle Berman, who plays high-stakes poker with Chip and Doyle, and is a super successful businessman. I would recommend you show your business plan to him. I'm a friend of his, and will be happy to introduce you to him. He has a place here in town, and I'll be glad to take you over to introduce you."
That first connection between Steve and Lyle was arranged by Mike. Lyle liked Steve's plan, but had some questions about securing locations for the first season. Mike suggested bringing Linda Johnson to the next meeting, as she had major contacts with the biggest casinos as publisher of Card Player Magazine. Lyle decided to put Linda and Mike on the clock, to see if they could line up the 12 charter members for Steve. Lyle told Steve, "If Mike and Linda can open the doors for you, Steve, that would be your best bet. Nobody knows you, but they all know Mike and Linda. They can get the doors opened for you, so you'll be welcome with open arms. If we get the commitments from the sites that will hold the events, I'll go ahead and get involved in this and provide the financing." Linda and Mike did a great job getting the first 12 locations interested in hearing Steve make his case. The rest is history!
Pioneers in the industry such as Steve, Lyle, Mike, and Linda helped poker enter into a new age with the formation and success of the World Poker Tour. Steve deserves a lot of credit for putting the right people in the right place, as the architect of his dream, selecting a tremendous staff that changed poker forever!
I said in the beginning, television and Internet poker were two of the biggest components of the poker boom. With Internet poker ready to explode in 2003, the first WPT shows airing in January of 2003, and a player with a very catchy name, Chris Moneymaker, set to win the 2003 WSOP Main Event, all of the ingredients were in position to explode into poker's recent boom period.
On television, Mike has become an icon over the last six seasons with the WPT, and to his credit, is still considered to be one of the nicest guys in the industry. His creative innovations for PartyPoker.com made him a pioneer for Internet poker as well. I've mentioned earlier that we would look into Mike's contributions to the success of PartyPoker.com, and how it led to its parent company Party Gaming going public on the London Stock Exchange for eight billion dollars. Stay tuned for the final part of Mike's story as poker's visionary in Part 5 next week.
The Cab is Parked,
Tom Sexton
Tom Sexton is a featured columnist for PokerNews.com. Tom attended the University of Oklahoma on a full gymnastic scholarship, where he was captain of the team four straight years, becoming the first NCAA All-American and Big Eight Champion in OU's gymnastics history in 1968. The Sexton family is well established in poker and includes Tom's brother Mike, the World Poker Tour commentator and poker's "First Ambassador", as voted by his peers. Tom welcomes your thoughts and comments about any of his articles. His e-mail is TSStarbuck1@aol.com.