World Series of Poker Daily Summary for June 14th, 2008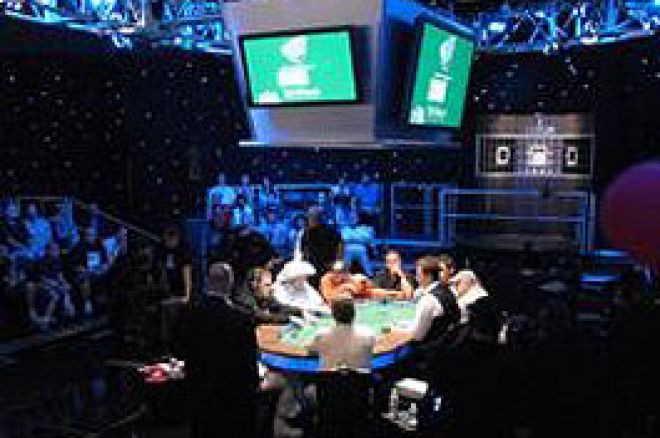 Another pair of WSOP winner's bracelets found loving homes in Saturday's action at the Rio, including one that will likely have visits from close kin. History was made when Blair Hinkle captured Event #23, $2,000 No-Limit Hold'em, joining his brother Grant (Event #2) as event winners this year.
It's the first time ever that brothers have won bracelets in a single World Series, and only the second time ever that brothers have won bracelets, regardless of year. Only Puggy and J.C. Pearson prior to yesterday had accomplished the brotherly feat, and Puggy's three bracelets predated J.C.'s single title by roughly two decades.
It wasn't an easy road for Hinkle, though he started the day in second spot and stayed at or near the top throughout the final. His last two foes were Daniel O'Brien and Mark Brockington – who finished third and second, respectively – and it took an unlikely flopped set of sixes to clear Hinkle's path to the win. When Hinkle won his last race, again by flopping a set of sixes, the $507,563 winner's prize and a spot in WSOP lore was his.
The day's other bracelet went to a seasoned pro. Max "The Italian Pirate" Pescatori captured his second career bracelet by coming from well back in Event #24, the mixed-format $2,500 Pot-Limit Hold'em/Omaha tournament. Kyle Kloeckner and Allen Cunningham were the early leaders, but while Cunningham, favored by many to take this one down, suffered early hits, Kloeckner hung tough before losing the title to Pescatori after 30 minutes of heads-up play. Pescatori collected $246,471 for the win while Kloeckner pocketed $152,410 as the runner-up.
Speaking of heads-up play, action in Event #25, $10,000 Heads-Up No-Limit Hold'em World Championship, continued. Three more rounds on Saturday trimmed the field from 32 to four semifinalists, Vanessa Selbst, Alec Torelli, Kenny Tran and Jonathan Jaffe; it's the second straight semifinal appearance for Selbst in this event. Tran and Jaffe will square off in one semifinal today while Selbst and Torelli clash in the other. Torelli was the last of the the four to secure a spot in the semis after pulling out a marathon match against Lyle Berman, who had already survived another marathon against David Williams in the preceding round. The other odd note was that in reaching the semis, Selbs managed to knock out brothers Michael and Robert Mizrachi in consecutive rounds.
Event #26, $1,500 Razz, also saw its final table set when Frank Kassela bricked out in multiple late hands to bubble the final. Kassela's last chips went to leader Chris Viox, who will have to contend with Barry Greenstein, Archie "The Greek" Karas, Mark Tenner and others in today's final.
Saturday is also the day when the biggest turnout of the week is expected for the noon starting slot. Event #27, $1,500, drew 2,706 entrants, technically slipping past its 2,700 player cap. The overflow expanded from packed Amazon, Brasilia and Tropical Rooms to spare tables outside Buzio' Restaurant and the Rio's own poker room in the casino proper. Despite the scattered action, the huge field was able to play all the way inside the money bubble in the day's play, with 224 players returning today to guaranteed paychecks. 2005 Main Event final-table player Bernard Lee held the overnight lead.
The late Saturday start went to Event #28, $5,000 Pot-Limit Omaha w/ Rebuys, which drew the very biggest of names (and deepest of bankrolls). Daniel Negreanu was one such example, re-buying in a reported 16 times, but at last those rebuys began to reap rewards, as Negreanu finished among the top ten on the day. 44 of 152 players survived into Day 2, but only 18 of those will cash. Emmanuel Sebag leads all players after Day 1 action, with a leaderboard stuffed with poker's finest.
Another pair of events kick off on a busy Father's Day today. The noon start is Event #29, $3,000 No-Limit Hold'em, with nine players per table instead of the more WSOP-normal ten. At 5pm, the $10,000 World Championship Limit Hold'em event begins, with another huge cast of poker's finest again expected to play.