2008 WSOP Event 24, $2,500 Pot-Limit Hold'em/Omaha: Max Pescatori Hauls in Bracelet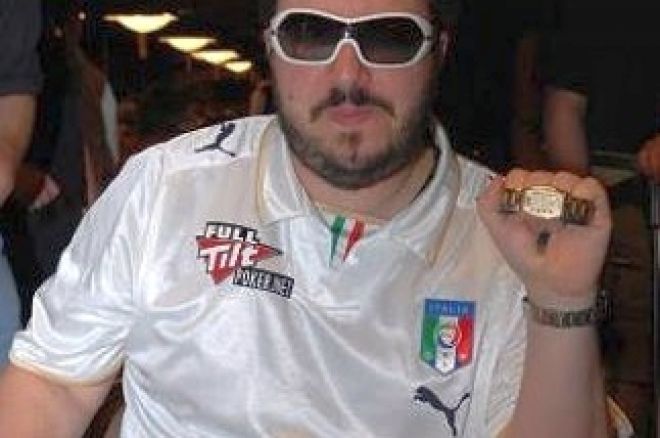 Max Pescatori, whose nickname is the "Italian Pirate," just added another World Series of Poker bracelet to his loot. Pescatori bested a field of 457 players in Event #24, $2,500 Pot-Limit Hold'em/Omaha and navigated his way through a difficult final table to win at the Rio. His win netted a $246,471 payday and his second career WSOP bracelet. Pescatori also won a $2,500 buy-in no-limit hold'em event at the WSOP in 2006.
Although the final table featured WSOP veterans such as five-time bracelet winner Allen Cunningham and successful tournament and cash-game pro Minh Ly, Pescatori's heads-up challenger was Kyle Kloeckner, a relative newcomer to the WSOP.
Kloeckner, a former philosophy major turned poker pro from St. Louis, made his first career WSOP cash in this event and he made it count, earning $152,410 for his runner-up finish. Kloeckner, who is playing in just his second WSOP, entered the final table with the chip lead and stayed in contention until the end.
Kloeckner took a chip lead into heads-up play but lost a good chunk of it on one of the first hold'em hands. He called a 65,000 button raise from Pescatori and the players saw a flop of Q-10-5 rainbow. Kloeckner check-raised Pescatori's 100,000 postflop continuation bet to 350,000. After some deliberation, Pescatori re-raised all-in and Kloeckner tossed his hand in the muck.
This pivotal hand gave the eventual champion a nearly three-to-one chip lead, with 1,500,000 to Kloeckner's 670,000. The 30-minute heads-up match ended shortly thereafter.
Kloeckner missed a chance to seriously chip up when both players hit a full house in an Omaha hand. But with higher full houses possible on the board, he could only call Pescatori's 100,000 river bet with fives full, only to see that he had Pescatori's fours full beaten.
The Italian Pirate then commandeered the final hand of the tournament. He raised from the button to 72,000 and Kloeckner called. The flop came K-J-3 with two diamonds. Kloeckner check-called the 110,000 bet from Pescatori. When the
hit the turn, Kloeckner again checked, and Pescatori counted out a bet large enough to set his opponent all-in.
Kloeckner eventually made the call, only to see that his J-10-10-3 was in serious trouble to Pescatori's K-J-8-7. The river was the
, allowing Pescatori and his Italian countrymen in the audience to burst into celebration.
Kloeckner bolstered his chip stack for heads-up play when he eliminated Greg Hurst in a blind-on-blind confrontation. All the money went in with Kloeckner holding A-7, which dominated Hurst's K-7. Hurst failed to improve and left with $94,599 for third place. The real estate agent from Tazewell, Tennessee, also made his first WSOP cash and final-table appearance here.
Of course, it was far from the first final table appearance for Allen Cunningham, but it probably was one of his wilder rides. He started the day second in chips with 484,000, but saw most of it dissolve rather quickly. Cunningham took the worst of it in several early all-in confrontations in hold'em – he was behind when the money went in each time – and needed to suck out with A-6 against Jonathan Depa's A-Q to stay alive.
But his luck eventually turned around, as Cunningham survived while all-in as the short stack a few times, and eventually ran it back up to a respectable 450,000. However, with his stack dwindling perilously short again, he put the rest of chips at risk in Omaha with J-9-7-2 but ran into Kloeckner's A-A-10-3, which held up and eliminated Cunningham in fourth place. The world-class pro walked away with $76,205 for his efforts.
Kyle Hegeman, a pro from Port Jefferson, New York, was eliminated during Omaha when he pushed in with top pair on a jack-high flop and was run down by Kloeckner's open-ended straight draw, which came through on the turn. Hegeman took $62,015 for fifth place.
Depa, an aspiring pro from Chicago who made his second WSOP cash this year, was crippled after losing his confrontation with Cunningham and was ousted in sixth place. Pot odds forced him to call the remainder of his stack with 6-3 from the blinds and he lost to Pescatori's K-J, which made a pair on the flop. Depa made $48,876 for his showing.
Lennart Holtkamp, a young pro from the Netherlands, was sent to the rail in seventh place when he pushed in with the nut flush draw in an Omaha hand, only to run into Pescatori's set of kings. Holtkamp earned a payday of $38,365.
Two players were eliminated within the first 15 minutes of play. Short-stacked John-Paul Kelly was the first to go when his K-J went down to Kloeckner's A-10 in a hold'em hand not long after the cards went in the air at 3pm. The pro from the United Kingdom won $22,000.
WSOP veteran Minh Ly soon followed, losing most of his chips against Depa when all the money went in with Ly holding J-J to Depa's A-K. But when the Big Slick flopped a pair, Ly was crippled and eliminated on the next hand when he was forced all-in from the small blind. Ly cashed $30,482 for eighth place.