2008 WSOP Event #20, $2,000 Limit Hold'em Final: Fourth Gold Strike for Negreanu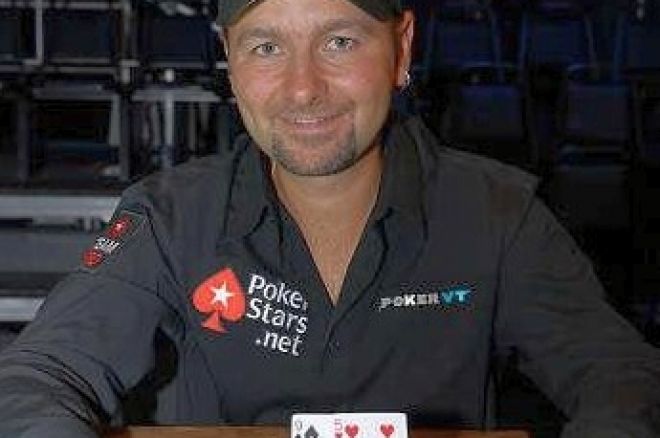 Daniel Negreanu went into the final table of this event the most experienced player in the field by far. For six of the other players, this was their first time at a WSOP final table. Negreanu not only had three prior WSOP wins, but had won this event before, back in 2004. So, despite not starting the day in the chip leader, it was not a surprise when Negreanu emerged as the winner of the 2008 WSOP $2,000 Limit Hold'em event. Negreanu won every hand in heads up play to earn the victory, his fourth WSOP bracelet and the first-place prize money of $204,874.
The seating assignments, hometowns and chip stacks of the final nine going into today were:
Seat 1: David Baker (Katy, Texas) — 409,000
Seat 2: Jeremy Kottler (Cleveland , Ohio) — 47,000
Seat 3: Hien Tran (Sacramento, California) — 58,000
Seat 4: Ugur Marangoz (Las Vegas, Nevada) — 402,000
Seat 5: Fu Wong (Chandler, Arizona) — 67,000
Seat 6: Greg Wohletz (Henderson, Nevada) — 301,000
Seat 7: Daniel Negreanu (Las Vegas, Nevada) — 308,000
Seat 8: Derek Lerner (Montreal, Quebec, Canada) — 133,000
Seat 9: Richard Li (Toronto, Ontario, Canada) — 195,00
Hien Tran, a former poker dealer, was out early – just four hands in. Tran had called the preflop raise of Fu Wong and they both saw a flop of
. Tran checked, Wong bet and Tran called. The turn was the
. This time Tran led out and Wong called. The river was the
. Tran pushed in for his last 8,000 and Wong called, showing pocket jacks for jacks and nines. Tran mucked. Hien Tran was our ninth-place finisher, earning his fourth WSOP cash, this time for $18,782.
Derek Lerner was eliminated by fellow Canadian Daniel Negreanu, after taking an earlier hit at the hands of David Baker. Negreanu raised from the small blind and Lerner three-bet from the big blind. Negreanu called and the dealer spread out the flop of
. Negreanu bet, Lerner raised all in and Negreanu called. That's when Lerner discovered his countryman had raised and called a preflop reraise with Q-6. Lerner tabled his A-Q and he was behind to Negreanu's pair of sixes. The turn and the river missed him and Lerner was out in eighth place, with $25,334 for his first WSOP final table appearance.
Greg Wohletz lost a chance to quadruple up and instead was knocked out after he went all in against Richard Li, Ugur Marangoz and Fu Wong. Li had opened for a raise, Marangoz called from the button, Wong called from the small blind and Wohletz called all in for 23,000 from the big blind. Four went to the flop which came
. The action was checked to Li who bet. Marangoz called, Wong raised and the other two called, three heading to the turn with Wohletz all in. The turn was the
. This time, Wong led out and the other two folded, giving him the side pot. The cards were turned up for the main pot. Wohletz had
to Wong's
. The river was the
and Wohletz was eliminated in seventh place, collecting $ 31,886 for his efforts.
Jeremy Kottler had started the day short-stacked and had managed to hang tough, watching three others eliminated before him. But, down to just 19,000 in chips, he called the preflop raise of David Baker and his tournament life was on the line. When each player tabled his cards, Kottler had the better of it,
to Baker's
. He stayed ahead through the
flop and the
turn, but the river was the
and Jeremy Kottler was eliminated in sixth place, taking home $40,622.
Fu Wong, second in this year's WSOP $10,000 Seven Card Stud World Championship, had lost two-thirds of his chips in a previous hand against Richard Li, when Li hit runner-runner fours for trip fours, and was down to 100,000 when Negreanu raised preflop and Wong called from the big blind. The flop was
and it went to a three-bet by Negreanu which Wong Called. After the
fell on the turn, Wong checked, Negreanu bet, and Wong called all in for 25,000. Wong showed
for the open-ended straight draw; Negreanu showed
for top pair. The river was a deuce and Fu Wong was eliminated in fifth place, collecting $51,542.
Richard Li, also at his first WSOP final table, three-bet preflop against Ugur Marangoz. The flop came
and Marangoz led out; Li called. On the
turn, Li moved in for the last of his chips and Marangoz called. Marangoz showed
; Li was behind with
. The river was the
and Richard Li was eliminated in 4th place, earning $63,335.
This was David Baker's second WSOP final table and his highest WSOP finish at third. In his final hand, Baker had called a raise from Negreanu preflop. Negreanu bet the
flop and Baker called. Negreanu bet after the
came on the turn, Baker raised and Negreanu called. The river was the
and Negreanu bet to put Baker all in; Baker called. Negreanu announced, "Straight!" as he turned over Q-J and Baker was heading out the door in third place, with $78,624.
Heads up with Negreanu, and down to 160,000 after losing every one of their previous hands, Ugur Marangoz, the poker room manager at the Mirage, saw a cheap flop of
. Both players checked the flop and the
turn. When the river came a
, Marangoz bet out. Negreanu raised to put Marangoz all in and Marangoz called. Negreanu turned over
for trip fives and Marangoz was out in second place with $126,671. And with that, Daniel Negreanu was the winner of the 2008 WSOP $2,000 Limit Hold'em event, his fourth WSOP bracelet and the top prize money.
Negreanu may parlay this win into even more money. He and fellow poker legend Phil Ivey reportedly have a standing bet during this year's WSOP in which one pays the other $200,000 for each bracelet won. Not surprisingly, as Negreanu sat down to have his picture taken with the winning
, he paused for a moment and took out his cell phone. "Hang on, I've got to text Ivey!"