2008 WSOP Event #25 $10,000 Heads-Up No-Limit World Championship: Kenny Tran Wins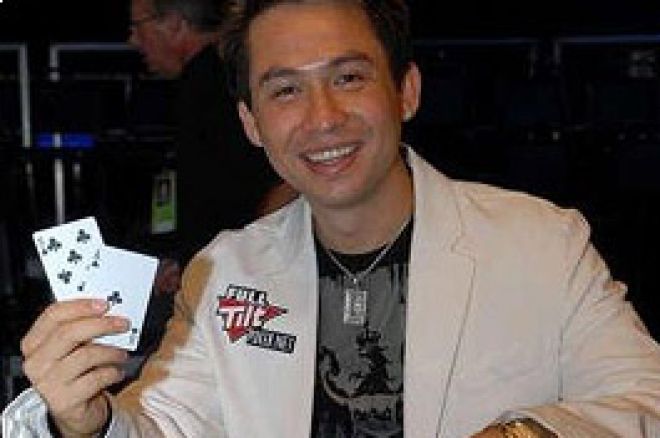 "I definitely have a strategy. I like to grind people out and make them feel bored. I just torture them and let them finally make a mistake." Kenny Tran's strategy turned out to be a winner during the $10,000 Heads-Up Championship, taking the finals against Alec Torelli in two straight matches. For the event, Tran won his first WSOP bracelet and $539,056.
Both the semifinal and final matches were played on Day 3.
Semifinals Recap
Kenny Tran vs. Jonathan Jaffe
Jonathan Jaffe started his semifinal match taking seven straight hands against Kenny Tran. But for every few small pots Jaffe would take, it seemed that Tran would find one to pull himself close to even. Tran took the lead for the first time on Hand #26, when Jaffe was forced to fold Tran's monstrous 500,000 bet on the river. But Jaffe regained control a few hands later, when his two pair of kings and tens edged out Tran's queens and tens.
There were few showdowns in the 60-hand match, but a fair number decided with pressuring flop, turn or river bets. In one hand with the board showing A-Q-Q, Jaffe took his time and fired out a bet representing about 40% of the pot. Tran took an equal amount of time before pushing out a large re-raise. After a lengthy stare-down, Jaffe conceded the hand and Tran exposed 7-5 for the bluff.
Tran had a very slight chip lead going into the final hand. The pre-flop betting escalated until Jaffe declared himself all in. Tran took his time and talked to himself, before surprising the crowd and making the call. Tran had pocket jacks to Jaffe's K-8 and the ensuing board maintained Tran's advantage. Jonathan Jaffe took home $108,288 while Tran advanced to the finals.
Vanessa Selbst vs. Alec Torelli
In the early going, Selbst and Torelli felt each other out by trading small pots, while Torelli retold a story about a hand he lost in a cash game. Emcee Robbie Thompson said over the P.A. system, "In case you guys couldn't hear that, Alec was telling a bad beat story." Torelli protested, "No, it was just me being a retard."
Torelli got the advantage in the match on the 17th hand. Selbst reraised Torelli's pre-flop raise and bet the flop J-J-6 flop. Torelli took his time and called. Selbst fired out another bet on the ace on the turn. Again Torelli made a measured call. Both players checked down the king on the river. Torelli showed his pocket nines and Selbst mucked her hand. Torelli would maintain the chip lead throughout the rest of the match.
The match ended on hand #35, with all the money going in on the turn with the board showing J-5-4-10. Selbst had the advantage with K-10 for a pair of tens versus Torelli's K-Q for the open-ended straight draw. The river delivered a nine to complete Torelli's straight. Selbst also made the semifinals in this event last year. This year she received $108,288 for her performance.
Finals Recap
Kenny Tran vs. Alec Torelli
Match One:
After some early sparring, Alec Torelli pulled into the lead on the 18th hand. Pre-flop, Torelli opened for 72,000 with Tran reraising to 260,000. After some thought Torelli reraised to 585.000 and Tran reluctantly called. Torelli bet all in on a flop of
and Tran had to let the hand go. At that point Torelli had 3,231,000 chips to Tran's 1,889,000. But Tran grinded it back to even over the next dozen hands. Tran pulled slight ahead on hand #32, where Torelli kicked it up to 72,000 preflop and Tran called. Both players checked down the flop of J-8-4 and the subsequent king on the turn. Tran checked the ace on the river and Torelli fired out 100,000. Tran took a long swig of water and check-raised it to 400,000 and Torelli let the hand go.
On the 51st hand, Tran predicted the match would have a winner before the end of the round, but this would be a game of inches, not miles. After Hand #67, Tran had opened up his lead to 3,317,000 vs. Torelli's 1,803,000. But after Hand #76, the match was essentially even. In that hand, Torelli had opened for 100,000 and Tran made a quick call. Both players checked down the K-Q-7 flop. Tran led out 200,000 on the turn of a king and Torelli called. Tran led out again with the jack on the river, only to have Torelli reraise to 925,000. After spending time in the tank, Tran folded and Torelli exposed pocket fives.
By Hand #93, Tran had regained the lead once again. On that hand, Tran opened for 110,000 and Torelli immediately reraised it to 350,000. Torelli went all in on the 8-4-2 flop and Tran quickly called. Tran had made middle pair with A-4, while Torelli was drawing thin with A-J. The remaining seven and ace couldn't save Torelli and the first match was awarded to Tran.
Match Two:
Already a match behind, Torelli turned up the heat in the second match. But if Torelli was hoping for a quick decision he was mistaken, as this match would last almost as long as the first. While Torelli gained the early advantage, the match was again almost essentially tied after 65 hands of play.
In their final and 80th hand, Tran opened for 110,000 and Torelli made the call. After a
flop, Tran bet out 150,000 and Torelli reraised to 430,000. Tran bumped it up to 1,030,000 and Torelli took a moment before declaring all in. Tran made the call showing
for the nut flush draw and Torelli tabled Q-10 for top pair. An
fell on the turn, giving Tran additional outs. But it was the flush that won if for Tran when the
came on the river.
Alec Torelli finished in second place for $336,896. And Kenny Tran, father of three, took down his first WSOP bracelet on Father's Day.