2008 WSOP Event #37 $10,000 Omaha Hi-Low Championship: Benyamine Wins First Bracelet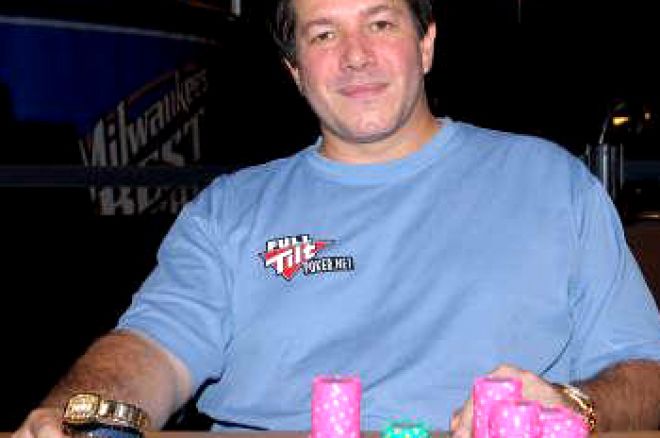 Ram Vaswani led 18 remaining players into Day 2 of the $10,000 Omaha Hi-Low World Championship. In this star-studded field, it was not surprising that this event's eventual final table played host to five former WSOP bracelet winners. What may have been surprising to some, however, is that up until now, David Benyamine was not among them. A fixture in high-stakes games with two prior WSOP final-table appearances just this year, Benyamine battled against savvy veterans and Omaha hi/lo specialists to finally claim his first WSOP bracelet and $535,678 in prize money.
Day 3 Starting Chip Counts:
Table 14
1 Danny Dang 257,000
2 Stuart Paterson 96,000
3 Eugene Katchalov 252,000
4 Chau Giang 384,000
5 Shun Uchida 134,000
6 Pat Pezzin 65,000
7 David Benyamine 378,000
8 Ram Vaswani 569,000
9 Toto Leonidas 269,000
Table 15
1 Brent Carter 114,000
2 Jason Gray 347,000
3 Berry Johnston 338,000
4 Mike Matusow 396,000
5 David Chiu 372,000
6 Greg Jamison 208,000
7 Hieu "Tony" Ma 319,000
8 Ray Dehkharghani 149,000
9 William McMahan 76,000
It would only take 20 minutes before the 18-player field suffered its first elimination of the day. All of Ray Dehkharghani's money went in on a 10-6-5 flop in a confrontation with Tony Ma. It looked like we were headed for a chopped pot with Dehkharghani potentially taking the high with A-A-7-5 and Ma having the best low draw with A-K-8-4. But Ma ended up scooping the pot when a seven on the river filled his gutshot draw. Dehkharghani finished in 18th place. Only moments later, Ma would claim another victim when a
on the river bumped William McMahon's nut low draw to a second best and simultaneously delivered a flush to Ma. William McMahon finished in 17th place.
Brent Carter got all his chips in on an A-9-3 flop with the best of it; Carter had A-Q-8-8 to Jason Gray's 9-7-7-2. But the board followed with another three and another nine to give Gray trips and give Carter a 16th-place finish. Stuart Paterson started the day as the third lowest chip stack. Paterson put all his chips in play in a four-way pot only to come up empty, finishing in 15th place. And it was a cruel river that ended the day for Pat Pezzin. Pezzin, who started as the day's short stack, got all his chips in with K-K-10-2 against Shun Uchida's A-Q-8-2. Through the turn, the board cooperated with 4-4-J-J, but an ace on the river sent Pat Pezzin home in 14th place.
David Benyamine took the lead for the first time in the day after lifting two large pots off Ram Vaswani. But as Benyamine's fortunes were rising, Danny Dang was heading for the door. All the money was in on the turn with the board showing 2-K-3-4. Mike Matusow flipped over A-3-5-5 for the wheel and Dang was on his way to collect his 13th-place payout before the final four hit on the river.
Chau Giang had a tortuous day, getting chopped and quartered at every turn. Giang got all his money in on a turn with a low draw and a made flush. Unfortunately the low never got there, and Toto Leonidas had a higher flush. Giang finished in 12th place. A high-only board was good for David Benyamine's K-K-x-x, but it ended Shun Uchida's day when his A-Q-7-2 couldn't connect. Uchida finished in 11th place.
1986 WSOP Champion Berry Johnston fought off the final table bubble for as long as he could, but finally succumbed soon after a stack-crippling hand against David Benyamine. Johnston put his remaining stack on A-K-Q-8 to Ram Vaswani's 2-3-4-4. Vaswani caught a six-high straight and the wheel on the board of 6-6-5-A-3 to eliminate Johnston in 10th place.
With Johnston's elimination, the final table was set:
Seat 1: Hieu 'Tony' Ma (South El Monte, CA) - 310,000
Seat 2: Jason Gray (Sydney, Austrailia) - 590,000
Seat 3: Ram Vaswani (London, England) - 175,000
Seat 4: Toto Leonidas (Glendale, CA) 720,000
Seat 5: David Chiu (Roland Heights, CA) - 730,000
Seat 6: Mike 'The Mouth' Matusow (Las Vegas, NV) - 195,000
Seat 7: David Benyamine (Paris, NV) - 1,200,000
Seat 8: Greg Jamison (Cedar Falls, IA) - 450,000
Seat 9: Eugene Katchalov (Brooklyn, NY) - 300,000
Mike Matusow took a hit right before Johnston's elimination, but entering the final table as one of the short stacks didn't seen to interfere with Matusow's trademark bravado. "I'm right in the spot I wanna be. Whatever you do, don't let me get chips!" The table must not have been listening, because Matusow was able to more than triple up in one of the first hands of the final table.
Tony Ma was not as fortunate in the early going, however, losing by just pips for both the high and low. Ma got all his money in on the
turn holding the
for the flush. But Toto Leonidas had the
to outflush him by a nose. Ma thought the
on the river might have saved him for the low, but his 7-5 low just missed against Leonidas' 7-4. Hieu 'Tony' Ma finished in ninth place for $55,225.
After the dinner break, David Chiu got all his chips in with 3-4-5-5 against Greg Jamison's K-K-A-10, but the board broke high. Jamison ended up with a Broadway straight and David Chiu ended up in eighth place for $71,792. Ram Vaswani started the day as chip leader, but taking two big hits early in the day, was never able to find much traction. Vaswani eventually entered the final table as the shortest stack. Vaswani pushed his last chips in with Q-Q-6-6 against Greg Jamison's A-2-7-8. The board ran out A-8-7-4-2 and Ram Vaswani finished in seventh place for $88,360.
Although Eugene Katchalov has won a WPT title, taking down the Doyle Brunson Five Diamond Classic late last year, this was his first WSOP final-table appearance. After getting quartered in a hand against Greg Jamison, Katchalov put his last chips up against Jason Gray. But Gray hit two pair and the nut low, which was good enough for the scoop, and Eugene Katchalov finished in sixth place for $110,450.
If there had been a constant in this event, it was the sound of Mike Matusow's voice. Matusow's stack, however, was almost never a constant, vacillating wildly throughout the event. Matusow's wild ride finally ended when he pushed his short stack in on a A-K-8 flop against Toto Leonidas. Leonidas had the advantage with top two pair holding A-K-7-6, but Matusow had a better low draw with A-Q-6-3. The jack on the turn gave Matusow a few more outs to a gutshot, but the board paired an eight on the river. The final table got measurably quieter after Matusow finished in fifth place for $138,062.
In a huge hand, Jason Gray doubled through Toto Leonidas. Leonidas had the edge through the turn with top pair and nut low, but Gray rivered a wheel and Leonidas was left with only enough chips to pay for his next big blind. Leonidas hit a Broadway straight with his A-2-5-J, but it wasn't good enough to beat David Benyamine's flush. Toto Leonidas finished in fourth place for $171,197.
Jason Gray was unable to hold onto his stack, however, as David Benyamine would take most of it with a rivered full house in a hand bet all the way down. Benyamine would subsequently come back and finish the job. All the chips went in on the
flop with Gray holding
for the nut flush draw and a Broadway gutshot. Benyamine was in the lead, however, with
. The
turn gave Gray a low draw, but the
sealed the hand for Benyamine. Jason Gray finished in third place for $209,855.
David Benyamine had a 3-to-1 chip advantage over Greg Jamison when heads-up play began and quickly widened the margin. Down to his last 180,000, Jamison survived by hitting two hands back-to-back, hitting sets on the flop in both hands. But in the final hand, it would be Benyamine's turn to flop a set. All the money went in pre-flop
Jamison:
Benyamine:
The flop came
giving Jamison the lead with the nut straight to Benyamine's set. But the
on the turn gave Benyamine the full house, and Greg Jamison was drawing dead. This was Jamison's second final table at this year's WSOP and third career WSOP cash, all in Omaha hi/lo. Jamison received $331,350 for his second-place finish.
Benyamine was obviously overjoyed at winning his first WSOP bracelet. But when he was asked whether he felt vindicated after finally scoring a bracelet win, Benyamine replied, "Winning is always important to me. But I never thought I had anything to prove."