2008 WSOP $10,000 NLHE Championship, Day 2B: Peter Biebel, Alex Outhred Lead Pack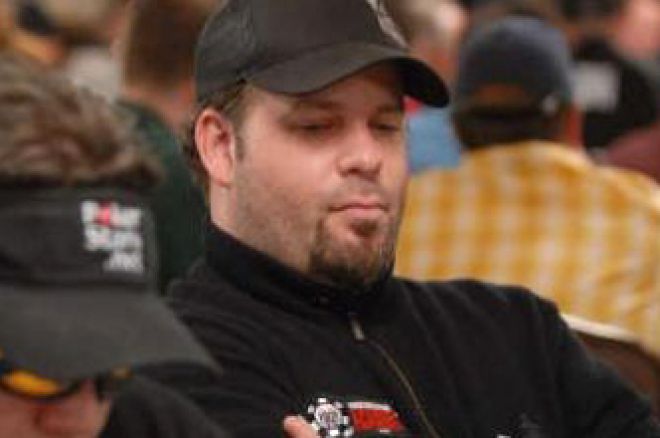 Almost twice as many Day 2B players started their second day of the WSOP Championship as did Day 2A. 2,379 took the field, with Henning Granstad starting out with the chip lead. While Granstad would survive to advance to Day 3, Peter Biebel would end the day's session with 531,000 in chips for the lead. Alex Outhred was in a close second for the day at 486,800.
The first hour was a flurry of activity as the short stacks pushed all in for a potential life-affirming double-up. Godsmack frontman Sully Erna moneyed in this event in 2006 and 2007, bet left empty in 2008. Erna was one of the first to depart today, when he pushed his short stack in with pocket fives but failed in a race against A-Q. Only minutes later, John Juanda got his few chips in on a flopped gutshot and overcards, but no outs came and Juanda was gone. Michael DeMichele and Roeland Knijnenburg were also lost in the first half hour of play.
"What can you do?" said Shirley Williams with a laugh. "I played four hands, and three were aces. Oh, well." The third time with pocket aces was not the charm, as an opponents' pocket tens found a set on the turn to send Williams to the rail. Clonie Gowen's pocket eights couldn't overcome an opponent's pocket tens. Danny Wong's pocket kings got outrun by Nikolay Evdakov's A-10, when an ace fell on the flop. And Joe Awada's A-3 gave him top pair, but his kicker turned out to be a tournament-ending problem.
Brian "sbrugby" Townsend liked the
board enough to call all his money in on the turn. But Townsend's
and his trip deuces were behind Richard Ashby's
and flush. The river was a
and Townsend was done. Liz Lieu escaped the same fate, mucking a flopped set when a third flush card, and an all-in bet from an opponent, came on the turn. Her opponent flashed the flush in recognition of her savvy fold.
2007 WSOP Champion Jerry Yang lost his bid at back-to-back titles when his A-J was overtaken by an opponent's A-9 when a nine came on the flop. While Yang, who was not a professional player when he won his bracelet, played a lighter post-championship tournament schedule than his predecessors, Yang's presence in the poker world was felt in other ways. For instance, while most Day 1 survivors took a well deserved break on the day off between their Day 1's and Day 2's, Yang came into the Rio for the Casino Employees event. He walked around the room, shaking hands with the 900+ players, wishing them luck and thanking them for their hard work and dedication to the game he loved.
Ryan Hughes was able to get a leg up in the early going when his pocket nines eliminated Amnon Filippi and Charles Large, who both held A-K. But the two-time bracelet winner still was unable to negotiate the long, hard day and Hughes failed to advance to a third day of play. Eric Hershler's A-K was of little use against pocket queens and another opponent with A-K, even though a king came on the river. Unfortunately for the Big Slick holders, the river made the fourth diamond on the board and the queen of diamonds took the pot and eliminated Hershler. Alex Jacob, Beth Shak, Matt Savage, and Ben Fineman also fell before the first break of the day.
Right after the break, Eric Haber's pocket jacks failed him when an opponent's A-Q caught two more ladies on the flop. And Shannon Elizabeth went soon after, taking her A-8 up against A-J. Paul Testud's pocket sevens failed to hold up against an opponent's A-Q. "I can't walk, can't see, can't hear, but I can still play poker!" said Jack Ury, who at age 95 was the oldest player in the field. Ury's day ended when his pocket tens ran up against pocket jacks. "I'll be back again next year... if I'm still alive!"
Bill Chen did everything he was supposed to with pocket fives and even hit a set on the flop. But the "presto" magic failed Chen when his opponent made a wheel on the turn. Archie "The Greek" Karas hit two pair on the flop, but unfortunately his opponent hit a bigger two pair and Karas was out. And Howard Lederer's day came to an end when his A-K lost a race to Jean-Robert Bellande's pocket nines.
2005 WSOP Championship runner-up Steve Dannenmann got all his chips in on a flop holding an overpair of pocket queens, but Sami Rustom already had an open-ended straight draw which hit on the turn. Isabelle Mercier, Strong Wang, Jason Somerville, Peter Mendelsohn, Matt Hawrilenko, and Josef Berec were also eliminated before the second break of the day.
Brett Jungblut's pocket kings eliminated Sorel Mizzi, holding A-Q. Michael Binger's run ended when his trip aces fell to Zachary Gregg's sixes full. And a second WSOP champion fell in Day 2B when Carlos Mortensen flopped a set of deuces, only to discover Grant Hillman had flopped a set of queens.
Travis Rice was one of the first eliminations after the dinner break, when his A-K couldn't improve against pocket jacks. Bernard Lee soon followed, his small flush falling to the nut flush. Andrew "Good2cu" Robl's short-stack push with K-10 couldn't overcome pocket sixes. Elsewhere, Tony "The Lizard" Bloom couldn't get his pocket pair to hold; his pocket sevens fell to an opponent's A-T. And Teddy "Iceman" Monroe was eliminated after running his pocket kings into David Rosenbloom's pocket aces.
David Oppenheim was crippled after taking his pocket queens against pocket aces. Oppenheim then hoped for a quick double-up with A-Q, but was thwarted by the big blind's J-3 when a jack hit the flop. It was also queens against aces that sent Phil Laak to the rail. And Joe Hachem would be the third WSOP champion to fall in Day 2B. In Hachem's exit hand, five players saw the two-club flop. Hachem pushed all in with the flush draw and was called by pocket queens and pocket kings. The rest of the board ran red and Hachem was out.
Liz Lieu dodged a bullet early in the day, only to be eliminated in the last level of the day, her A-K losing out to an opponent's pocket queens. Bryan Micon was another late elimination. Micon got all his money in with K-J when a king hit the flop, only to discover he was outkicked by an opponent's K-Q.
At the end of Day 2b, 842 players remained. Along with the chip leaders, listed below, a lot of notables will advance to Day 3. Former WSOP champions Johnny Chan and Phil Hellmuth get another day of play. Mike Matusow, Victor Ramdin, Nemad Medic, Cliff Josephy, Evelyn Ng, Kirill Gerasimov, Jennifer Harman, Scott Clements, Tiffany Michelle, Chris Grigorian, Jeff Madsen, John D'Agostino, Phil Gordon, Shawn Sheikhan, Gus Hansen, Hevad Khan, Thayer Rasmussen, Brandon Cantu, Tracy Nguyen, and Jean-Robert Bellande will all have chips in play for Day 3.
The Day 2A and Day 2B players will combine for a starting field of 1,308 Day 3 players. Day 3 will also likely be "money day" as payouts for the 2008 Championship Event begin at 666th place. Check back with the PokerNews "Live Reporting" team for all the Day 3 action. Here are the top ten players from Day 2b action:
Peter Biebel — 531,000
Alex Outhred — 486,800
Baja Kattamuri — 411,100
Steven Goosen — 362,100
Reagan Silber — 355,500
Paul Snead — 335,500
Rafael Caiaffa — 334,500
Cornel Pazai — 328,100
Matthew Calhoun — 325,800
Terry Lade — 315,000