2008 WSOP $10,000 NLHE World Championship, Day 7: Dennis Phillips Maintains Lead, Heads November Final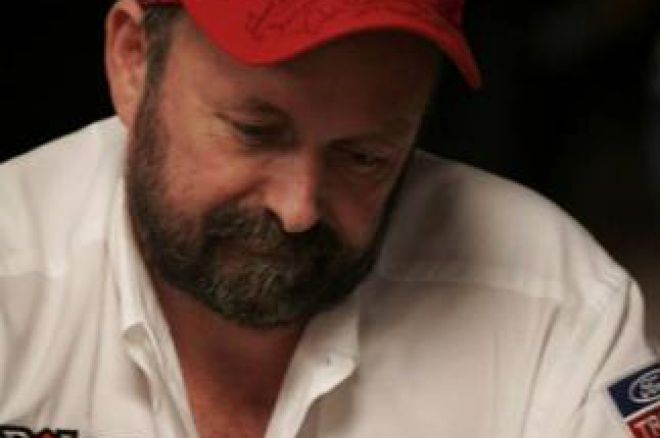 6,844 players started the 2008 WSOP Championship for the second largest field in WSOP history. After a long and grueling Day 7, there were nine. Dennis Phillips had the lead going into Day 7, and when the last chip was counted, the oldest player in this admittedly young field was still on top.
Play started shortly before 12:30 pm, with 27 players remaining in the field. Within the first 20 minutes of play, we had our first elimination when Michael Carroll's A-9 couldn't overtake Gert Andersen's pocket fours after an A-5-4 flop. At 3:30 am, more than 15 hours later, Dean Hamrick took his A-J against Craig Marquis pocket queens. The board didn't help Hamrick and the final table was set after his 10th-place elimination. Hamrick received $591,869 for his performance. The rest of the remaining players received $900,670 which is the guaranteed payout for ninth place.
By the time the final table kicks off, more than three months from now, we'll know more about the "November Nine" than perhaps has ever been known about a final table – probably down to their shoe sizes. But on Day 7, we got to see how they navigated their way to what will surely be a life-altering event, with over $24 million of the prize pool yet to be decided.
Phi Nguyen was one of only two WSOP bracelet winners left in the field when play began on Day 7. Nguyen won the WSOP $2,500 NLHE event in 2003 and the $1,500 NLHE Shootout event in 2004. Phi Nguyen became the 26th-place finisher when he reraised all in with A-10 to face off against Paul Snead's pocket jacks. Nguyen failed to connect with the board, and he walked away with $257,334 for the 77th tournament money finish of his career.
Aaron Gordon, at age 21, was the youngest player to start Day 7. Gordon limped pre-flop and then reraised all in against Darus Suharto. Gordon's Q-10 didn't improve and Suharto took the pot with pocket jacks. Aaron Gordon finished in 24th place. Tim Locke finished in 23rd place when his pocket sixes were overtaken by Ylon Schwartz' pocket threes, when a three fell on the turn. This was Locke's first live tournament.
I got him, I got him!!" cried Paul Sneed. With 11 million in the pot, and the
flop, Sneed's
had the decisive edge over Scott Montgomery's
. The
increased Sneed's edge, reducing Montgomery's outs to only two. Montgomery beat the odds, catching the
to cripple Sneed. Sneed went out on the next hand when his A-10 was dominated by Craig Marquis' A-K. Paul Sneed finished in 21st place.
After Phi Ngyuen's elimination, Brandon Cantu was the only WSOP bracelet winner left in the field. Cantu won his WSOP bracelet in a $1,500 NLHE event in 2006. Cantu became the short stack in the field after calling Dean Hamrick's all-in bet, pre-flop. Hamrick had pocket aces and Cantu flipped over a surprising 10-5. The board came 8-7-5-8-10 and Hamrick's two pair outranked Cantu's two pair. Cantu got the rest of his money in with pocket nines against Peter Eastgate's
. The board produced four diamonds and Brandon Cantu was eliminated in 20th place.
Tiffany Michelle lost her bid to become only the second woman to make the WSOP Championship final table. Michelle, who sailed effortlessly through the first six days of play, had trouble gaining traction on the seventh. Finally, holding A-J, Michelle pushed all in on an A-10-9 flop and was called by Peter Eastgate. When Eastgate flipped over pocket aces, Michelle's fate was all but sealed. A five on the turn left Michelle drawing dead. Tiffany Michelle finished in 17th place for $334,534.
Peter Eastgate spent the afternoon successfully building his stack to take the chip lead. Dennis Phillips had a less profitable start, but started his upward climb by eliminating Nicholas Sliwinski in 13th place. Phillips flat-called Sliwinski on the
flop. Phillips flat called Sliwinski again on the
turn. And Phillips called Sliwinski's all-in bet on the
river. Sliwinski showed
for two pair while Phillips flipped over the
for the flopped flush.
Before the Main Event even started, Chris Klodnicki already had a memorable 2008 WSOP. Klodnicki finished in second place behind Barry Greenstein in the WSOP $1,500 Razz event. His memories of the Championship event, however, would end in 12th place. Klodnicki got all his chips in on the royal flush draw, holding
on the
flop. Klodnicki would need that royal, once the
came on the turn as Scott Montgomery's Q-J found a boat. The one outer never came.
Phillips climbed higher when he forced Peter Eastgate out of a large pot with an all in bet on the turn, with the board showing 8-4-2-10. Phillips went on to take down a three-way pot against Ylon Schwartz and Scott Montgomery. Schwartz bet on the 9-5-2- flop was called. Everyone checked the ace on the turn. And with the action checked to him on the river, Phillips led out with a 1.2 million bet, which was called by both players. Phillips' pocket kings were good, and he was at the 24 million chip mark.
Joe Bishop doubled up two players, leaving himself vulnerable with only 11 players left. Bishop got all his money in with A-3 to David Rheem's pocket deuces. The A-3-5 flop put Bishop ahead, but the four on the river gave Rheem the wheel and Bishop an 11th-place finish.
Play slowed appreciably and predictably as no one wanted the dubious honor of final-table bubble boy. Dean Hamrick finally swung for the fences and came up short. Tournament Jack Effel announced the final-table participants to thunderous applause, adding "Players, you may now go on your 117-day break! Good night from the World Series of Poker!"
The 2008 WSOP $10,000 NLHE World Championship Final Table:
Dennis Phillips 53, St. Louis, Missouri, 26,295,000
Ivan Demidov, 27, Moscow, Russia, 24,400,000
Scott Montgomery, 26, Perth, Ontario, Canada, 19,690,000
Peter Eastgate, 22, Odense, Denmark, 18,375,000
Ylon Schwartz, 38, Brooklyn, New York, 12,525,000
Darus Suharto, 39, Toronto, Ontario, Canada, 12,520,000
David Rheem, 28, Los Angeles, California, 10,230,000
Craig Marquis, 23, Arlington, Texas, 10,210,000
Kelly Kim, 31, Whittier, California, 2,620,000