PokerStars Announces Seventh Annual WCOOP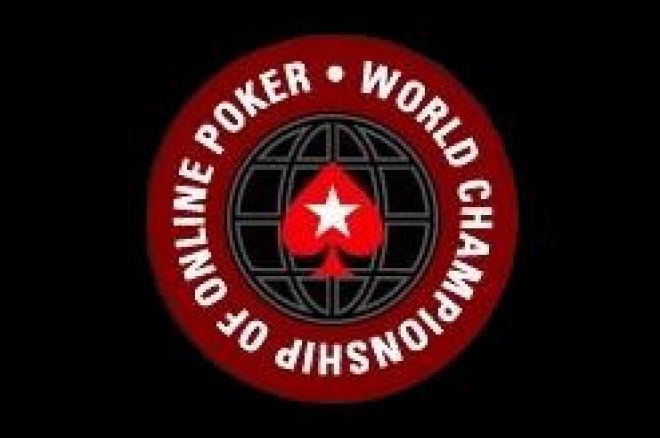 PokerStars has announced its seventh annual World Championship of Online Poker (WCOOP), annually the online poker world's largest championship series. The 2008 edition, scheduled to begin on September 5th, 2008, represents another step forward in size for the series, with 33 different events and a massive overall guarantee of $30 million, twice the total guaranteed in last year's WCOOP VI.
Stars' WCOOP annually offers the widest selection of tournament formats, and the WCOOP VI lineup is no exception. Among the less-common formats in this year's series are the following:
● $10,300 High-Roller No-Limit Hold'em
● Eight-Game Mixed tourney
● Four-Max No-Limit Hold'em
● Mixed Hold'em
● PLO with one rebuy, one add-on
● $25,500 High-Roller Heads-up No-Limit Hold'em
● Six-Max Mixed Hold'em
● No-Limit 2-7 Single Draw
● Six-Max No-Limit Hold'em w/ rebuys
The WCOOP VII will run for 18 days, running September 5-22, with the final event, the two-day $5,200 NL Hold'em Main Event, actually beginning on September 21. That event carries an incredible $10 million guarantee, the largest ever for an online, series-based event. Excepting the final Sunday of the series, which is devoted to the Main Event, two other events get underway on each of WCOOP VII's first 16 starting days.
Team PokerStars Pro member Joe Hachem said, "Prestigious tournaments such as the PokerStars.com World Championship of Online Poker are the ultimate way to improve your game and experience the excitement of big tournament play." Hachem will be among the many big-name players participating in various WCOOP events.
WCOOP VII events can be bought into directly or qualified for via the numerous satellites on the site, which will be made available beginning July 6. As with previous WCOOP editions, PokerStars will also contribute a sizeable number of free entries via such avenues as FPP (Frequent Player Point) qualifiers; an additional $1.5 million in free entries has already been earmarked for the WCOOP VII series.
Here is the complete WCOOP VII schedule:
# Date Day Time Buy-in/Event Guarantee
#1 5-Sep Fri 14:30 $215 NL Hold'em [6-max] $1,000,000
#2 5-Sep Fri 16:30 $215 PL 5-Card Draw $100,000
#3 6-Sep Sat 14:30 $215 Limit Hold'em $300,000
#4 6-Sep Sat 16:30 $215 2-7 Triple Draw $100,000
#5 7-Sep Sun 14:30 $10,300 High-Roller NL Hold'em $2,000,000
*#6 7-Sep Sun 16:30 $530 NL Hold'em $3,000,000
#7 9-8 Mon 14:30 $215 PL Omaha [6-max] $300,000
#8 9-8 Mon 16:30 $320 8-game Mixed Event $200,000
#9 9-9 Tue 14:30 $215 NL Hold'em [4-max] $400,000
#10 9-9 Tue 16:30 $215 Razz $100,000
#11 9-10 Wed 14:30 $320 PL Omaha Hi/Lo $300,000
#12 9-10 Wed 16:30 $320 Mixed Hold'em $300,000
#13 9-11 Thu 14:30 $215 NL Hold'em w/Rebuys $1,000,000
#14 9-11 Thu 16:30 $320 7-Card Stud $100,000
#15 9-12 Fri 14:30 $320 NL Hold'em [Heads-Up] $500,000
#16 9-12 Fri 16:30 $215 PL Omaha [1R / 1A] $300,000
#17 9-13 Sat 14:30 $530 PL Hold'em [6-max] $400,000
#18 9-13 Sat 16:30 $215 HORSE $300,000
#19 9-14 Sun 14:30 $25,500 High-Roller HU NL Hold'em $1,600,000
*#20 9-14 Sun 16:30 $1,050 NL Hold'em $3,000,000
#21 9-15 Mon 14:30 $530 7-Card Stud Hi/Lo $200,000
#22 9-15 Mon 16:30 $530 Mixed Omaha Hi/Lo [6-max] $200,000
#23 9-16 Tue 14:30 $530 NL Hold'em [1R / 1A] $500,000
#24 9-16 Tue 16:30 $530 NL 2-7 Single Draw $200,000
#25 9-17 Wed 14:30 $320 PL Omaha w/ Rebuys $500,000
#26 9-17 Wed 16:30 $320 NL Hold'em [6-max] $500,000
#27 9-18 Thu 14:30 $530 NL Hold'em Triple Shootout $300,000
#28 9-18 Thu 16:30 $530 Limit Omaha Hi/Lo $400,000
#29 9-19 Fri 14:30 $530 NLHE w/Rebuys [6-max] $400,000
#30 9-19 Fri 16:30 $1,050 PL Omaha $500,000
#31 9-20 Sat 14:30 $1,050 Limit Hold'em [6-max] $500,000
#32 9-20 Sat 16:30 $10,300 HORSE $500,000
*#33 9-21 Sun 16:30$5,200 NL Hold'em Main Event $10,000,000
* — indicates two-day event