The PokerNews Profile: Anna Wroblewski
Nicole Gordon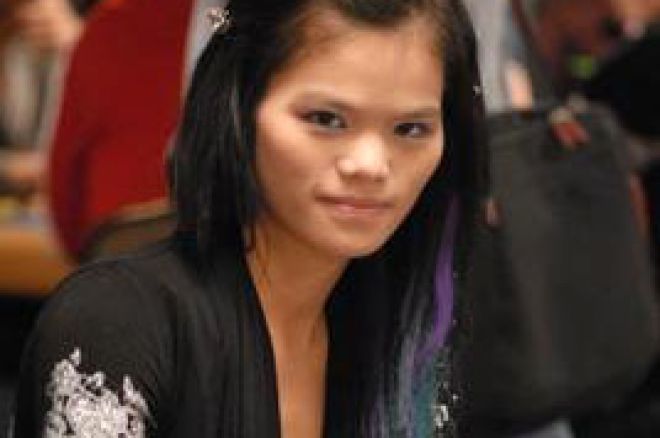 Anna Wroblewski doesn't know when her birthday is. Not the month, the day or the year, though she estimates she's about 22 years old. Orphaned at age four in her native Vietnam, Wroblewski and her younger sister lived with a slew of different relatives before ending up in an orphanage in Hanoi. It was there that she had her first experience with gambling, playing card games like spades with the other children for pieces of fruit. Ultimately, both she and her sister were adopted by Marilyn Wroblewski, who brought them to Chicago from Vietnam in 1994.
Anna spent her childhood in the Windy City and started playing poker at age 18 when her then-boyfriend brought her to a home game. She admittedly wasn't good at all when she first tried out the game, but persisted and started to win after a few months. Less than a year later, Wroblewski decided to pick up and move to Las Vegas. She was already playing frequently online and in short order began sitting in live cash games with a fake I.D. Despite her extremely youthful appearance, she hardly had any problems.
During her stint in Vegas, Wroblewski began winning significant amounts of money online, but had no idea how to manage it. She'd win big, move up in limits, lose a bit, then find herself unable to stop playing until she'd either gotten completely unstuck, or had lost it all. Wroblewski went boom and bust, boom and bust online until she lost her entire bankroll and had nothing left over to pay her living expenses. Completely broke and with a mounting debt, Wroblewski returned home to Chicago.
Anna Wroblewski's next trip to Las Vegas came in February 2007. Bringing with her a bankroll of about $1,200, she started grinding it out in the $1-$2 no-limit games and won enough to move up to $2-$5. Throwing in a few sessions of $15-$30 and $30-$60 limit hold'em, Wroblewski built her bankroll up to over $9,000 in only a few weeks. She was able to pay off her debt, but without much left afterwards, she found herself at a crossroads—stay in Las Vegas and get a job or go home again? Anna chose to give Vegas another try… and this is where the real legend begins.
Wroblewski got a $10/hour job and commuted to and from work by bus. Her boss quickly discovered that she played poker and offered her a $400 stake. She took the money to the Bellagio that night and bought in to a $15-$30 limit hold'em game. After quitting the game a $600 winner, Anna entered a single-table satellite for the $2,000 NLHE event at the 2007 Five-Star World Poker Classic and won the seat. The next day she played in the $2,000 NLHE tournament and placed 16th for a $7,200 score. She paid her pleasantly surprised boss back the stake as well as his share and took the balance back to Bellagio, where she won a satellite to the next day's event-- $3,000 NLHE.
48 hours later, Wroblewski won the tournament. Though her take was a bit less than the reported first-place prize of $337,395 after a three-way chop, she did also pick up a $25,000 entry into the WPT World Championships, which would be held in only a few weeks' time.
Now, all eyes in the poker world were trained on Anna. Who was this girl who had just come out of nowhere to up and win a Bellagio tournament? The only thing was, Anna's run was merely beginning.
Wroblewski placed 70th in the 2007 WPT World Championships, good for another $46,410. A week later, she took down the Ladies' Event at the WSOP-Circuit stop at Caesar's Palace, collecting over $18,000. It would be a scant 27 days before her next final table, which came in the $2,500 NLHE event at the Mandalay Bay Poker Championships. Wroblewski finished runner-up to Erica Schoenberg that night, but banked another $71,540. 24 days later-- another final table at Bellagio, another $28,000. However, that's not how Anna Wroblewski's wild ride came to an end-- far from it. She'd add another $193,876 to the till with a fourth-place finish in the $2,000 No-Limit Hold'em event at the World Series of Poker. So, for those of you that are counting, that's somewhere in the neighborhood of a $700,000 take over the course of only 11 weeks—and one auspicious start to a career.
Since her amazing rookie run, Anna has spent a significant amount of her time on the major tournament trail. She's added another three WPT cashes, three WSOP cashes, three Bellagio final tables, and two Aussie Millions final tables to her resume. Wroblewski is also a prolific online player, playing under the handles "vietcutie" and "VIETHOTTIE21." She has a number of five-figure cashes to her credit as well as two victories in $109 NLHE MTTs on PokerStars. Most Sunday afternoons, you'll find her playing in the PokerStars Sunday Million and the Full Tilt $750K Guaranteed.