PokerStars 2008 WCOOP Main Event, Day 1: 'august35' Leads 60 Survivors to Second Day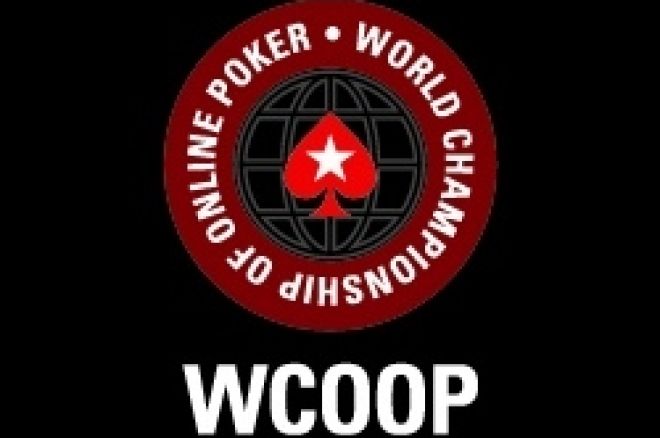 The Main Event of the World Championship of Online Poker (WCOOP) on PokerStars kicked off yesterday with Day 1 play. The $5,000+200 tourney saw 2,185 participants sign up, creating a total prize pool of $10,925,000. Barring a deal, the first prize will be worth $1,775,312.50 when decided tonight.
Among the top finishers falling short of day 2 were Dan "Wretchy" Martin in 76th place ($16,387.50), Ylon "TenthPlanet" Schwartz in 78th place ($16,387.50), Jamie "TheCronic420" Rosen in 81st place ($16,387.50), Orel Hershiser in 89th place ($16,387.50), Gary "GB2005" Bogdanski in 94th place ($15,295), Juan Carlos "PrtyPsux" Alvarado in 98th place ($15,295), Shannon "basebal1b" Shorr in 144th place ($14,202.50), xthesteinx in 154th place ($13,110), Isaac "westmenloAA" Baron in 158th place ($13,110), Vanessa "LadyMaverick" Rousso in 160th place ($13,110), and Eric "sheets" Haber in 162nd place ($13,110).
Heading into Day 2, 60 players will return with hopes of winning the prestigious event, including several big names. Alex "AJKHoosier1" Kamberis is in excellent position, being fifth in chips. Danny "cpfactor" Smith and Scott "xmrstyle" Bohlman are in 16th and 20th place, respectively. Ryan "Daut44" Daut is in the middle of the pack in 28th place, while astarisborn, Bertrand "ElkY" Grospellier, and Dustin "neverwin" Woolf are all still in the running.
The top ten chip counts beginning Day 2:
1. august35 - 3,865,986
2. Cobra234 - 2,378,526
3. Fluffdog87 - 2,242,203
4. Forza Parma - 2,204,820
5. Alex "AJKHoosier1" Kamberis - 2,184,184
6. liberace - 2,073,469
7. klslcz - 1,822,775
8. PieOhMy - 1,382,118
9. Markush13 - 1,381,400
10. ViP_MoDee - 1,375,402
also:
16. Danny "cpfactor" Smith - 1,036,775
20. Scott "xmrstyle" Bohlman - 963,432
28. Ryan "Daut44" Daut - 793,280
42. atarisborn - 493,044
43. Bertrand "ElkY" Grospellier - 482,177
50. Dustin "neverwin" Woolf - 417,001