'durrrr Challenge' Update: Dwan Books $134,000 Win over Antonius in Opening Session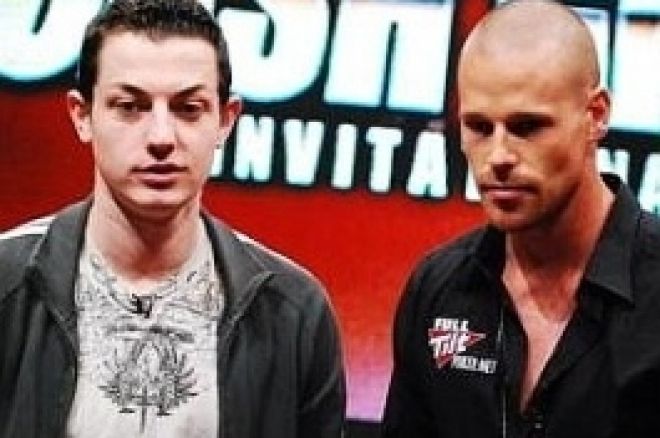 The first session in the much-ballyhooed "durrrr Challenge" kicked off Wednesday morning with Tom "durrrr" Dwan taking on Patrik Antonius. The rules of the challenge require each of Dwan's opponents to play him for 50,000 hands at four simultaneous tables of either no-limit hold'em or pot-limit Omaha on Full Tilt Poker. If, at the end of the 50,000 hands, Dwan is up any amount over his opponent, even one dollar, his opponent will pay him an additional $500,000. If Dwan is down any amount to his opponent, he will pay him 3:1 on that $500,000—the tidy sum of $1.5 million. Of course, the 50,000 hands can and will be broken up over a number of sessions. Thus far, Antonius, Phil Ivey, and David Benyamine have all accepted Dwan's challenge.
Antonius and Dwan played 1,541 of the required 50,000 hands on Wednesday, with Dwan emerging a $134,911.50 winner over the course of the first session. The game was PLO and they played on four of the eight "durrrr Challenge" tables that are currently set up on Full Tilt.
Dwan was a set-flopping machine in this first session, two monster pots being shipped his way courtesy of his sets holding up against Antonius' big draws. In the first hand, Dwan opened for $1,200 and Antonius called from the big blind. Antonius led out for $2,400 on the
flop, Dwan raised to $7,700 and Antonius called. The turn was the
and Antonius led again, this time for $17,800. Dwan raised to $71,200 and Antonius ultimately called all in. Dwan had a set of tens with
while Antonius held
for a wrap draw. The
on the river didn't improve Antonius' hand and Dwan earned the $148,266 pot. Shortly thereafter, a similar situation unfolded, Antonius leading at a
flop for $2,400, and Dwan putting in a raise to $7,700, but tinstead of flat-calling, Antonius three-bet to $25,500. Undeterred, Dwan reraised to $78,900 and Antonius called all in, revealing
for top pair and the nut flush draw while Dwan showed
for bottom set. The
on the turn made Dwan a full house and the $134,631 pot was his.
In another major confrontation, Dwan did nothing to deter his reputation as a luckbox, hitting a runner-runner flush to win a $114,484 pot. Antonius had led the betting thus far, raising pre-flop and betting $2,400 on the
flop. Dwan called and the
fell on the turn. Dwan checked, Antonius bet $7,200, Dwan raised to $28,800, Antonius re-potted to $93,600 and Dwan called all in. Antonius led with
for two pair and an open-ended straight draw, while Dwan's
gave him two flush draws. The
hit the river and again, no love for everyone's favorite Finnish delight as Dwan dragged yet another huge pot.
Antonius quit the match after nearly five hours of play and the two agreed to resume play the next day if the $500-$1,000 action wasn't running. However, several of those nosebleed-stakes games did come together on Thursday morning and both players agreed to postpone the second session of their match to a later date. PokerNews will provide more news on the ongoing "durrrr Challenge" once these two sit down and face off again.