Patrik Antonius on the Upcoming 'durrrr Challenge'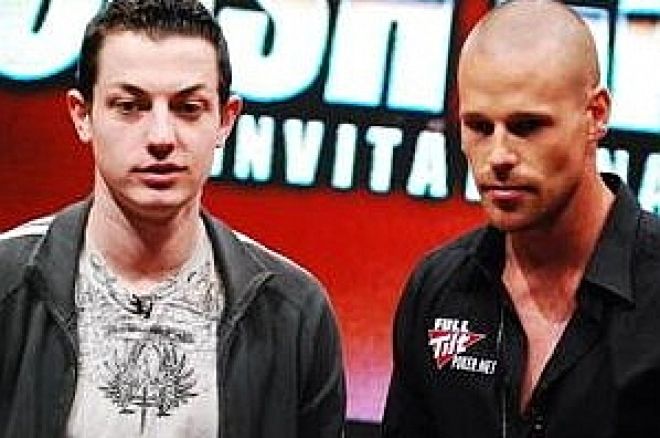 Ever since word got out that Tom "durrrr" Dwan was offering the high stakes poker community $1.5 million to their $500,000 that he could beat them over 50,000 hands played at four simultaneous heads-up NLHE (no-limit hold'em) or PLO (pot-limit Omaha) tables, the online poker community has been buzzing. Heads-up challenges have always been a staple part of poker folklore and this could be one of the defining moments in the history of online poker. Patrik Antonius has been confirmed as the first challenger, a set of four special 'durrrr Challenge' PLO tables have been created on Full Tilt, and all that is left is for battle to commence.
PokerNews has been fortunate enough to get a ringside seat to the first durrrr Challenge: Patrik Antonius will be providing PN readers with regular updates on how the durrrr Challenge is going for him, walking through the highs and lows of what will surely be an exciting ride. Many expected the challenge to start last week, but Patrik hasn't been around much at the high-stakes tables. So where has he been?
"I'm currently in Thailand on a holiday with my family," said Patrik. "My friends spend a lot of time here and they kept telling me to come out here; we have just been in Australia for the Aussie Millions so it wasn't too far to come. I have a two-year-old daughter and she is having a blast here. We all are, the weather is nice, the food is great and it's really peaceful."
No online poker star would travel far without his laptop nearby, but unfortunately for Antonius, broadband issues at his end have put back the start of the challenge. Said Patrik, "We wanted the challenge to have started by now but my internet connection isn't good enough. It's an okay connection; [it's become] better since we have been here but certainly not good enough for the durrrr Challenge. It's too slow for playing four tables at once; sometimes it will take ages between pressing a button and the action actually happening at the table, so we won't be starting yet. We are going to Monaco next so hopefully we can start then."
There is no doubt that Antonius is among the world's poker elite and is one of the few players to successfully dominate both online and live poker in equal measure, but many experts believe the parameters Dwan has set favor the young online star. Playing four simultaneous heads-up tables is a big task for any player, so how does Patrik think he will cope with the rules of the challenge?
"Playing four heads-up tables will be tough, especially at pot-limit Omaha. PLO is a game of good calls, good value bets and good bluffs; you have a lot of tough decisions on the turn and river, that's for sure, so I will need plenty of focus. Thankfully I have played so many hands of PLO that I am able to respond to situations a bit quicker and I tend to take the same amount of time for every decision, so I do not give off any timing tells. Every now and then you get a hand where you have to use the time bank but Tom usually takes quite a bit of time to act, too, so we will play at the same pace." Patrik continued, "I've done quite well against durrrr playing two or three simultaneous tables, so I am pretty confident, although that fourth table does make a difference and how I adapt to that is the key. He has much more experience at playing four or more heads-up tables at the highest stakes; his brain seems to be programmed much better for that kind of thing."
To play 50,000 hands would take a lifetime live, but a lot of high-volume players can easily grind that many in a month or two. How long does Patrik think the challenge will take?
"It will take somewhere between three to six months, because I will be playing short sessions with Tom. I will be playing between two- and five-hour sessions with Tom and I guess that would work out to about 600 hands per hour, which is a lot of work for the brain to cope with. Also, we will be on two different time schedules for a lot of the challenge; it will be my night when it is his morning and vice versa, so it will be harder to get us together at the same time.
"It's very important for me to do well in this challenge so I will be taking my time, I don't really care what the media thinks about how long it should take. I'm a busy guy, I have a family, I like to play golf and have other things going on, and sometimes I don't have the time to play poker. When both our schedules are good it would be great to play every day for about two hours a day."
Antonius seems to be adopting the position that the durrrr Challenge is a marathon, not a sprint, the prudent choice for such a high-volume affair. He also revealed this is also to ensure that both men are able to get in on the action whenever the nosebleed games on Full Tilt get juicy. "When there are other good games online there is no point either of us playing the other, we are better off sitting in the good games instead, this is our job after all. We will play at the durrrr Challenge tables when there is no good action anywhere else."
Finally, with millions of dollars on the line, a challenge like this has the potential to leave one of the participants literally broke. But, as we have seen recently with the upcoming boxing match between Gus Hansen and Theo Jorgensen, the top pros are able to separate their personal relationship from their desire to compete at the highest level with everything on the line:
"I like Tom a lot," said Patrik. "He is a really nice guy. From what I can tell he is a really humble and generous person. He is one of a kind, that's for sure, as most poker players are. He has really improved at PLO, I remember playing him two or three years ago and his game is so much better today. He is definitely one of the best out there right now.
"There is nothing personal in this match. It's all work; he knows it and I do. I think if you let things get personal and emotional at the tables it's very dangerous. But he put this challenge out and I was really interested and wanted to compete. I might have actually taken an even-money bet just for the challenge, but it would have been too demanding on my schedule for just even money. Either way, it's going to be a really good test for both of us."
Join us at PokerNews as we track Patrik Antonius' progress throughout the durrrr Challenge.