The PokerNews Interview: Dave 'Devilfish' Ulliott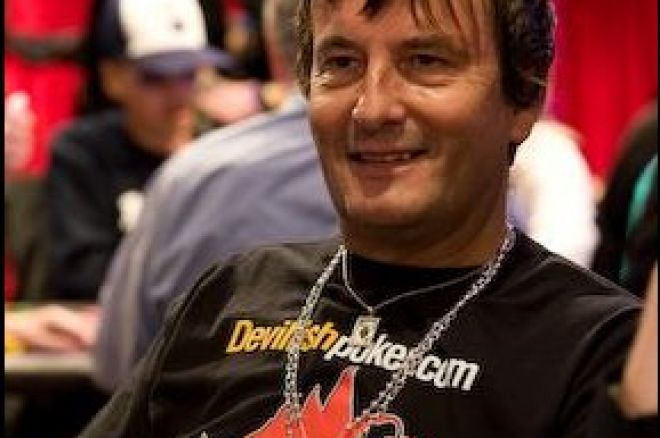 Dave "The Devilfish" Ulliott has one of the most recognizable faces and nicknames in poker, and has compiled a tournament record that very few players can match. With a WSOP bracelet, WPT trophy and the inaugural "Late Night Poker" title in his collection, he is the UK's leading all-time tournament money winner and one of the most dangerous players in the world when behind a deep stack. The Devilfish had a fantastic start to 2009, winning two tournaments outright and cashing at EPT Deauville in January.
When asked about his recent great run, Devilfish said, "No-limit hold'em is a form game and right now I am in form; I am running good, I am winning my coinflips. The cards are just running my way at the moment; you need to get the rub of the green a little sometimes. You need a lot of luck to win any tournament, for some people the cards can fall perfectly and they still don't win, but usually when the cards go right for me, I win the tournament.
"First I won a tournament in Ireland (the €750 side event at the Irish Poker Championships for €33,000) and then won the main event of the Euro Finals of Poker in Paris (€133,880). I played really well and had a good finish in the EPT Deauville (23rd for €15,500) so I really wanted to strike while the iron was hot and play some more. Unfortunately I broke my finger in a scuffle straight after and when the doctor took a look at it was worse when we thought and I haven't played since."
Those results catapulted Ulliott right to the top of the European Poker Rankings in January, making him an early contender for European Player of the Year, but how important is such an accolade to a player that has already won some much in the game?
"It was a shame about my finger because I was at the top of the European Rankings, but since then I've slipped down a few places. I'd like to win the European Player of the Year award, but looking at the schedule of ranking events it's hard to find events worth playing. I had a look at an event in the UK this week but it's just a £500 main event; had it been £1,000 I might have done it but at £500 there is no money in that. I want to play the bigger buy-in events where I could get plenty of money in the bank, where a top-three finish would give you a decent return. I think I might play the GUKPT Main Event in London this month, but then I'll be at the Bellagio for the WPT World Championship and then to Monte Carlo for the EPT Grand Final."
Unlike a lot of other top players in the world, the Devilfish has always been honest about the fact he believes that luck plays a much bigger part in the game than is often made out. If there is one arena where this is prevalent for Ulliott, it's the studio-based TV tournament where it is commonly agreed that he is one of the unluckiest players in the world, always depart on a bad beat.
"Maybe it's because I won the first 'Late Night Poker'," said Ulliott, "that I don't have much luck in them now. The blinds go up really quickly in televised tournaments because the producers want to get straight to the action, so it becomes a bit of a crapshoot as everyone has to defend their blinds eventually. You can run good and be really lucky to get heads up as the chip leader, but are still only three hands away from going broke, so you need a lot of luck at the end."
In the UK, where these TV tournaments are very popular, the Devilfish is as big a name as Phil Hellmuth or Doyle Brunson is in the US, having a degree of celebrity far beyond the immediate poker community. This does create a bit of a target for his back when he is on the European circuit. Said Ulliott, "Everybody wants to take me on, everyone wants to knock the Devilfish out, which is great when I have a big hand but when I don't it's like running without the ball. To give you an example of what I mean, I played recently against this young Scandinavian kid and I had top two pair, I bet out with it and he called me with no hand and no draw. The turn he still had no hand and no draw, and I bet again and he called. By the river, the board had completed this really likely draw and he put a massive bet in that was uncallable, so I folded and he showed me the bluff like he was the cleverest guy in the world. He had no idea how lucky he was for the only runner-runner combination to come that I could never call came along; he had actually shown me what a poor move he had made against me. That's what I'm up against but it is good for me that he insisted on showing me."
Having had so many young players from the online generation taking him on, Ulliott retains a good vantage point into the state of the game. What does he think of the concept that poker is increasingly getting tougher? "There isn't any dead money in tournaments these days," said Ulliott, "and when there is they usually win it, or at least they usually bust me. Most final tables these days are made up of what we used to call dead money. There are usually about five online qualifiers at each final table. But no, there is very little dead money on the tournament circuit these days."
The Devilfish has been there from the start, way before the poker boom happened, and yet he is one of the biggesy beneficiaries of the boom, having made the most of his star status in poker in recent years. So has poker yet reached its peak? According to Ulliott, "Poker isn't, say, darts or football, poker is a game where anybody has a chance to win and win big despite their age, weight, intelligence level, etc. There are a lot of people who have a lot of money in the bank, who are not that sharp, not street smart, and I think could never have got sums of money like that from poker. It's not like blackjack or horseracing where you can get banned, like I have, from lots of casinos and bookmakers, for being a winner. In poker you can win 24/7 and nobody complains because it's against other people rather than the house. For those reasons, poker will always be massive."