PokerNews WSOP 'November Nine' Focus: Kelly Kim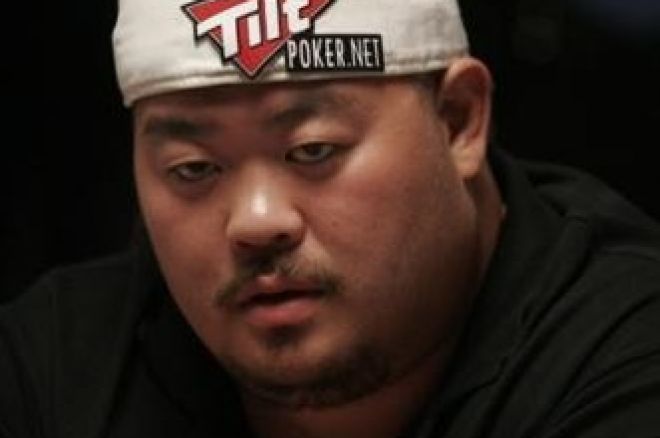 Kelly Kim has to know the odds are against him. The 31-year-old poker pro from Whittier, California, a suburb of Los Angeles, is going into the final table of the 2008 WSOP Main Event with just 2,620,000 in chips. When play resumes, there will be 21 minutes and 50 seconds left in Level 33, with blinds of 120,000-240,000 and a 30,000 ante, giving Kim an "M factor" of just 4. It's all-in or fold time for Kim. But no one who knows Kim, or watched him during the waning hours of the last day of play, is writing him off.
A California native, Kim was in last place in chips with thirteen players to go on Day 7. As the final-table bubble loomed, he managed to outlast four other players while nursing his own micro-stack. Waiting patiently, refusing to tussle against the bigger stacks until he had a hand, using what chips he had to steal some blinds and antes, Kim watched as one by one other players fell, moving him closer to his goal. This tenacity and patience paid off when Dean Hamrick was eliminated in tenth place, guaranteeing Kim a spot at the final table where he is still in the hunt for the $9 million first prize. With his reputation as an excellent short-stack player, Kim may be down, but he's certainly not out. As he told an interviewer shortly after making the final table, "Obviously I'm in critical condition, but if I double or triple early then it's on."
Kim, who goes by the nickname "KK," started playing poker back in 1995, while he was a student at UC San Diego. After graduation, he worked in marketing as a business analyst; but after a few years, he gave that up to devote himself to playing poker full time. By 2003, Kim was a regular in the Los Angeles area poker scene, playing mostly NLHE tournaments. He got off to a great start, winning the Grand Slam of Poker NLHE event at the Hustler Casino in July, 2003, defeating Chad Brown heads-up and taking home $21,990.
Since then, Kim has cashed over 35 times in major tournaments and has amassed live tournament winnings of over $350,000. Among his major money finishes are two cashes at the 2007 WSOP and eight cashes at World Poker Tour events. Kim's biggest cash before this summer came in an NLHE L.A. Poker Classic event in 2006, where he finished third for $62,201. Eleven days later he cashed again, at the LAPC Championship, taking home $46,502 for his 17th-place finish.
Kim has played in every Main Event since 2003 and making the final table this year is by far his greatest poker accomplishment. Known as a solid, tight player, Kim is happy to have reached the final table in the Main Event. "I've already reached my goal and everything else is just gravy." During the break before the final table, Kim is playing both online and in tournaments. He cashed in Event #13 of the Legends of Poker tournament series at the Bicycle Casino in L.A. this past August, finishing in fourth place for $10,650.
In what could be a bit of foreshadowing, Kim recently displayed his knack for short-stack play. He was playing in the $535 buy-in main event of the Full Tilt Online Poker Series, the $2.5 million guaranteed final event of FTOPS IX earlier this year. After nine hours of play, Kim was short-stacked, second to last in chips with 34 players remaining. If he busted then, he would earn $7,500. But Kim was patient, deliberate, nursing his stack and waiting for the right moment. He hung in while 17 other players busted ahead of him. Eventually, he was out in 16th place, but with a much better payday.
Kim shared his thoughts on his upcoming final table with PokerNews. Here's what he had to say:
PokerNews: Kelly, as the final-table bubble approached, it looked as though you were going to be the one sent off in that heartbreaking tenth spot, and then all of a sudden, you made it through. What were your emotions like as that final hand unfolded?
Kelly Kim: I was ecstatic and relieved. I was very realistic about my situation knowing I was a big favorite to bubble the most important final table in history. In that moment, words cannot really express my feelings.
PN: You'll be coming in as the short stack, though history has shown us that every finalist has a realistic shot of winning. Have you thought about that moment when you're likely to make that stand for all your chips?
KK: Definitely. I know that I have to win a lot of all-in confrontations. I know that I need to find a hand soon and I just hope I have the best hand and it holds. If I double or triple the whole dynamic will change.[/B]
PN: How has your life changed since becoming one of the November Nine?
KK: My life hasn't changed too much outside of the poker world. In the poker industry, I have received a lot of congratulations and good luck. I have done a lot of radio interviews as well as a few video interviews. It's just surreal that when you work hard at something and you believe, good things do happen.
PN: The topic of professional coaching has come up regarding the final table and the 117-day suspension of play. Dennis Phillips has quite publicly retained Roy Winston's Oracle Consulting. What are your thoughts on the whole "coaching" gambit?
KK: I have a similar stance as Dennis in so much that it can't hurt but only help. Furthermore, everyone of us has equal opportunity to find resources to help and "coach" our game. My situation is a bit unique, though. I know that I am a short stack and the bottom line is that I have find situations to get it in and double up. I don't see how anyone can tell me anything other than that with a few minor details such as be as patient as possible.
PN: Outside of the last hand where Dean Hamrick busted, what do you believe was your key moment in getting through to the final nine?
KK: On Day 6, I laid down queens on a 7-5-3-7-2 board for a bet of one million into a 3.6 million pot. It took all my strength to fold and when I tabled my hand, my opponent showed me quad sevens. At this point, I knew I was dialed in and really felt I was prepared for this moment and task at hand.
PN: You've been described as a "marketing/business analyst" before you decided to pursue poker full-time. What made you make the jump?
KK: Even during college at UC San Diego, I always thought of poker. I started playing on Indian reservations down by San Diego. By my junior year, I was playing part time to supplement my income as opposed to internships that my friends were doing. When I worked as a business analyst for Toshiba America Information Systems, I continued to play 15-20 hours a week. During this time, I kept detailed records and after three years I really felt it was time to try it full time. It was a very difficult "jump" mainly because in poker there is a lot of uncertainty. In other words, when I go into play I don't know whether I will have more money at the end of the day or not. You have to treat it as a business and really manage your bankroll. It was difficult to pass on the guarantee salary and benefits to play poker full time. I am sure glad I did.
PN: With nearly a million guaranteed (and already paid), your life is irrevocably changed. But... what if? If you overcome the odds to win, what other dreams and future plans would you like to fulfill?
KK: Well, first I would like to be a great ambassador to the game I love. I would also love to help in charities in other things. It's always been a passion of mine to be able to change the lives of people that need it. Obviously, I am going to help my family a lot. My dad has worked nearly his whole life and I would love for him to retire and enjoy it. I would also like to invest a lot of it.
Editor's Note: Had Enough Kelly Kim? No? Well, then check out the interview Kelly just did in London with our own Gloria Balding.