The PokerNews Top 10: Famous Final-table Bubbles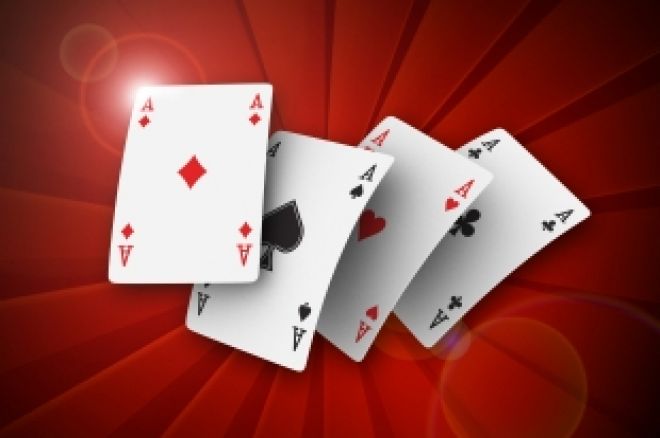 Every poker player understands the sharp sting of the money bubble — coming so close, yet leaving empty-handed after days of work. These ten players, however, dealt with a different kind of professional disappointment – missing out on a potentially life-changing final table by one spot. What would have happened if Phil Ivey won the 2003 WSOP Main Event instead of Chris Moneymaker? What if Annie Duke had kept her chip lead at the 2000 Main Event with two tables to go? And what if Joe Sebok hadn't finished seventh twice on the World Poker Tour within a year? What would we make fun of him for then? Here's a look at ten of poker's most memorable final table bubbles.
10. Gus Hansen, 10th place, 2007 WSOP-Europe Main Event
Gus Hansen was the star of the media show as the inaugural WSOP-Europe Main Event played down to its final table. Hansen's rowdy railbirds crowded inside the Empire Casino's disco, which had been converted into the TV featured table area. Though he started off Day 4 near the chip lead and in control of his table, Hansen began leaking chips in the evening hours, culminating in his tenth-place finish. On his final hand, Annette Obrestad opened for 33,000, the notoriously tight-playing Matthew McCullough reraised to 150,000, and Hansen shoved for his remaining 586,000. Obrestad folded and McCullough called, tabling
to Hansen's two red queens. No lady on the board for Hansen, and he shuffled out of the casino and into the London night as the final table bubble boy.
9. J.C. Tran, 7th Place, 2004 L.A. Poker Classic
J.C. Tran has dealt with his share of heartbreak when it comes to tournament poker. If this were a list of the greatest suckouts of all time, Alan Goehring's now-legendary one-outer on Tran at the 2006 L.A. Poker Classic would be a serious candidate to top that list. Tran's long, rocky history with the Commerce Casino's WPT stop can be traced back to 2004, however, when he bubbled off the televised final table in seventh place. It was Tran's first time playing in the LAPC's $10,000 Main Event (he won his seat in a satellite), and when play got down to the final nine, Tran was really sweating the money, having never been so close to winning such a huge sum before. Ultimately, he became short-stacked and moved in with pocket nines, receiving a call from Antonio Esfandiari, who held A-Q. Tran looked good to double up until Esfandiari rivered an ace on him, knocking him out on the TV bubble. That year Esfandiari went on to win the LAPC and its $1.4 million first-place prize, along with all the recognition that came with it. Tran would go on to make the final table of this event twice, however, finishing fifth in 2006 and second in 2007.
8. Susie Isaacs, 10th Place, 1998 WSOP Main Event
After winning the WSOP Ladies Event in back-to-back years (1996 -1997), Susie Isaacs entered the 1998 WSOP Main Event hoping to accomplish great things… and she did. Out of a field of 350, Isaacs ended up not only being the last woman standing, but along with T.J. Cloutier and eventual winner Scotty Nguyen was one of the most well-known players remaining in the field as the tournament ground toward the final table. Isaacs had mounted an impressive comeback after finishing Day 1 in 188th position out of 196 players with only 4,250 in her stack, but with ten players to go, she unfortunately met her tournament end. Moving her short stack all in with A-7, she ran smack into Lee Salem's pocket kings, exiting Benny's Bullpen as the final-table bubble girl, but with her head held high, knowing she'd played her heart out.
7. Marcel Luske, 10th Place, 2004 WSOP Main Event
Everyone's favorite Flying Dutchman has come oh-so-close to a WSOP Main Event final table not once, but twice, and in consecutive years. After finishing in 14th place in the 2003 Main Event, Luske returned with a bang in 2004, but ended up finishing in tenth place, on the final-table bubble. After Dan Harrington checked to him on a flop with three low clubs, Luske moved all in for 700,000 with pocket fours. Harrington called and turned up A-J with the ace of clubs. An offsuit jack hit the turn, giving the hand to Harrington and leaving Luske with another heartbreaking finish. Hey, at least the dapper Luske was still (by far) the best-dressed player in the tournament!
6. Joe Sebok, 7th Place, 2007 WPT Bay 101 Shooting Stars
Joe Sebok was the tournament's short stack when play at the 2007 WPT Bay 101 Shooting Stars tournament reached seven-handed. Five of the seven held over a million in chips while Sebok was sitting on 480,000. Only three hands after the seven remaining players had consolidated to a single table, Sebok saw a
flop in a three-way pot with J.J. Liu and chip leader Amir Shayesteh. Shayesteh checked, Sebok checked, Liu bet 25,000, Shayesteh called and Sebok moved all in. Sebok's move chased Liu away, but Shayesteh called, turning up
for top two pair. Sebok was in dire shape with
and could not improve, hitting the rail as the TV bubble boy—a feat he'd accomplish not only once, but twice. Read on…
5. Joe Sebok, 7th Place, 2007 WPT Legends of Poker
Poor, poor Joe. It happened again. At the 2007 WPT Legends of Poker tournament at L.A.'s Bicycle Casino, Sebok held the chip lead for most of the tournament and it looked like it would be just a matter of time before he landed at his first WPT televised final table – something he was seriously gunning for after his TV bubble finish only six months earlier at the Bay 101 Shooting Stars. With seven players remaining, Sebok raised to 120,000 from middle position and Tom Schneider three-bet from the small blind. Sebok moved in and Schneider called, Sebok's Q-Q well ahead of Schneider's A-J. The flop was six-high and safe, but an ace spiked on the turn. No two-out miracle here for Sebok and he found himself eliminated in seventh place yet again. Sebok's repeat seventh-place finish on the WPT earned him the nickname "Seventhbok," a moniker his pals continue to needle him with.
4. Vanessa Rousso, 7th Place 2006 WPT Championships
Though she had made a couple of final tables in small buy-in events, Vanessa Rousso was essentially a complete unknown when she bought in to the $25,000 WPT Championships in April 2006 after selling shares of herself to a number of friends. The Duke-educated 21-year old survived a field comprised of poker's elite, and when the final ten players consolidated to a single table, Rousso had the tournament's fourth-largest stack with 4.3 million. Only six of these players, though would make the WPT final table broadcast. Play dragged on into the night and with seven players remaining, Rousso got her money in with A-K against James Van Alstyne's A-J. Rousso's heart snapped in two as a jack hit the turn, relegating her to "TV bubble girl" status. Though at the time, many pundits believed Rousso lost out on a huge opportunity for TV stardom, it hardly ended up mattering. Rousso caught everyone's attention that week, and PokerStars quickly snapped her up as a member of Team PokerStars Pro.
3. Annie Duke, 10th Place, 2000 WSOP Main Event
Thirty-eight weeks pregnant with her third child, Annie Duke had 500,000 in checks in front of her, the chip leader with 18 players to go at the 2000 WSOP Main Event. Duke had been card-dead in the hours leading up to the dinner break on Day 3, so when she found Q-Q on the button on the last hand before the break, she naturally put in a raise. Jim McManus (who would later detail his Main Event run in the book Positively Fifth Street) was in the small blind and reraised, creating a 100,000+ chip pot. Knowing McManus was an inexperienced player, Duke moved all in, believing she could get him off the hand, but McManus snap-called and turned over K-K. McManus' hand held up and Duke was knocked all the way down to 130,000 in chips. Though she recovered some of her stack, she ended up busting out in tenth place, earning $52,160. Had Duke survived one more spot, she would have been the first woman since Barbara Enright in 1995 to make the WSOP Main Event final table. [Editor's Note: Due to special filming requirements, the "TV final" in 2000 consisted of only the final six players, though nine is the generally recognized number for final-table status in a WSOP Main event.]
2. Dean Hamrick, 10th Place, 2008 WSOP Main Event
Sitting ringside as the final ten turned into the "November Nine" at the 2008 WSOP Main Event, it was impossible not to imagine what a blow elimination would be to be the tenth-place finisher. At this final table, the bubble was about more than a pay jump; it was about more than TV face time. The difference between ninth and tenth place in terms of potential sponsorship and exposure could have been worth millions. Though we'll never be able to nail down a dollar amount as to what Dean Hamrick lost when he finished on the "November Nine" bubble, the hand is a hard one to forget. Dean Hamrick open-shoved for 3,420,000 with
, and Craig Marquis called with pocket queens, having been on Hamrick's end of this 70:30 situation himself only a few moments earlier — Hamrick survived when he spiked an ace. Hamrick, though wasn't as lucky, the board running out
to seal his elimination. Though Hamrick didn't end up a Full Tilt Pro like ninth-place finisher Marquis did (along with many of the "Nine"), his $591,869 consolation prize was nothing to sneeze at.
1. Phil Ivey, 10th Place, 2003 WSOP Main Event
How differently might the 2003 WSOP Main Event final table have played out if Phil Ivey had a seat at it? It can all be traced back to one crucial, critical hand that happened on the final-table bubble. Dealt
, Chris Moneymaker put in a pre-flop raise and Phil Ivey called with
. The flop was
, Moneymaker far out in front with trip queens. He bet 70,000 and Ivey made the call. The turn was Ivey's gin card, the
, making him a well-disguised full house, and Moneymaker did his bidding for him, firing out a 200,000 bet. Ivey moved all in and Moneymaker called. Ivey was better than a 4:1 favorite to win the million-chip pot, Moneymaker needing an ace, a six, or the case queen to make a higher full house.
The river, of course, was an ace, with Moneymaker both winning the hand and eliminating Ivey, the most significant threat remaining in the tournament. Moneymaker went on to win the 2003 Main Event, leaving the rest of us to wonder that if that river card had been an eight or a three , or a harmless deuce — would Phil Ivey have won the Main Event? And how different might the poker boom have looked?