2009 WSOP: Casino Employees $500 Event #1, Day 2 – Cohen Takes First Bracelet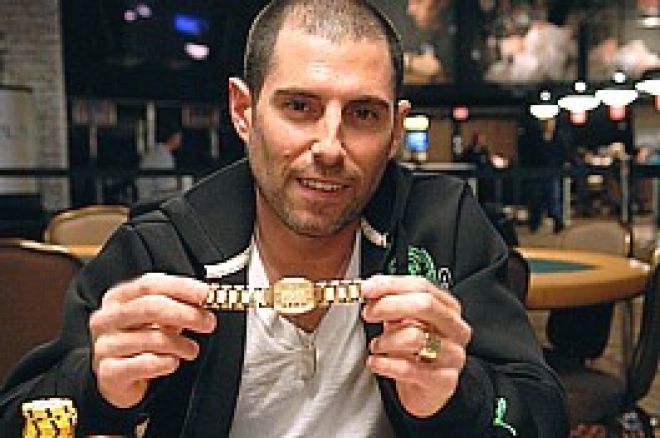 The first WSOP event of 2009 saw 861 casino employees gunning for the gold bracelet and the $83,778 first-place prize money. The players came from all different walks of life, the poker dealer from the Palms, the craps manager from the Flamingo, perhaps even a Cleopatra from Caesar's Palace, but in the end it was the bartender from the Palms, Andrew Cohen, who took down the first event of this year's World Series of Poker.
Play finished on Day 1 with 81 players remaining, coincidentally on the money bubble. When the players returned on Day 2, nearly half were severely short-stacked and for the first couple of levels we were losing players at roughly one every other minute.
With all the eyes on the big $40,000 No-Limit Hold'em event happening on the other side of the room, you could be forgiven for thinking that the pressure was off for this $500 event, but you'd be wrong. The atmosphere was tense throughout, particularly as we got close to the final table where two of the Day 1 chip leaders, Felix Karli and Caesar Chavez, fell just before the final hurdle. Also stuck licking his wounds was John Williams, all in with
on the
flop, but outdrawn by John McAvoy's
when another heart hit the turn and the river did not pair the board.
The chip leader for much of the day had been Andrew Cohen, but going into the final table he stayed fairly quiet, waiting for his moment to pounce. John McAvoy suffered the biggest swings, going from chip leader to out in seventh place, creating a lot of action and entertainment in the process. Cohen waited patiently for a spot to accumulate chips before beginning to squeeze people out with his giant stack. Cohen dominated the back-end of the final table, eliminating Jun Dulay with J-J versus 8-8 to cement his lead on the final table.
Grant Yasui was another of Cohen's victims, hitting the rail in fourth place. Cohen called Yasui's reraise preflop with
and then called his shove on the
board. Yasui could only show
and failed to improve on the turn or river as Cohen continued with his massacre. Casey Kuhn was next to fall to Cohen. They saw the
flop and all the money went in; Cohen was behind with
to Kuhn's
, but a
on the turn meant the pot was going the way of the chip leader as the
river fell.
Cohen began heads-up play against Paul Peterson with a commanding 5-to-1 chip lead, and it didn't taken long for everything to go in the middle. Cohen held the small pair,
, racing against Peterson's
. Cohen dodged a lot of bullets as the board fell
to claim the title and the first gold bracelet of the 2009 World Series of Poker.
1st: Andrew Cohen — $83,778
2nd: Paul Peterson — $51,787
3rd: Casey Kuhn — $33,923
4th: Grant Yasui — $23,483
5th: Jun Dulay — $17,127
6th: Bobby Rooney — $13,125
7th: John McAvoy — $10,545
8th: Ferdinand Boleski — $8,866
9th: Sammy Porter — $7,782