Hellmuth Announces New Book, Publishing Company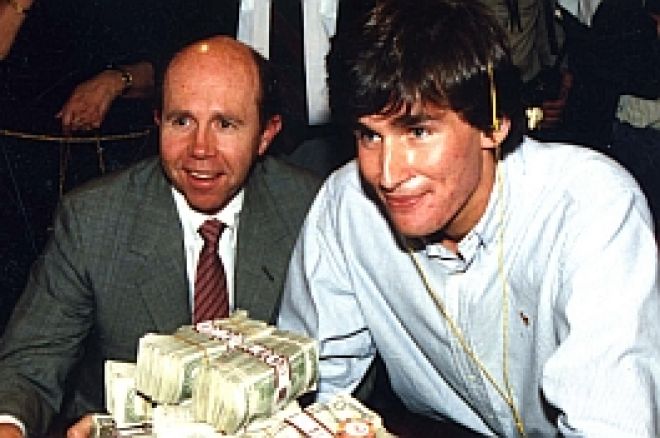 Amid a busy day that included being selected to proclaim "Shuffle up and deal!" at the first event of the 2009 World Series of Poker, Phil Hellmuth, Jr. met the poker press on Wednesday to announce the very first publication of his new book publishing company, Phil's House Publishing, Stephen John and Marvin Karlins' Deal Me In.
The new book compiles the "heartbreaking and inspiring stories" of 20 of the world's greatest poker players. Over the past year, authors John and Karlins conducted interviews with the featured pros, inviting them to talk about their poker careers and thereby chronicle the various struggles and successes they experienced on the way to joining poker's elite.
Hellmuth described the process by which he and his colleagues at Phil's House Publishing went about recruiting pros to participate in the project. "I knew that once I had Johnny Chan, Doyle Brunson, Erik Seidel, Daniel Negreanu, and Phil Ivey, then everybody else would want to be in the book," said Hellmuth. Aside from participating in the interviews, each player was directly involved in the revising of his or her chapter, and also signed releases for the use of their stories and the over 150 photographs that illustrate the text.
"These chapters are just so wildly diverse," said Hellmuth. "Phil Ivey's story, where he has so much discipline, and control, and money management — you just don't expect that looking at the Ivey of today.... Doyle Brunson talking about people getting shot [at his table].... [And] Layne Flack's [emotional] story made me cry."
However, the players' stories share some common ground, too. "Every story talks about money management," said Hellmuth, a subject which he believes often doesn't get adequate attention in most poker strategy books. "To me, that's some valuable stuff, because you're learning how the great ones managed their money on the way up."
Hellmuth admitted that there were some significant omissions from those selected, and mentioned several of the players (including Mike Matusow, Gus Hansen and Ted Forrest) who are listed in the prefatory disclaimer that opens the book. Some of those left out may possibly be included in a later, expanded edition of the book, Hellmuth explained, although he believes the book as it stands certainly includes the top ten living players, and perhaps 17 or 18 of the top 20.
The book is currently available only at Hellmuth's website, PokerBrat.com, where it will be exclusively sold until September when it may then be distributed via other outlets. Most of the 20,000 copies that make up the book's initial printing will begin shipping on June 22.
Deal Me In represents the culmination of an arduous, two-and-a-half year process which began with the founding of Phil's House Publishing, of which Hellmuth is the primary owner and Phil Ivey an investor. The company's initial plan was to publish a Sudoku strategy text, but that project ultimately fell through. Next was the idea to publish Hellmuth's autobiography, Poker Brat, although that has been postponed until May 2010 in order to time that book's publication more closely with a planned feature film about Hellmuth of the same title.
Hellmuth credited Bob Soderstrom, Chief Operating Officer of Phil's House Publishing, for having initially conceived the idea for a book that would tell the story of poker's 20 greatest players. The idea was a good one, but presented significant challenges when it came to organizing the interviews, writing the chapters, and incorporating the players' suggested revisions. "It was almost like doing twenty different books," explained Shannon Reiter, President of Phil's House Publishing. However, the group was able to meet those challenges and thus succeed in achieving their goal of publishing Deal Me In in time to commemorate the 20th anniversary of Hellmuth's WSOP Main Event victory in 1989. (Photo shows the ceremony featuring Hellmuth with Jack Binion, following Hellmuth's historic win.)
Ever the entrepreneur, Hellmuth appears to relish the challenge of learning about and hopefully succeeding in the publishing world. "It was very interesting for me as a businessman to look at all of these different revenue models — that's the fun stuff, for me," said Hellmuth. He acknowledged that there exist few options for publishers today, particularly with regard to methods of distribution. "Look, we're gambling," he said, referring to the decision to forgo at present other distribution models and sell the book via his own website.
However, while profiting from the sale of Deal Me In is certainly a goal of Hellmuth's, he has other purposes in mind, too. "Will I make money from it? I hope so," said Hellmuth. "But we've really contributed something beautiful to poker history here. We've written an amazing book and it really is inspirational."
PokerNews' review of Deal Me In is forthcoming.
(Photo courtesy Phil's House Publishing.)