PokerStars.com EPT Grand Final, Day 4: Dag Martin Mikkelsen Heads Final Eight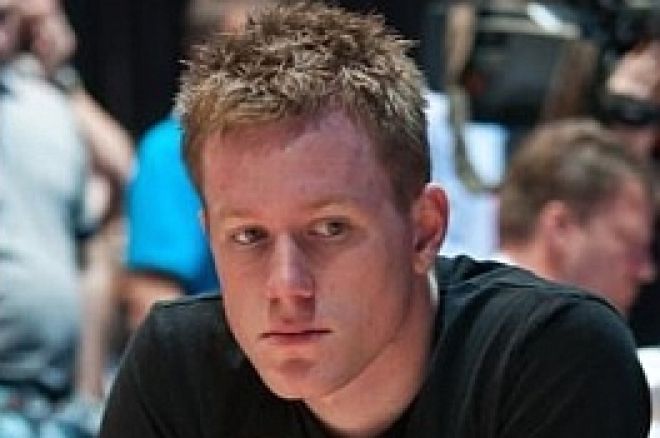 The final eight-handed table has been set at the PokerStars.com European Poker Tour (EPT) Season 5 Grand Final in Monte Carlo. When play gets underway Sunday, all will be chasing Norwegian Dag Martin Mikkelsen, who ended Saturday with a commanding chip lead. Mikkelsen's 7.315 million chips means he'll be nearly three million ahead of his nearest foe, American Matthew Woodward, when the remaining eight return to decide who will be taking the €2,300,000 first prize.
Just 31 of the original 935 entrants remained as play began on Saturday, with Woodward atop the leaderboard, followed by Ludovic Lacay of France. The tourney's short stack, Miami John Cernuto, was the first to go, being forced to push with
and getting called by Mikkelsen who held
. A king flopped, but so did a spade, so when the
came on the turn, Cernuto had some outs. But the
on the river sent him home in 31st.
Meanwhile, Woodward got off to a fast start, increasing his chip lead early on as he pressured the shorter stacks. It took a little less than two hours to play down to 24, at which point players took a break to redraw for seats.
Still alive at that point were George Danzer, Alain Roy, and Ludovic Lacay, although all three would be eliminated within the next couple of hours. Danzer would fall in 24th place after his
failed to catch up to Eric Qu's
. Roy would go out in 22nd after his big slick lost a race to Mikhail Tulchinskiy's pocket queens. Then Lacay, having begun the day near the chip lead, saw his tournament come to a premature close after pushing with
, only be called by Johannes Strassmann, who held
. The board came
, and Lacay was gone in 21st.
Jamie Somerville looked to be in relatively good shape to double up after getting all of his stack in the middle preflop with
versus Peter Trapley's
. But a ten flopped, and no queen came to save Somerville, knocking him out in 19th. They played down to 16, and players again redrew for the final two eight-handed tables. Next to go were Sergio Castelluccio (16th), Alexander Morozov (15th), and Johannes Strassmann (14th), at which point the remaining 13 broke for dinner.
Annette Obrestad had an up and down afternoon, becoming short-stacked, then doubling up through chip leader Woodward to climb over 1.4 million. By the time players had returned from dinner, she had pushed close to two million when the following hand took place.
With the blinds 30,000/60,000 and antes 5,000, Mikhail Tulchinskiy opened with a raise to 150,000, and Obrestad flat-called behind him. Pieter de Korver also called from the small blind, and all three saw a flop of
. All checked to Obrestad, who bet 300,000, then de Korver check-raised to 800,000. Tulchinskiy folded, and Obrestad repopped it all in, for about 1.3 million. De Korver called immediately, turning over
for the flopped set. Obrestad showed
, and needed an ace to survive. The turn was the
and the river the
, giving de Korver quads. Unlucky Obrestad was out in 13th.
Steven Silverman was next to go, getting knocked out in 12th by Daniel Zink after Zink's
held up against Silverman's
. Grayson Physioc would next get it all in with pocket sevens against Woodward's
, but an ace would flop and Physioc couldn't recover, going out in 11th. Mikkelsen, having claimed the lead, would next take care of Marc Naalden. A short-stacked Naalden had pushed all in with
, only to run into Mikkelsen's pocket kings. The board missed Naalden, and he was out in 10th.
The nine remaining players reassembled around a single table, and finally, after more than ten hours after play had begun on Saturday, Chris Rossiter was knocked out in ninth. Once again, Mikkelsen was the one responsible. In the day's final hand, Mikhail Tulchinskiy raised to 200,000, and Mikkelsen reraised behind him to 475,000. Then Rossiter pushed all in from the small blind for about 1.475 million. Tulchinskiy folded, and Mikkelsen thought a while before calling with
. He had two live cards, though, as Rossiter showed
.
The flop came
, giving both players pairs. The turn was the
, and Rossiter was still safe. But the
on the river gave Mikkelsen a runner-runner straight. The final table was set.
Here's how the stacks will look at the start of play on Sunday:
Dag Martin Mikkelsen (Norway) — 7,315,000
Matthew Woodward (USA) — 4,560,000
Peter Traply (Hungary) — 4,365,000
Mikhail Tulchinskiy (Russia) — 3,220,000
Eric Qu (France) — 2,880,000
Pieter de Korver (Holland) — 2,500,000
Daniel Zink (Germany) — 1,865,000
Alem Shah (Germany) — 1,490,000
Be sure to join PokerNews at noon Monte Carlo time on Sunday to follow the action as the PokerStars.com EPT Season 5 Grand Final champion is decided.
Get a piece of the action and get your PokerStars bonus code from PokerNews.com - Your complete Poker information source on the internet.