2009 WSOP, Event #14: Brock 't soprano' Parker Outlasts Negreanu for Bracelet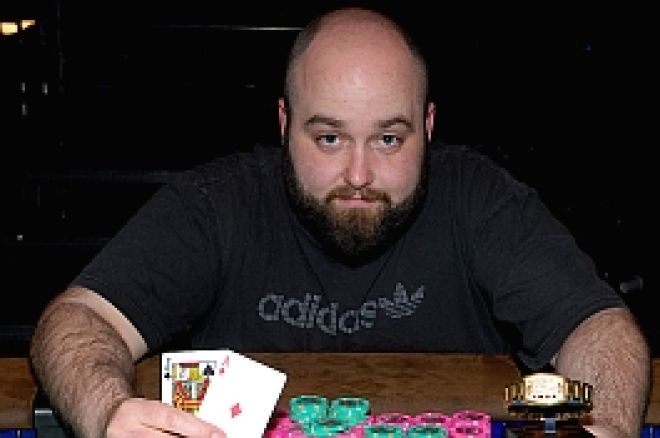 It was a short but action-packed day at the Rio for the 11 players still standing in Event #14 of the 2009 World Series of Poker, $2,500 Six-Handed Limit Hold'em. Before the clock ticked midnight in Las Vegas, the last bet had been made and called, the last river had run, and noted online player Brock "t soprano" Parker had come from behind to best Daniel Negreanu heads up for $223,688 and his first-ever WSOP bracelet.
Of the 11 Day 3 survivors, Jimmy Tran was the first to fall after he got most of his chips in preflop against Barry Shulman. Tran bet out on the
flop and Shulman called. Tran moved all in on the
turn, and Shulman called again. Tran was ahead with
for the nut flush draw and an ace, while Shulman tabled
. The river was unkind to Tran when it brought the
to give Shulman top pair and send Tran home in 11th place ($12,197).
Robert Como busted in 10th place ($16,814) soon after, when Daniel Negreanu flopped top pair with A-9 to send Como to the rail. Nikolay Losev fell in ninth place ($16,814) when his pocket kings were cracked by Kyle Ray's
. The board ran out
, and Ray's rivered ace washed away Losev's bracelet hopes.
Players condensed to one table after Shawn Buchanan busted in eighth place ($23,179), but the final table officially kicked off after Jim Buckley busted in seventh place ($23,179). Buckley three-bet preflop after a raise from Daniel Negreanu, then saw a flop three ways after Brock Parker four-bet and Buckley and Negreanu both called. The flop brought
, and Negreanu checked. Buckley bet, Parker raised, Negreanu got out of the way, and Buckley three-bet all in. Parker made the easy call with
, showing top set to Buckley's
for middle set. The case king didn't come on the turn or river, and the final table was set, with Negreanu taking the chip lead as the seating assignments and chip stacks looked like this:
Seat 1: Barry Shulman — 385,000
Seat 2: Daniel Negreanu — 786,000
Seat 3: Kevin Hong — 89,000
Seat 4: Tommi Horkko — 460,000
Seat 5: Brock Parker — 606,000
Seat 6: Kyle Ray — 429,000
While Kevin Hong went into the final table with the smallest stack, he doubled up multiple times before his eventual demise. It was Hong who picked up enough chips in the early going at the final table to knock out Kyle Ray in sixth place ($31,966). All the chips went in preflop, with Ray calling off the last of his stack with
. Hong showed the dominating
, and the flop came down
. Hong held the lead, but Ray had flopped an up-and-down straight draw. The
turn added flush outs for Ray, but the
river filled none of his draws, and his run was done.
Next, Barry Shulman got the last of his chips in the middle against Daniel Negreanu and Tommi Horkko before a flop of
. Horkko bet out and Negreanu folded as Shulman tabled
. Horkko led with pocket fours, and they held up as the turn and river came down
to send Shulman home in fifth place ($43,201).
Kevin Hong, Daniel Negreanu and Brock Parker all put in four bets preflop in what was to become Hong's final hand. Hong then fired another bet on the
flop, and Parker and Negreanu both called again to see the
hit the turn. Hong bet out once again, and Parker raised. Negreanu got out of the way, and Hong called all in with
, looking for an inside straight draw. Parker showed
for middle set, and the case five hit the river to give him quads. Hong picked up $60,885 for fourth place.
Third place went to Tommi Horkko after he three-bet Daniel Negreanu preflop with
and Negreanu called. The flop came down
, and Horkko led out again after Negreanu checked. Negreanu called again, and the turn was the
. This time Negreanu led out, and Horkko raised. Negreanu re-raised, and Horkko four-bet for the rest of his stack. Negreanu called with
for trips, and when the river brought the
, Horkko exited in third place ($89,660).
Negreanu took the chip lead into heads-up play, but Brock Parker got hot at the right time. At first the battle see-sawed before Parker surged into the lead and claimed the title. Finally, with only a small stack remaining, Negreanu called a raise from Parker to see a flop of
. Negreanu checked, then check-raised when Parker bet out. Parker three-bet, Negreanu raised once more, and Parker called. Negreanu bet all in when the
hit the turn, and Parker called with
. Parker was well ahead of Negreanu's
, and when the river came down the
, Parker had busted Negreanu one spot short of his third limit hold'em bracelet. Negreanu picked up $138,280 for his runner-up finish, while Parker claimed his first WSOP bracelet along with $223,688.