2009 WSOP: Greg Merkow Tops #13 Final 20, Horkko Grabs #14 Six-handed Lead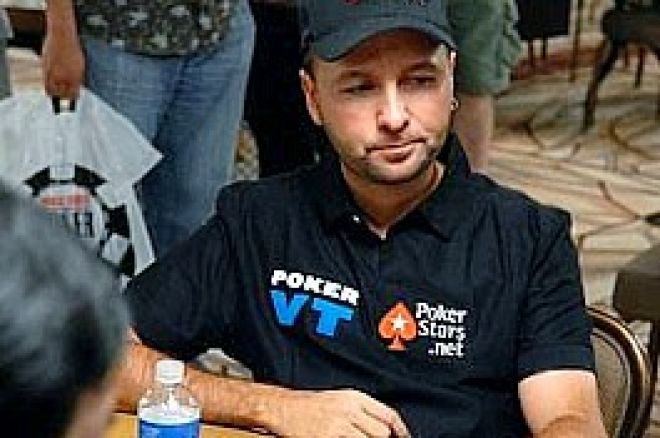 $2,500 No-Limit Hold'em Event #13, Day 2 – Merkow Tops Leaderboard
Day 2 of Event #13, $2,500 No-Limit Hold'em at the 2009 World Series of Poker started with 175 players who first would need to make the money before attempting the second goal of reaching the final table. Only one of those goals was reached, and when the clock struck 3 AM, it was Gregg Merkow who was the chip leader with 20 players remaining.
Bracelet winners Scott Clements and Cliff "JohnnyBax" Josephy saw their hopes of accumulating chips fall short when they both ran big hands into bigger hands in all-in confrontations, leading both players to an early exit. Eliminations came quickly in the first two levels, with 121 players remaining, only four players away from the money. Unfortunately for both Beth Shak and Joe Sebok, they were two of those players.
An interesting hand came down between three players during hand-for-hand play at the bubble. A middle-position player limped, with Carter King doing the same. The small blind folded, and the big blind checked, but in the process he unknowingly mucked his cards. When the flop came down it was checked to King, who bet 3,100. The big blind, who had no cards, decided to put in a raise to 15,000. It was at this point the dealer informed the player that he didn't have a hand. Carter King would take down that pot, eventually finishing 58th for $7,432.
Hand-for-hand play ended when two players were eliminated on the bubble. First, Christian Dillon took ace-high up against Alan Keating's pocket fours and couldn't catch up. Then Brandon Schaefer and another player both had the same hand: Schaefer had
, with his opponent holding
. Unfortunately for Schaefer, the board came
for a flush for his opponent, giving Schaefer and Dillon a share of the 117th-place money, $2,464.50 – slightly less than what they paid to enter the tournament.
Play would pick up again with Gregg Merkow one of those players taking advantage, when his pocket aces eliminated both Steven van Zadelhoff's pocket nines and Pinkesh Mehta's pocket tens on the same hand. Shawn Glines got into the act as well, when his pocket kings knocked out An Tran's pocket jacks on a nine-high board to get to over 400,000. Day 1 chip leader Jochen Dickinger was dominated when his
went up against Javier Etayo's
. Jochen was happy to see another ace came on the flop, eliminating Javier and moving back into the chip lead at over 530,000. Eventually, he would finish the day with 63,000 in chips, only ahead of Phil Ivey (31,000) of the returning Day 3 players.
Notables who made their way to pick up their winnings included Svetlana Gromenkova (39th), Matt Brady (44th), Todd Terry (51st), Matt Keikoan (56th), Alex Jacob (59th), JJ Liu (61st) , and Nikolay Evdakov (94th) .
As play was nearing conclusion, Gregg Merkow got involved in another huge hand. Andrew Lichtenberger raised to 26,000 from the button with
, and Merkow called. On the flop of
, Merkow bet 50,000 and Lichtenberger moved in for his last 150,000. Merkow, who had no pair and no draw with
, made the call as he was pot-committed. When the turn and river came down
and
to give Gregg Merkow the runner-runner straight, Andrew Lichtenberger was sent to the rail, wondering what he had done to deserve that fate, finishing in 24th and collecting $14,413, while Merkow moved up to over 750,000.
When the players bagged and tagged their remaining chips, Texan Gregg Merkow found himself at the top of the leaderboard with 932,000. Angel Guillen, from Mexico City, Mexico finished in second chip position with 860,000, and Canadian Bahador Ahmadi ended the day in third with 800,000. Other notable names who'll get to return at 1pm today include Brett "threatnasty" Switzer (456,000), Roland de Wolfe (400,000), Kirill Gerasimov (390,000), and Garrett "GBecks" Beckman (376,000).
$2,500 Six-Handed Limit Holdem, Day 2 – Horkko Surges Late to Grab Lead
Day 2 of Event #14, $2,500 Six-Handed Limit Hold'em, started with just under 100 players looking to reach the final six, but this event would also fall just short of its goal. The final 11 players will return on Sunday to play down a winner, with Finn Tommi Horkko holding the lead at the conclusion of Day 2 play.
Daniel Negreanu and Barry Greenstein would both experience dramatic highs and lows throughout the day. Negreanu started out well, as he eliminated Dave Fromm when Daniel's K-Q outkicked Fromm's K-10 after two more kings came on the board to move up to 38,000 in chips. Greenstein would take down a pot with A-9 when the flop and turn each brought a nine to get to 45,000 in chips, eventually moving to over 70,000 early in the day.
Evelyn Ng, Maya Gellar, Stefan Rapp, and J.C. Tran were some of the notables who left the tables in early action, and it looked like Barry Greenstein would be next on the list. He fell to just 5,200 in chips when his opponent's A-8 was good on an ace-high board, but then he doubled up three times in short order to get over 50,000. Meanwhile, Daniel Negreanu proved you can win with any two cards, as he was able to take down a pot with
on the
board when his opponent only had
for a busted straight draw.
Before the dinner break, another player moving in the right direction would be Daniel Alaei, who scooped two pots in a row, the first with A-Q, with the ace of diamonds on a four-diamond board against his opponent's A-Q. The next hand, he held pocket queens on a ten-high board to move to nearly 150,000 in chips, putting himself in good shape as the 46 remaining players left for the dinner break.
It would take another level and a half of play for the players to finally reach the money, as Craig Neilan put the rest of his chips in with
against Eugene Katchalov's
; Katchalov caught another ten on the flop to eliminate Neilan in 37th place. Day 1 chip leader Jordan Cairns would be one of the first to head to the payout window, finishing in 35th for $4,693, while Barry Greenstein was able to hang on just long enough to make the money, finishing in 30th place for $5,360. Others who picked up some cash included Chris Tryba (15th), Lonnie Heimowitz (17th), Shawn Keller (19th), Daniel Alaei (24th), and Eugene Katchalov (25th).
Meanwhile, Daniel Negreanu – who was at one point down to just 20,000 in chips – would continue his forward progress. After a setback against Shawn Buchanan, who had made a flush against Negreanu, Daniel would come back and make a flush of his own to get to 360,000 in chips as his
on the board of
was much the best against Buchanan's A-4.
When the 3am deadline came to pass though, it was Tommi Horkko who held the chip lead, as he flopped a full house with
on the
board to take some chips off Daniel Negreanu and surge into the lead with 509,000. While Horkko will look to follow in the lead of fellow Finn Ville Wahlbeck and take down a bracelet, Negreanu will be looking to pick up his fifth WSOP gold bracelet. Kid Poker will start the day in second with about 470,000 in chips. Barry Shulman (351,000), Brock Parker (335,000), Nikolay Losev (216,000) and Shawn Buchanan (118,000) are some of the others who'll be back at 1pm Sunday afternoon for a chance at the bracelet as well. Head to PokerNews later this afternoon for all the exciting action of every bracelet event at the World Series of Poker!