Boeree v. Castello in 'Rumble Nowhere Near the Rio' July 1st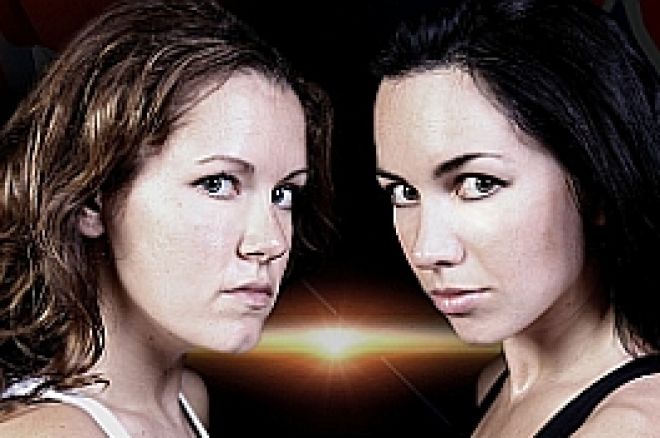 Don't miss the action this July 1st when a first for the poker world occurs, brought to you by PokerBattle, UltimateBet and PokerNews.com. It's girl-on-girl boxing action from nearby the Rio All-Suite Hotel and Casino, featuring the channeled street rage of UltimateBet spokesplayer Liv Boeree against the relentless fists of PokerNews' own vaunted video hostess, Melissa Castello. It's all scheduled for 1:00 p.m. on Wednesday, July 1st, with the fight itself taking place in MMA star Wanderlei Silva's gym, a short distance from the Rio itself.
The two light flyweights will square off in a three-round duel for charity. $1,000 will be donated to the charity of the winner's choice, while an additional $500 will be sent to a philanthropy chosen by the runner-up. The rounds will last three minutes each. The official weigh-in ceremony for the event will take place on Tuesday, June 23rd, at 4pm, in the main hallway in the Rio Convention Center nearest the Amazon Room, adjacent to the free-standing Corum clock.
The Boeree v. Castello fight video will be presented in its entirety on PokerNews.com, Wednesday, July 1st. Additionally, PokerRoad Radio will be airing a special ringside live show starting at 1:00 p.m. the day of the fight.
Media are welcome to attend the July 23rd weigh-in. A limited number of media seats are also available for the fight itself. Interested representatives should RSVP Lynn Gilmartin at the contact information above. Silva's Gym, officially titled Wand Fight Team Mixed Martial Arts, is located at 4631 Dean Martin Drive, just south of Flamingo Drive in Las Vegas.
And, direct from the PokerNews WSOP Video archives, a promo video for the bout: