PokerNews Launches Australian Poker Magazine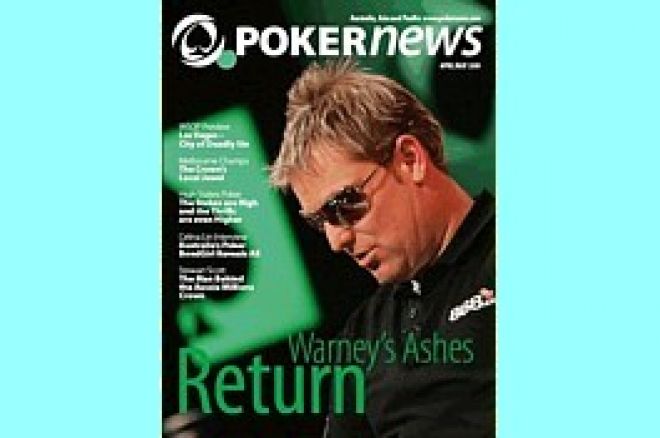 The first-ever edition of PokerNews Australasia, a new poker magazine targeted specifically at the Australian and Asian-Pacific poker community, is available starting this week at all major Australian casinos and poker clubs. After months of tireless work behind the scenes, some of Australia's poker's biggest names and the team here at PokerNews have played pivotal roles in the launch of the new magazine, which will headline PokerNetwork's expansion into more diversified forms of media.
PokerNews Australasia will be released bi-monthly and will contain the latest in Australian and world poker news – along with the latest stories coming from online poker, player profiles and interviews, product reviews, poker strategy articles and more!
The first edition, which hit the shelves on Monday April 20th, features interviews with Aussie Millions Champ Stewart Scott and prominent Australian female player Celina Lin, along with previews of the upcoming World Series of Poker, Melbourne Championships, ANZPT Sydney and reviews of all the latest results such as the ANZPT Adelaide and the Joe Hachem Deep Stack series.
PokerNews Australasia Editor-in-Chief Kirsty Mullins commented, "We are very excited to expand the PokerNews magazine family into the Asia-Pacific region. With the Australian and Asia-Pacific poker landscape expanding more than ever, PokerNews Australasia magazine is looking to reflect these exciting developments. The Asia-based tours offer great tournament opportunities and a unique travel experience all in one.
Probably the most anticipated articles will be the regular contributions of David Saab, James "Andy McLEOD" Obst, and Jonathan "xMONSTERxDONGx" Karamalikis, who will be looking to pass on some of the knowledge that has helped to make them champion players on the felt. Another highlight is the mailbag section, where David Steicke will answer readers' questions, offering our readers the opportunity to get inside the psyche of Steicke!
"We're fortunate at PokerNews to have a fantastic live reporting team who bring a wealth of experience, knowledge and plenty of inside information that gives the magazine a unique touch," Mullins explained. "We have some of Australia's premiere players on board to provide readers with a strategic insight never before seen. The magazine will also deliver all of the latest news, results, and event previews balanced with personal anecdotes and poker travel highlights. There's something for everyone!"
The magazine is available now in Australia so make sure you grab yourself a copy today, with distribution set to expand into New Zealand and Asian markets in the coming months.
Join the action and grab your PokerStars bonus code from PokerNews.com - The number one source for poker News & Information on the internet.