The PokerNews Top 10: Las Vegas Summer Tournament Values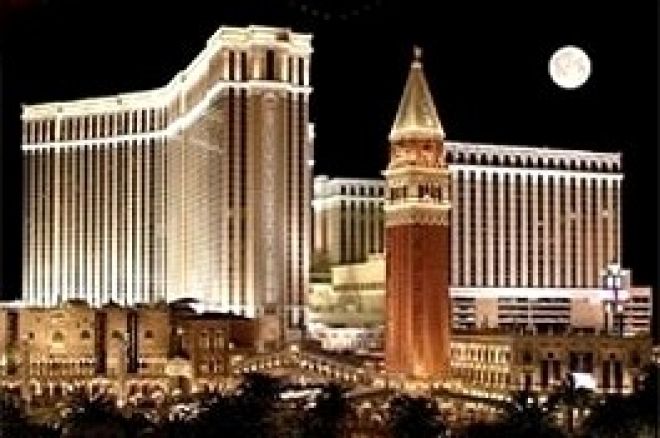 With all eyes on the World Series of Poker, it's easy to forget that there are literally dozens of tournaments going on all over Las Vegas at nearly every hour of the day. If your bankroll can't quite handle the four and five figure buy-ins over at the Rio, fear not, as there are excellent lower buy-in tournament values to be found on every inch of the Strip as well as on Fremont Street in storied downtown Las Vegas. With buy-ins from $50 to $1,000, start times from 11 a.m. to 2 a.m. and games ranging from no-limit hold'em to crazy pineapple (seriously), here are our picks for Las Vegas' top 10 summer tournament values.
10. Treasure Island Daily Tournaments
When it comes to tournament poker, there really is no better way to get your feet wet than to try out one of Treasure Island's four daily no-limit hold'em tournaments. TI is home to a small, friendly poker room with terrific dealers and excellent cocktail service. Tournaments run every day at 11 a.m., 2 p.m., 7 p.m. and 10 p.m. and all carry a $65 buy-in with the exception of the Wednesday 11 a.m. tournament which is run as a $125 buy-in bounty event. Players get 3,500 in chips to start and levels last 20 minutes. Most tournaments get 5-6 tables of players and are over within about 3-4 hours. Even if you're not a beginner, the TI tournaments can also be an excellent venue for donking around with a group of friends or blowing off some tilt-steam at the end of a rough poker day.
9. Wynn 2 & 7 p.m. Daily Tournaments
The Wynn is home to an absolutely gorgeous poker room and plays host to two daily no-limit hold'em tournaments. Drawing an average of 50-70 players per event, the 2 p.m. tournament has a buyin of $100+20 with one optional $100 rebuy before the end of the fourth level. The 7 p.m. event is $140+20, but with no rebuys. All events give players 3,000 in starting chips, and 30-minute levels. Not only are there plentiful cash games to try out should you make an early exit from the tournament, but perhaps the best Las Vegas buffet value is right next door to the poker room. For under $30, feast on crab legs, kobe meatballs, and perhaps the best bread pudding you'll ever devour.
8. Sahara 7 & 11 p.m. Daily Tournaments
If you're searching for an inexpensive tournament loaded with a herd of donkeys, look no further than the Sahara's nightly 7 p.m. and 11 p.m. tournaments. The buy-in is one of the cheapest you'll find on the Strip — $45 with one $20 rebuy. The 7p.m. event is the larger of the two, typically drawing over 150 players with a top prize over $3,000. The fields are extremely weak, though the structure is a bit fast — 6,000 chips to start (with the rebuy) and 20-minute levels. An additional bonus? Free sandwiches for everyone making the first break!
7. Orleans 7 p.m. Daily Tournament
Only a short drive down Tropicana Avenue lies the Orleans, a mostly locals' casino whose recently renovated poker room plays host to a no-limit hold'em tournament every night at 7 p.m. (with the exception of Wednesday nights, when the game is limit hold'em and Thursday when it's Omaha 8-or-better). The tournament buy-in is a recession-friendly $50 on weekdays and $110 on Friday and Saturday evenings. Starting chip stacks are quite generous for the small buy-in — players receive 5,000 in chips with the $10 dealer bonus on the $50 events and 7,500 chips on the $110 events. Blind levels are 30 minutes long and the fields are typically a mix of local grinders and value-hunting tourists.
6. Caesar's 7 p.m. Daily Tournament
Caesar's Palace hosts a number of daily tournaments, but their nightly $150 buy-in 7 p.m. event carries by far the most value. Nowhere else in Vegas will you get a 10,000 starting stack in a $150 event. Blinds go up every 30 minutes and if you do bust out within the first couple of hours, you can gambol it up in the 9 p.m. bounty tournament with a $120 buy-in, 4,000 in starting chips and 20 minute levels. Juicy $1-3 and $2-5 NLHE cash games (both capped and uncapped) also run at nearly every hour of the day.
5. Bellagio Summer Dailies
They're not the softest fields, often populated by tournament and cash game pros alike, but the Bellagio's $1,080 buy-in events definitely give players some bang for their buck with 10,000 in starting chips and 50-minute levels. The Bellagio Dailies run every day at 2 p.m., but they leave registration open until 6 p.m. to accommodate WSOP players making the trek across the Strip after busting from an event. Don't have the bankroll but still want to take a shot? $240 single-table satellites awarding two seats each run every day in the poker room beginning at 9 a.m.
4. Golden Nugget Grand Series
The Golden Nugget is home to a beautiful, newly renovated poker room and this summer is hosting The Grand Poker Series. Running through July 5, all buy-ins for the Grand Series are $225 or $230 with the exception of the Grand Finale, which carries a $1,080 buy-in. Unlike many Vegas tournament series, the Grand includes a very healthy amount of non-hold'em tourneys including H.O.R.S.E., Omaha 8 or better, stud 8 or better, pot-limit Omaha and 2-7 triple draw. Players get a whopping 12,000 chips to start with the $10 "bonus buy" and 40-minute blind levels. All events start at noon and thus far, have been drawing 200-300 players each day. The Nugget is also hosting Howard and Suzie Lederer's annual charity tournament to benefit the Boys & Girls club on July 1st. The no-limit hold'em event has a $330 buy-in, $200 rebuys and first place wins a seat on NBC's Poker After Dark valued at $20,000.
3. Binion's Poker Classic
Another tournament series departing from the "all NLHE, all the time" adage is the Binion's Poker Classic, now in its third year. Running through July 8, buy-ins for Binion's Classic events are primarily in the $150-$200 range, with a few $500 events and a $1,000 main event. The tournaments span a variety of games, including Omaha 8 or better, H.O.R.S.E., pot-limit Omaha, and even crazy pineapple! Starting stacks equal 20 times your buy-in (3,000 chips for $150 events, 4,000 for $200 events) with an additional 2,000 bonus chips available for a $10 bonus toke. Levels are 30 minutes long with the exception of the $500 events, where they are extended to 45 minutes. Thus far, the field sizes have ranged from 150-250 players.
2. Caesar's Palace Mega Stack Series
In an effort to compete with the Venetian Deep Stack Extravaganza (see below), Caesar's Palace is running their own Mega Stack series through July 7th. Thus far, their 12 p.m. daily $330 buy-in no-limit hold'em events have been drawing between 100 and 250 players each day, and will run through July 6, culminating in a $1,000 buy-in Championship event on July 7. The tournaments have a very generous structure, even better than their 7 p.m. tourneys (#6 on this list) with 15,000 in starting chips and 50-minute blinds.
1. The Venetian Deep Stack Extravaganza
Pros and amateurs alike have been flocking to the Venetian in droves this summer, and for good reason. The Venetian is hosting another edition of their wildly popular Deep Stack Extravaganza. Carrying smaller buy-ins than the WSOP with much more play in the early levels, the Venetian tournaments start every day at noon (with the exception of the Omaha 8 or better, H.O.R.S.E., and pot-limit Omaha events which start at 4:00). Buy-ins range from $225 to $2,100, culminating in a $5,000 Main Event. The fields? They're a bit tougher than your average Strip tournament, but they're big. 500-700 players on average have been hitting up each event, enough to create some sizeable prize pools ($60,000 for first in a $300 event? $80,000 in a $500 event? Yes, you can!).
The Venetian Deep Stack tournaments have easily the best structures you'll find in Vegas. In the $330 no-limit hold'em events, players get 12,000 in chips to start with the optional $10 staff bonus. Starting stacks grow to 15,000 with the bonus in the $550 events and 25,000 in the $5,000 Main Event. You're also likely to catch a glimpse of (or share a table with) some of your favorite pros.
Nicole Gordon's "Poker Top 10" lists appear weekly here at PokerNews. Dreaming about joining the high-stakes online action? There's no better place to start than opening an account today at Full Tilt Poker.