PokerStars.net NHL Charity Shootout Brings Hockey Flavor to Rio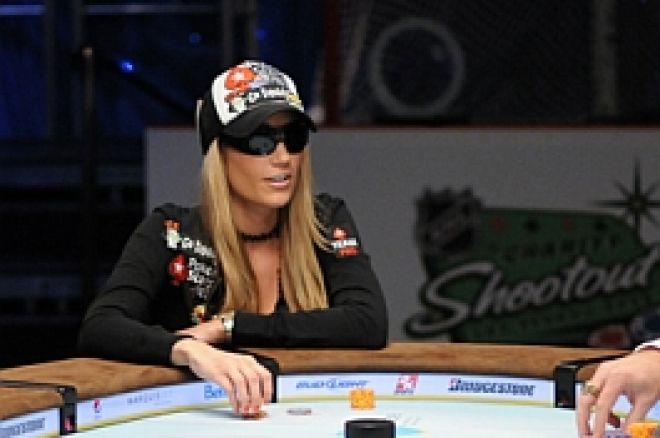 While results won't be released until the special televised show airs, there was plenty of hockey-themed poker fun in the Amazon Room on Wednesday as Team PokerStars Pros, National Hockey League greats, and online qualifiers all came together for a special charity event, the PokerStars.net NHL Charity Shootout. The event was in conjunction with the annual NHL Awards celebration being held at the Palms Casino Resort, just a stone's throw from the Rio.
The PokerStars.net NHL Charity Shootout brought these players together for several rounds of qualifying heats and a final round, to be televised at a later date. The feature-area table in the Amazon Room received a special makeover, as did the surrounding set. The traditional poker felt was replaced with one recreating an NHL rink, complete with red and blue lines, faceoff circles, and even advertising on the miniature boards. The Stanley Cup itself even visited the Amazon Room for the festivities. All told, the day's festivities raised $150,000 for the Ronald McDonald House of Las Vegas, the NHLPA Goals and Dreams Fund, and other deserving charities.
Among those participating in the charity event were Team PokerStars pros Vanessa Rousso, Dennis Phillips and Chris Moneymaker, while the NHL was well represented with present and former greats Mats Sundin (a PokerStars ambassador), Jeremy Roenick, Mike Richards, Roberto Luongo, Kris Kersteeg, Glenn Anderson, Scott Hartnell, Alex Ovechkin, Eddie Olczyk and others.
PokerStars has published the names of the nine finalists who will appear on the televised program, which will appear in the US on ESPN and ESPN2, in Canada on TSN, and will receive additional airings on the NHL Network:
Scott Hartnell
Roberto Luongo
Murray Ungurain (PokerStars.net qualifier)
Mats Sundin
Vanessa Rousso
Glenn Anderson
Kris Versteeg
Jeremy Roenick
Eddie Olczyk