2009 WSOP: Ahmadi Scores First Bracelet in Mixed #47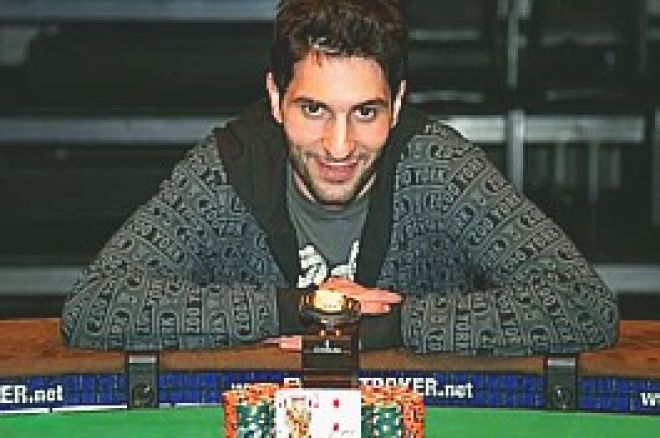 Bahador Ahmadi entered the final table in second chip position, and he finished one spot better than that: first place for his first World Series of Poker gold bracelet. It took him less than seven hours to eliminate his opposition, including a breathtaking flurry of pots and knockouts over the final 45 minutes, as Ahmadi moved from the short stack to the championship of Event #47, $2,500 Mixed Hold'em.
The day started slowly, without any significant clashes. The first meaningful chip movement came when Barry Greenstein doubled through John McGuinness about 30 minutes into play. All in preflop, Greenstein's
successfully fended off
when the board came
. In less than half an hour, however, Greenstein would pass those extra chips on to Hasan Habib, when the latter's
held up against Greenstein's
on the board of
. But "The Bear" continued on his roller-coaster ride shortly thereafter when he doubled up yet again on a preflop push, his
prevailing over Zachary Humphrey's
, when the board came down
.
That last hand left Humphrey crippled with less than one big bet, and it quickly went into the pot when he held
. He was called by Randy Haddox holding
, which made a straight on a board of
. Humphrey earned $27,199 for his ninth-place finish.
Hasan Habib was the next to go. In a limit hold'em round, Greenstein raised, Habib reraised, and Greenstein called. On the flop of
, Greenstein bet and Habib called for the last of his chips. Greenstein revealed
for top pair; Habib showed
for ace-high and backdoor draws. The turn and river of
and
did not improve Habib's hand, and he was out in eighth place for $30,641.
That was the first of a three-hand sequence over the course of about 15 minutes that put Greenstein back into serious contention. Just a couple of hands later, he won 200,000 from Haddox when his
held up against a hand that Haddox mucked unseen. The third hand saw Greenstein finish what he had started with Haddox. All in preflop, Haddox was in the solid lead with A-K to Greenstein's K-J. But when the community cards came in 5-5-9-J-7, it was Haddox who held the inferior hand, and he had to settle for seventh place and $36,084.
On the very next hand, another contestant was sent to the exit. This time it was Matt Woodward, whose preflop shove with
from the button might have worked, were it not for the fact that Bahador Ahmadi woke up with
in the small blind. No miracle came for Woodward on the board of
, and he left in sixth place, good for $44,520. His departure meant that four of the final nine players had been eliminated before the first break at the two-hour mark.
In the third level of the day, Greenstein continued to be the most active player at the table, involved in the most big pots. He lost one to Ylon Schwartz, and then another to Karlo Lopez a few minutes later. But after another half-hour, Greenstein was back on the up escalator, doubling to about 400,000 through John McGuinness when his
held up against the
of McGuinness on the board of
.
It would prove to be Barry Greenstein's last big surge forward, however. He next lost a large portion of his stack to Schwartz, then, ten minutes later, Greenstein put the last of his chips in on the flop of
, holding
. Ylon Schwartz called with
. The turn and river of
and
meant that Greenstein's wild ride was over in fifth place, worth $57,671.
Karlo "The Wizard" Lopez, who had come to the final table as chip leader, followed Greenstein to the rail a few minutes later in a limit hold'em hand. Schwartz led out with a raise, Lopez three-bet, McGuinness made it four, and both opponents called. On the flop of
, McGuinness bet, and Schwartz and Lopez both called, putting the latter all in. McGuinness bet again on the
turn, folding Schwartz. He showed 6-6 for a flopped set, and Lopez, with his K-9, was already drawing dead before the meaningless
river. He picked up $78,628 for fourth place.
That pot gave Schwartz the lead with half of the chips going into three-handed play, which lasted only a few minutes before it was time for the dinner break. Ahmadi was the short stack going into the break, but he came back from dinner with a newfound determination, and started winning pots from the other two players both with and without showdowns. Within 30 minutes, Ahmadi was the top dog, holding three-quarters of the roughly 4,000,000 chips in play.
His volcanic hot streak came to an explosive end, as Ahmadi eliminated both remaining opponents in consecutive hands of no-limit. In the first, Ahmadi initiated action with a raise to 105,000. Ylon Schwartz shoved for his last 495,000. Ahmadi pondered before making the call. As it turned out, he was ahead with
to Schwartz's
. The dealer put down
, and the ace-high took it down. Schwartz picked up $112,967 for third place.
Ahmadi began heads-up play with approximately a 7-to-1 chip advantage over John McGuinness. It all went in on the next hand on the flop of
. McGuinness had the better hand with
, but Ahmadi had a flush draw with
, and could easily afford to make the call with his massive lead. With the
on the turn, McGuinness was drawing dead, and the river
could not change his fate: second place and $172,227.
With the win, Bahador Ahmadi claims the gold bracelet and $278,804. This is his second career WSOP cash and final table, the first of each having come in Event #13, $2,500 No-Limit Hold'em, earlier this month, when he finished in fourth place for $139,934.