2009 WSOP: John Kabbaj Wins First Bracelet in PLH #45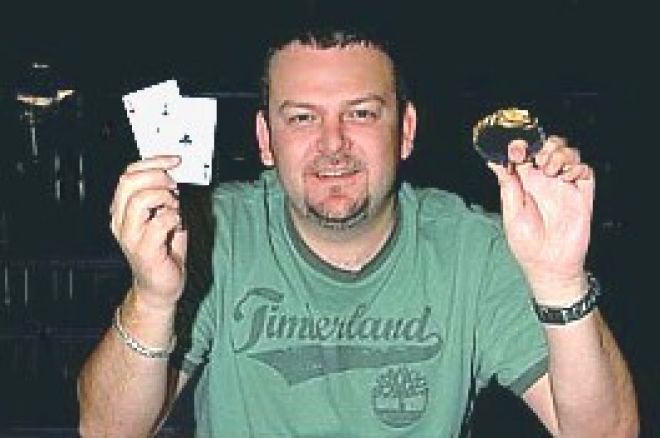 After three days and 244 eliminations, there was finally one man standing at Event #45, $10,000 World Championship Pot-Limit Hold'em. First-time WSOP champ John Kabbaj took down the title and the $633,335 top prize when he busted Kirill Gerasimov heads up after a marathon final table. With only two World Championship events after this, the $50,000 HORSE and the Main Event, the field was as stacked as any we've seen at the WSOP this summer. Only 14 players remained when Day 3 kicked off, but among them were some big names including Gerasimov, Isaac Haxton, Eric "basebaldy" Baldwin, and Jason Lester. They all fell by the wayside eventually as Kabbaj, who started the day with a monster chip lead, fell behind and then battled back to claim the gold bracelet.
Thomas Pettersson was the short stack coming into Day 3, and it didn't take him long to commit his chips to a pot. He got it all in preflop with
against Billy Kopp's
. Kopp picked up an ace right on the flop, and when the final board read
, Pettersson was done in 14th place ($43,091). He was quickly joined on the rail by Ken Lennaard (13th, $43,091), Michael Kamran (12th, $57,645) and Billy Kopp (11th, $57,645). With Kopp's elimination, the remaining ten players redrew around one table to await the official final table bubble.
They didn't have long to wait, as Mohsin "chicagocards1" Charania made his exit soon thereafter in tenth place ($57,645). Charania moved all in over the top of Davidi Kitai's preflop raise with
, and Kitai made the call with pocket nines. The board ran out
, and Kitai's pair held as the final table was set.
Eventual champ John Kabbaj held the chip lead going into the final table, as the stacks for the final nine looked like this:
John Kabbaj - 1,867,000
Davidi Kitai - 1,737,000
Isaac Haxton - 1,139,000
Eric Baldwin - 1,115,000
J.C. Alvarado - 810,000
Kirill Gerasimov - 621,000
Jason Lester - 386,000
Eugene Todd - 341,000
Darryll Fish - 241,000
Darryl Fish was the first casualty of the final table when he called all in after a preflop three-bet from J.C. Alvarado. When the hands were revealed it was a standard coin toss, with Fish holding
for two overs, and Alvarado making a stand with a middle pocket pair:
. The board of
was no help to Fish, and he picked up $77,136 for his ninth-place finish.
In Isaac Haxton's final hand, he opened for a raise with
, and Davidi Kitai put in a big reraise. Haxton moved all in for slightly more than Kitai's bet, and Kitai made the call. Haxton was dominated as Kitai showed
, and the board ran out an uninteresting
. Dull was just fine for Kitai, as he knocked out Isaac Haxton in eighth place ($82,668).
J.C. Alvarado started things off with a raise, but after Eugene Todd reraised and Kirill Gerasimov moved all in over the top, Alvarado got out of the way. Todd called all in for less, and he was at risk as the cards were on their backs. Todd was drawing to three outs with
to Gerasimov's pocket queens, and there were no aces on the
board to help him out. Todd collected $93,085 for seventh place.
Jason Lester became the first six-figure finisher of the day as he pocketed $110,431 for sixth place. He was sent to the payout line at the hands of Davidi Kitai after Lester moved all in preflop with
. Kitai made the call with
, and once again the board neglected to bail out the lesser hand, coming down
, as Kitai's ace-high held up to bust Lester.
This final table seemed to be all about boards that brought no help, and such was the case again when J.C. Alvarado busted in fifth place ($138,375). Alvarado opened for a raise with
, and John Kabbaj reraised in position. Alvarado moved all in, and Kabbaj quickly called with pocket tens. As with many of the bust-out hands at the final table, the board completely missed both players, coming down
, and Kabbaj's pocket pair held up to send Alvarado packing.
Onetime chip leader Davidi Kitai became the exception that proved the rule when he busted at the hands of Kirill Gerasimov in fourth place ($183,638). Kitai moved all in over the top of Gerasimov's preflop raise with
, and Gerasimov made the call with
. The flop of
gave Gerasimov a flush draw, but the
on the turn was no help. Kitai needed to fade a heart, king, ten, or nine on the river, and that proved to be too many outs as the
spiked to send him home just short of the gold.
Eric "basebaldy" Baldwin picked up a bracelet earlier this WSOP in a $1,500 No-Limit Hold'em event, and was making a deep run at his second when disaster struck in the form of Kirill Gerasimov. Three-handed, Gerasimov raised from the button and Baldwin called from the small blind. After John Kabbaj got out of the way, the flop came down
. Baldwin checked, and then pulled the trigger on the check-raise when Gerasimov led out. Gerasimov responded by moving all in, and Baldwin called with
for top pair. Gerasimov had come from behind with
to flop two pair, and when the turn and river came down
and
, Gerasimov doubled through Baldwin and left him crippled.
Baldwin shipped the last of his chips into the middle on the next hand with
and got one caller in John Kabbaj with
. Kabbaj made two pair on the
flop, and although Baldwin picked up a couple of out on the
turn, the river brought the
, which was no help. Kabbaj finished the hand with the better two pair, and Baldwin headed off to collect $259,534 for third place.
Heads-up play went back and forth for quite awhile, with John Kabbaj taking the lead after about nine hands. Another 20 hands or so later, and Kirill Gerasimov ran into the ultimate cooler to bring the tournament to a close. In the final hand, Gerasimov raised preflop, and Kabbaj smooth-called to see the
flop. Kabbaj led out on the flop, and Gerasimov raised. Kabbaj thought for a very brief moment before moving all in, and Gerasimov quickly called with
for the overpair. John Kabbaj tabled
for an overpair of his own, and when the turn and river ran out
and
, Gerasimov had to settle for the second-best starting hand and second place, with a $391,369 payday.
John Kabbaj's first WSOP bracelet was worth a $633,335 payday, by far the largest cash of his career so far. His victory came over some of the top names in poker, and after a grueling final table. Congratulation to John Kabbaj, winner of Event #45.