2009 WSOP: Razz #44, Lisandro Wins Bracelet to Complete "Stud Triple Crown"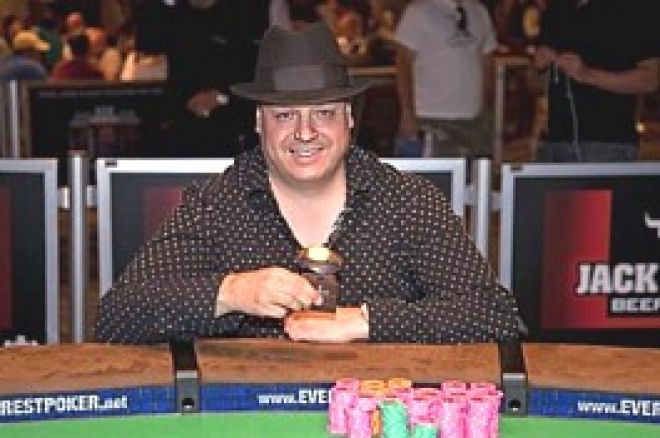 Day 3 of Event #44, $2,500 Razz, started with 13 players returning to take a shot at the final table and the bracelet. Jeff Lisandro entered the day with the chip lead, primed to make a run at his third bracelet of the 2009 WSOP. Several strong players stood in Lisandro's way, including Kenna James, Nikolay Evdakov, Michael Craig, and Al "Sugar Bear" Barbieri. But the day belonged to Lisandro as he collected his third bracelet of the year and wins the "Stud Triple Crown."
Nikolay Evdakov made yet another deep tournament run in this event, but fell short of final table in 13th place. Most of his chips were lost to Kenna James after James drew a seven low to best Evdakov's six low. Evdakov was left with only 38,000 in chips, and at betting limits of 8,000 and 16,000, he was eliminated a short time later. Ville Wahlbeck soon followed Evdakov out the door after being eliminated by Kenna James. James took the chip lead after a sizable pot against Michael Craig. James bet out on both sixth and seventh streets, and Craig called along. At the river, Craig showed a 7-6 low and James showed a 6-5 perfect to take the pot and move over 480,000 in chips.
William Cole pushed the last of his chips into the middle on sixth street in a hand against Warwick Mirzikinian. By the river, Cole only made a ten low while Mirzikinian rivered a 6-5 low to send Cole home in 11th. Al Barbieri hit the rail next in tenth place. At the river, Ryan Fisler bet out his 6-7-5-4 board into both the 7-2-7-K of Barbieri and the 9-3-6-J board of Allen Bari. Bari folded his hand and Barbieri went into the tank. Barbieri made the call for his tournament life and Fisler turned over 3-8-8 for a seven low. Barbieri flashed the A-5 and then mucked his last card, heading out to receive his $15,570 payday.
Final tables for all stud games are played eight-handed. As a result, one more player had to hit the rail before the official final table would be reached. There was a quite a bit of chip movement during the final table bubble period, but none more significant than the mountain of chips that Kenna James shipped over to Jeff Lisandro. In two pots, Lisandro regained the chip lead and left James needing a major infusion of chips to stay in contention.
The first hand saw a lot of river betting action. With his board showing 7-6-3-10, James check-raised a bet from Lisandro. Lisandro then three-bet with his board showing 2-3-9-K. James made the call and Lisandro turned over 6-A-4 for a perfect six. Lisandro moved up to 500,000 and retook the chip lead. The very next hand, Lisandro was showing A-A-9-A and called a sixth-street bet from James, whose board read A-6-J-K. At the river, James checked and Lisandro bet out. James made the call and Lisandro showed 3-5-6 for a nine low, good enough to take the pot and move up to over 600,000 as James was left with only 130,000.
Almost three hours passed before another player was eliminated. Don Zewin became the final table bubble boy at the hands of Ryan Fisler. The pot was four-bet between Fisler and Steve Diano on third street, as Zewin called all in. In a weird twist, after catching a king on fourth street, Zewin asked the tournament director how he could exit the stage. The TD pointed to the exit and Zewin left without seeing the outcome of his hand. Fisler bet all streets and Diano called until the river, when he released his hand. Zewin finished with a J-8, but it could not beat the 8-7 low of Fisler. With Zewin's elimination in ninth place, the final table was set. Jeff Lisandro entered the final table as the dominant chip leader. Here's how the final eight stacked up:
Seat 1 - Michael Craig, 343,000
Seat 2 - Warwick Mirzikinian, 271,000
Seat 3 - Steve Diano, 96,000
Seat 4 - Allen Bari, 55,000
Seat 5 - Ryan Fisler, 412,000
Seat 6 - Jeff Lisandro, 814,000
Seat 7 - Kenna James, 210,000
Seat 8 - Eric Rodawig, 171,000
Lisandro quickly picked up a couple of pots to move over a million in chips. First, Lisandro bet out from fifth to seventh streets with Ryan Fisler calling along. At the river, Lisandro tabled a seven-high straight to move up to 900,000. The next pot, Lisandro and Fisler went at it again with Lisandro betting out on both fifth and sixth streets. Lisandro checked his A-K-J-5 board at the river and Fisler checked behind showing 8-4-K-Q. Lisandro turned over 2-3-4 for the wheel and moved up to 1.02 million. After those two hands, Lisandro held 42 percent of the chip in play.
Allen Bari was the first player eliminated from the final table. He was all in on fourth street with Q-4-6-K against the 3-9-4-K of Ryan Fisler. Fisler completed a nine low, easily besting Bari's queen low. Allen Bari finished in eight and took home $19,880. Steve Diano was the next player to get the boot. Diano called all in for the last of his chips on fourth street with 4-7-6-4, up against the 8-7-4-5 of Warwick Mirzikinian. Mirzikinian made an eight low by sixth street, while Diano had a draw to a seven. Diano bricked out with a jack on the river and headed to the rail in seventh place, good for $23,669.
Kenna James lost most of his chips to Jeff Lisandro in a hand just prior to the Diano elimination. Then Michael Craig confiscated the rest of James' chips to send him home in sixth place. James called all in on fourth with 4-8-6-A against the 6-6-2-3 of Craig. James made his eight low on fifth street, but was outdrawn on the river by Craig, as Craig caught a river seven to make a 7-6 low and send James packing. James took home a nice $29,473 payday for his sixth-place finish.
Jeff Lisandro continued to chip up after ousting Eric Rodawig in fifth place. Rodawig was all in on third with K-5-5 against the Q-9-7 of Lisandro. Lisandro made a ten low by sixth and Rodawig, drawing to a queen low, was already dead in the water. Eric Rodawig headed out in fifth place, netting $38,471, as Jeff Lisandro moved up to 1.3 million in chips.
Lisandro extended his chip lead even further after crippling the stack of Warwick Mirzikinian. Mirzikinian made a 10-9 low by the river, but Lisandro completed a 10-8 low to leave Mirzikinian running on fumes with only 100,000. Mirzikinian put the rest of his chips at risk a couple of hands later, shoving on fifth street with a 10-8 low. Lisandro made the call with a 10-7 low. Mirzikinian bricked out on the next two streets with a jack and a queen, as Lisandro caught a six to improve to a 7-6 low. Warwick Mirzikinian finished in fourth place and took home $52,773.
The main theme of this final table was all Jeff Lisandro, all the time. Lisandro took a nice pot off Michael Craig to move over two million in chips. Lisandro bet on every street, and Craig called all the way. Lisandro made a six-high straight to best the king low for Craig. A few hands later, Lisandro crippled Ryan Fisler. Fisler bet out every street as he completed a 4-6-3-7 board. Showing Q-9-5-2, Lisandro raised the river and the raise was enough to put Fisler all in. Fisler tanked for a bit and then folded in frustration with only 35,000 in chips left.
He put those chips to risk a few hands later, shoving on third street against Michael Craig. Fisler started with 5-9-8 and ran into the 6-2-4 of Craig. Fisler could only produce a king low by the river, but was dominated by the six-high straight of Craig. Ryan Fisler finished in third place and took home $76,261.
Heads-up play between Jeff Lisandro and Michael Craig started off as a very lopsided affair, with Lisandro holding more than a 10-to-1 chip advantage over Craig. Lisandro's stack of 2,153,000 dwarfed the 210,000 belonging to Craig. Then Lisandro took the first heads-up pot on fifth street, leaving Craig with only 125,000. The betting limits were raised after the hand to 25,000 and 50,000, so it was only a matter of time before Craig got the last of his chips in. Craig put those chips at risk on fifth street a couple of hands later with 6-8-A-A-8 and Lisandro made the call with 10-8-4-4-9. Lisandro made a ten low by sixth and Craig was drawing dead as the best he could draw to by sixth street was a jack low. Michael Craig finished in second place and took home $116,405.
Jeff Lisandro is the $2,500 Razz Champion of the 2009 WSOP. With this win, Lisandro celebrated two accomplishments. First, he tied the WSOP record for most bracelets in a single World Series at three. Next, he is only the fourth player in WSOP history to complete the "Stud Triple Crown", by winning bracelets in all three disciplines of stud. Doyle Brunson, Paul "Eskimo" Clark, and Gary "Bones" Berland are the other Triple Crown winners. In addition to his fourth bracelet, Lisandro took home $188,370. Lisandro is a lock to be one of the favorites heading into the $50,000 HORSE Event #49, not to mention the $1,500 Stud Hi/Lo Event #53. Can Jeff Lisandro set a new WSOP record with four bracelet wins in a year? Stay tuned to PokerNews.com as we continue to chronicle Lisandro's record-setting run.