2009 WSOP: Calixto Leads #15 NLHE, Levi Tops #16 Stud Survivors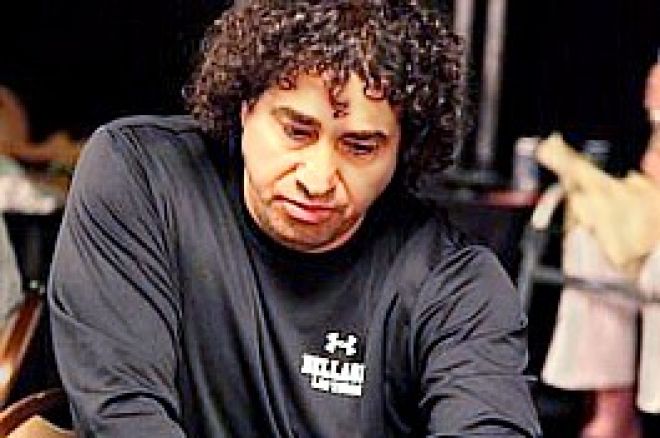 $5,000 No-Limit Hold'em Event #15, Day 1 – Calixto Floats to the Top
Just about every big name in poker that was not already committed to another tournament was registered for the $5,000 No-Limit Hold'em, Event #15. But at the end of the day the biggest stacks were not in front of the most famous faces. Bringing the most ammunition back to Day 2 will be Clemenceau Calixto with 186,300. Alexander Turyansky is hot on his heels in second place with 179,900. Faraz Jaka (172,200), Jason Somerville (159,000), and Jared Ingles (154,000) round out the top five, with Ludovic Lacay just making the top ten on a stack of 124,000.
The day began at noon, attracting a total of 655 players – a substantial decline from the 731 who signed on last year when this event was won by Scott Seiver. Still, the buy-in was large enough to form a prize pool well worth fighting for, with $3,078,500 to be divided among the last 63 players, and $692,658 promised to the eventual winner.
It was obvious early on that Table 16 was a murderers' row, as its occupants included Russell Rosenblum, Praz Bansi, Andy Black, Yevgeniy Timoshenko, Amanda Baker, and Eugene Todd. Similarly, nobody would likely volunteer to move over to Table 1, which at one point was surrounded with this talent: Greg Raymer, Josh Arieh, Vanessa Rousso, Gavin Smith, and Jimmy Fricke. Late in the day, yet another Table of Doom had brought together Michael Gracz, Nenad Medic, Anh Van Nguyen, and Blair Hinkle.
One of the first big-name players to hit the road was Antonio Esfandiari, and his final hand was a wild one. Four players saw the flop, and three of them were already all in, including Esfandiari with his last 275 in chips. He made two pair with his 5-3 when the board came 6-3-5-A-7, but one of his opponents had made a straight with 6-4.
Other early eliminations included Jeff Madsen, David Singer, and Howard Lederer, whose
was trounced by the
of Carlos Mortensen when the board came down
. Scotty Nguyen and Humberto Brenes also headed to the rail early. By the end of the second break, four hours into the day, 124 were gone.
Phil Hellmuth's run ended during Level 8. He stuffed it in with a pair of fives and was called by the big blind, holding
. The big blind hit a pair on the
flop, and the eight that peeled off on the turn only added insult to injury. The river bricked off and Hellmuth will have to wait for another day to chase that elusive 12th bracelet. Other mid-day exits included Michael Mizrachi, Justin Bonomo, Chad Brown (two pair versus flopped flush), and Paul Wolfe. The field had been reduced to 286 players by the time the final two levels of the day got underway.
Just a few minutes after that final break, Bertrand Grospellier made his stand. He shoved with
, in dire shape against the caller's
. The flop of
opened some straight-draw possibilities, but any hopes it raised for "ElkY" were dashed once the turn and river arrived
and
. Others who couldn't quite hang on until Day 2 were Greg Raymer, Gavin Smith, Chris Ferguson, and Adam Junglen.
Still alive are Nenad Medic, Erik Seidel, Gavin Griffin, Vanessa Rousso, and Jimmy "Gobboboy" Fricke. They and 160 others will start the battle up again at 2:00 p.m. PDT Sunday, with the schedule calling for play to continue until a final table has been set.
$1,500 Seven-Card Stud Event #16, Day 1 – Levi Taxes Opponents as He Takes Lead
Meanwhile, those choosing stud over hold'em had a much shorter day. Event #16, $1,500 Seven-Card Stud, had a more leisurely starting time of 5:00 p.m. and wrapped up at about 3:00 a.m. Pro player David Levi was the man to beat at the end of the day, bagging up 49,600 chips. Other big stacks included Jeff Lisandro (40,700), Jason Mercier (35,000), Thor Hansen (33,300), and Eli Elezra (31,100).
Day 1 of this event saw 359 signing up, a slight fall-off from the 381 who played the same tournament last year, which was won by Michael Rocco. A killer table developed when Terrence Chan, David Sklansky, Andy Bloch, Mark Seif, and Hoyt Corkins all shared some green felt real estate. Another formidable table was the one that by late in the day had gathered Allen Kessler, Mel Judah, Nick Frangos, David Bach, Cyndy Violette, and Michael Keiner.
David Singer was one of the first notable eliminations. He showed down
/
/
, but was bested by an opponent's trips:
/
/
.
Amnon Filippi followed a short time later. He put his last few thousand chips into the pot, and was dealt (X-X)/
/(X). Michael Bach was not content to check down the hand with a third player, but continued to fire on every street until finally inducing a fold on the last round of betting. He showed a rivered two pair for the winner with
/
/
.
Just before the dinner break, a massive pot developed when Katja Thater, Stacey Vong, and Mark Seif capped every street until both women were all in on fifth street. When the dust settled, the hands were revealed:
Thater:
/
/(X)
Vong:
/
/(X)
Seif:
/
/(X)
Thater saw that she was drawing dead to Vong's full house and left the table without even bothering to wait for her last card. Though he had started rolled-up, Seif's only hope by seventh street was to make quads with the case three, but instead he got the
. He fell to 3,100 chips and was eliminated soon thereafter. (Vong's final card was shown but not recorded.)
John Juanda was the tournament chip leader going into the dinner break with 15,150. At that point, 278 players were left. Of those, only 184 remained at the final break, and 97 when it was time to close up shop for the night. Even a partial list of those who did not survive the day reads like a who's who of poker: Max Pescatori, Ylon Schwartz, Shawn Sheikhan, Justin Bonomo, Ted Forrest, Mike Caro, Anna Wroblewski, Tom Schneider, Michael Binger, Perry Friedman, Dario Alioto, Anna Wroblewski, Hoyt Corkins, Chip Jett, Keith Sexton, Chad Brown, and Doug Lee.
The remaining field includes notables such as Allen Kessler, Michael Mizrachi, and David Bach. They will be competing for 40 cash-out positions, starting at $2,489 and going up to $124,959 for the last one standing, constituting a total prize pool of $490,035. Of course, PokerNews will be bringing you live updates when action recommences at 2:00 PDT Sunday.