2009 WSOP: Ankenman Scores First Bracelet in #42 Mixed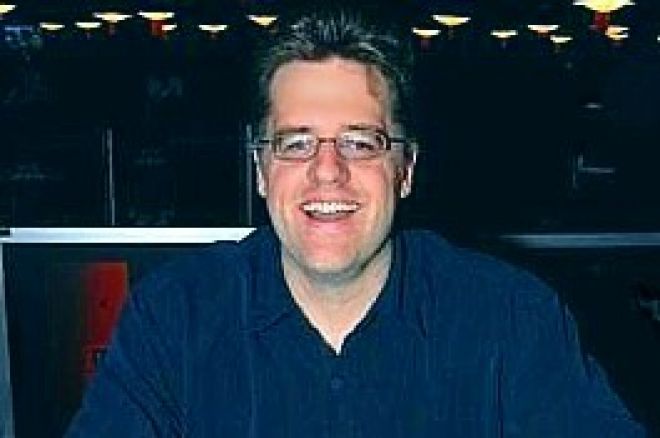 Day 3 of Event #42, $2,500 Mixed, kicked off with 14 players looking to make the final table. Among those left in contention were Jimmy "Gobboboy" Fricke, Jon "PearlJammer" Turner, Layne Flack, Blair Rodman, and Dario Alioto. The final table was headlined by Layne Flack, in search of his fourth bracelet. However, it was Jerrod Ankenman who rose above the pack and walked away with the bracelet and the $241,637 top prize.
Blair Rodman was the first player to make his exit in Day 3 action. He was all in after calling a preflop raise from Andrew Radel during Omaha hi/lo. Adam Friedman called as well and the flop came down
. After check-calling a bet from Radel on the flop, Friedman led out after the
hit the turn. Radel raised and Friedman made the call. The river fell the
and Friedman check-called Radel's bet. Radel held the nut low and a baby flush with
, but Friedman held a slightly better flush with
to take down the high. Rodman mucked and headed for the payout window.
Rami Boukai soon followed him out the door, eliminated in 13th place. Boukai put the last of his chips in during stud hi/lo with A-3-4 and was called by Trai Dang who held buried queens. Dang improved to queens up by the river and Boukai couldn't make a low. Dang was unable to put Boukai's chips to good use as he was the next player out. During the pot-limit Omaha round, Dang bet pot into the board of
. Eric Crain bet enough to put Dang all in and Dang made the call. Dang tabled
for a set of threes and Crain flipped over
for middle pair, a flush draw, and a straight draw. The river fell the
to complete Crain's flush and eliminate Dang in 12th place.
Andrew Radel was knocked out in 11th place at the hands of Jerrod Ankenman. Radel called a raise preflop from Layne Flack before Ankenman reraised, making it 71,500 to go. Flack folded and Radel made the call. The flop fell
and Radel put the rest of his chips at risk. Ankenman made the call and showed
for aces and an open-ended straight draw. Radel tabled
for two pair and a higher straight draw. The turn was the
to give Ankenman his straight. The
on the river failed to complete Radel's draw and he hit the rail.
Adam Friedman was the next to fall short of the final table. In a deuce-to-seven hand, he shoved all in after the first draw and stood pat with 9-6-4-3-2. Layne Flack made the call and drew one card on each of the next two draws. He started with 7-6-5-2 and needed an eight, four, or three. On the last draw, Flack caught a three to send Friedman home in tenth place.
Jimmy Fricke entered the day as the short stack and fought admirably to stay alive. But his efforts fell short as he was felted in ninth place to become this event's final table bubble boy. Most final tables feature nine players, but since the mixed event includes stud variants and triple draw, this final table was eight-handed. Fricke got his money in good during razz, putting the last of his chips in on third street with A-5-6 and getting called by Jerrod Ankenman holding 8-4-3. Fricke caught a seven on fourth street but on subsequent streets the lowest card he could catch was a jack to finish with a jack low. Ankenman caught an ace on sixth and a seven on the river to improve to an eight low and the final table was set.
Jerrod Ankenman had more than 500,000 in chips over his nearest competitor heading into the final table. Here's how the players stood in chips to start the final:
Jerrod Ankenman — 1.2 million
Jon Turner — 591,000
Sergey Altbregin — 387,000
Eric Crain — 355,000
Jeff Tims — 260,000
Chris Klodnicki — 109,000
Dario Alioto — 103,000
Layne Flack — 60,000
The two shortest stacks were the first two to be eliminated from the final table. In a stud hand, Dario Alioto called off the last of his chips on sixth street against Jon Turner. Alioto held sevens and fives for two pair and Turner held trip nines. Alioto caught a jack on the river to send him packing in eighth place, good for $25,860. Layne Flack also went out during the stud round. Flack moved in on fifth street with split eights and Eric Crain called with split nines. Flack improved to eights up on sixth street, but Crain also improved to nines up. Flack failed to fill up on the river and finished in seventh place, taking home $30,674 for his strong finish.
Eric Crain was the next player to get the boot, eliminated in sixth place after losing two huge no-limit hold'em hands. In the first hand, Crain moved all in preflop with
and was called by Sergey Altbregin with pocket aces. Crain caught a king on the flop, but a third king did not follow. Altbregin doubled up to 600,000 as Crain was left with only 160,000. The very next hand, Jerrod Ankenman raised to 30,000 and Crain moved all in. Ankenman called and tabled pocket eights. Crain held
. The flop fell
to give Ankenman a set, but Crain picked up a Broadway draw. The turn and river failed to complete Crain's straight and he headed out in sixth place, good for $38,075.
Jon Turner was the fifth-place finisher in this event. Jerrod Ankenman raised preflop and Tuner called with the last of his chips. Sergey Altbregin and Chris Klodnicki also came along for the ride. This gave Turner great value for his hand as he stood to quadruple up. The flop of
was checked around. The turn fell the
and action was checked to Klodnicki, who bet out. Ankenman was the only caller. The river was the
and the two active players checked. Ankenman turned over
for nines up. Klodnicki tabled
and Turner flipped up
. Ankenman won the pot and Turner headed to the payout window to collect his $49,569 prize for fifth.
Jeff Tims moved all in preflop during no-limit hold'em and received a call from Chris Klodnicki. Tims'
was dominated by the
of Klodnicki. Matters became worse for Tims when the
flop gave Klodnicki a flush draw. The turn left Tims drawing dead when the
fell to complete Klodnicki's flush. Jeff Tims finished in fourth place and took home $67,848. A few hands later, Sergey Altbregin doubled up through Jerrod Ankenman to take over the chip lead. A preflop betting war between the two left Altbregin all in with pocket kings, up against Ankenman's
. Ankenman picked up a pair of queens on the turn, but the river fell a blank to move Altbregin up to 1.4 million in chips. Ankenman was still very healthy with 900,000.
Chris Klodnicki raised from the button to 30,000 preflop during a pot-limit Omaha hand. Jerrod Ankenman made the call and the flop fell
. Ankenman checked and Klodnicki fired out 72,000. Ankenman re-potted to 288,000 and Klodnicki moved in for 375,000 total. Ankenman made the call with
for the nut flush draw, a wheel draw, and a pair. Klodnicki held
for two pair only. The turn fell the
to fill Ankenman's flush, leaving Klodnicki with four outs to win. The river was the
and Klodnicki finished in third place. $97,897 made for a nice return on Klodnicki's $2,500 investment.
Heads-up play began with Sergey Altbregin holding a slight edge over Jerrod Ankenman. Altbregin had 1.8 million to the 1.41 million of Ankenman. But Ankenman took a series of pot off Altbregin during Omaha hi/lo to move into a massive chip lead of 2.39 million to just 700,000. Altbregin slipped further down to 415,000 before committing the last of his chips during a no-limit hold'em hand.
On the flop of
, Ankenman bet out 50,000 and Altbregin responded by pushing all in. Ankenman made the call with
for top pair and a straight draw. Altbregin held
for middle pair only. The turn fell the
to give Ankenman his straight and Altbregin was drawing dead to a chop. The river was the
and Sergey Altbregin finished as runner-up for this event, taking home $149,342.
Jerrod Ankenman entered the final table with the chip lead and was able to walk away from the table with his first bracelet. After doubling up Altbregin in the early going, Ankenman controlled the pace of play and rebuilt his stack until he ultimately overtook Altbregin. In addition to the gold bracelet, Ankenman took home $241,637 in prize money.