2009 WSOP: Van Alstyne Captures First Bracelet in HORSE #31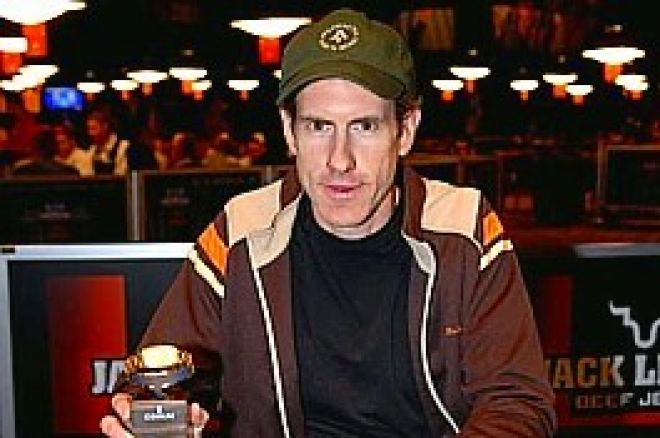 Day 3 of Event #31, $1,500 HORSE, started with 23 players looking to make their way to the final table. Fabrice Soulier came into the day as chip leader with 351,000, but would need to fend off challenges from a tough field of opponents in order to make the final table. Among those still in the hunt were Shannon Shorr, Farzad Rouhani, Chris Bjorin, Bryan Micon, Vanessa Rousso, and James Van Alstyne. After 12 hours of play, James Van Alstyne walked away with his first WSOP gold bracelet.
Three eliminations kicked off the day's action. In a stud hand, John Racener moved in on third street with king-high against the split queens of Dustin Bryan. Racener failed to improve his hand and Bryan made a Broadway straight by the river. James Van Alstyne used the "Dead Man's Hand", aces and eights, to cripple Torstein Iversen in another stud hand. Iversen headed out a few hands later. Paul Darden was looking to make a run at his second bracelet, but he fell short in early action.
Kathy Raymond put the last of her chips into the pot during Omaha hi/lo with
and was called by Sebastien Sabic holding
. Raymond flopped a low draw, but the river counterfeited her low. Sabic won the high with two pair and sent Raymond out in 20th place. Vanessa Rousso had another great run in this event, but fell short of the bracelet. She was all in on third during razz with
against the
for Alan Myerson. Rousso caught a nine on sixth street, but Myerson caught runner-runner-runner to make a wheel and end Rousso's day.
Alan Myerson and Joe Serock joined her on the rail shortly afterward. Myerson was all in and behind during stud, holding a pair of kings against the aces of Shannon Shorr. Myerson made kings up, but Shorr countered with aces up to eliminate Myerson. In another stud hand, Serock moved all in against Ron Schiffman. Serock finished with eights up, but the aces up of Schiffman put an end to Serock's run.
Chris Bjorin shoved the last of his chip in the middle during stud hi/lo with
and was called by the buried aces of Paul Evans. Bjorin finished with ace-king high and Evans unnecessarily improved to aces and eights to take the pot and send Bjorin out in 16th. Dustin Bryan lost most of his chips during the hold'em round to Shannon Shorr when he ran jacks into aces. He was ousted in the very next hand, in a multi-way pot won by Ron Schiffman with pocket nines. Paul Evans was knocked out in 14th place by Bryan Micon, during the stud round. Evans moved in with queen-high and Micon called with split queens. Evans picked up an open-ended straight draw, but failed to complete it. Micon improved to queens-up and Evans headed to the rail.
Both Peter Gelencser and Phillip Marmorstein were eliminated in the same Omaha hi/lo hand by Mitch Schock. At the turn, the board read
and Schock bet out. Both Gelencser and Marmorstein called all in for less than the bet. Schock tabled
for kings full, and Marmorstein tabled
for two pair with a low draw. Gelencser mucked his hand as he was drawing dead. The river fell the
and Schock scooped. Marmorstein had more chips at the start of the hand, so he took the superior placing and finished in 12th. Sebastien Sabic was next out the door out in 11th place. He was all in at the river in an Omaha hi/lo hand against Fabrice Soulier. The board was
as Soulier flipped over
for the nut flush and the nut low to eliminate Sabic.
Lana Maier held the honor of being the last woman standing in this event, but also the dubious honor of final table bubble girl. She moved in preflop during the hold'em round with
and was called by the pocket threes of Shannon Shorr. The flop came down
and Maier was poised for a double-up. The turn
helped neither player, but the river fell the
to send Maier out in tenth place. With Maier's elimination, players were combined into a nine-handed final table. These were the seat assignments and starting chip counts:
Seat 1: Ron "Schifty" Schiffman - 313,000
Seat 2: Tad Jurgens - 391,000
Seat 3: Bryan Micon - 354,000
Seat 4: Fabrice Soulier - 380,000
Seat 5: Brian Malcolm - 436,000
Seat 6: Shannon Shorr - 565,000
Seat 7: Mitch Schock - 693,000
Seat 8: James Van Alstyne - 202,000
Seat 9: Farzad "Freddie" Rouhani - 136,000
Mitch Schock entered the final table as the chip leader with Shannon Shorr and Tad Jurgens right behind him. Farzad Rouhani was looking for his second bracelet and James Van Alstyne was hoping to improve on his runner-up finish in the $3,000 HORSE event earlier in the Series. This was Bryan Micon's second final table overall and first non-hold'em final. Micon has a reputation for being a strong online HORSE player and was looking to make a splash in the live arena.
Farzad Rouhani entered the table as the short stack and was soon eliminated during the stud hi/lo round. On fourth street, James Van Alstyne bet out and Rouhani called all in with (
)
. Van Alstyne held (
)
. Rouhani picked up a low draw on sixth street at the same time Van Alstyne picked up trip queens. Rouhani needed a three, four, seven, or eight to survive. Instead he caught the
on the river and headed out in ninth place for a payday of $19,265
Ron Schiffman was next to exit the final table during a hand of Omaha hi/lo. At the river, the board read
and Schiffman check-called all in after a bet from Brian Malcolm. Malcolm tabled
for the nut flush and a low and Schiffman mucked his hand, heading out the door in eighth place to collect $26,780. Fabrice Soulier went out shortly thereafter during razz. He was all in on fourth street with 5-7-3-A against the A-5-3-6 of Mitch Schock. Schock caught a deuce on fifth street to make a six-low and Soulier caught a nine to make a nine-low. Soulier was drawing very thin and a five on sixth street left him drawing dead. Soulier took home $31,657 for his seventh-place finish.
Brian Malcolm finished in sixth place after being eliminated by Mitch Schock in a hand of stud. Malcolm put the last of his chips on sixth street with only a pair of buried fives. Schock held a pair of split jacks. Schock's jacks held and Malcolm headed out to collect his $39,183 prize.
The pressure of the final table appeared to get to Shannon Shorr. After losing a big pot to James Van Alstyne to drop to 320,000, Shorr inexplicably folded in the big blind to a limp from Tad Jurgens. Shorr may have wished he played that hand because a short while later, he was all in on third street in razz with a meager
against the
of Mitch Schock. Schock finished with a queen-high to the king-high of Shorr. Shorr finished in fifth place and took home $50,881.
Bryan Micon must have fallen out of favor with the stud poker gods as he started losing pot after pot during the stud rounds to James Van Alstyne. First, he lost a nice razz pot when Van Alstyne caught a seven-low. Micon then slipped under 100,000 during stud after Van Alstyne took a second pot off him with sevens up. Micon was then all in during stud hi/lo with
against the
of Van Alstyne. Micon caught sevens up on sixth street, but Van Alstyne caught aces up to send Micon out in fourth place, good for $69,505.
With three players left, James Van Alstyne held a chip lead of one million over Tad Jurgens and Mitch Schock. Van Alstyne extended that lead to almost 1.5 million after taking a pot worth nearly 800,000 off of Mitch Schock during razz. Van Alstyne proceeded to eliminate Schock during the stud hi/lo round. Schock was put all in on sixth street by Van Alstyne, who was holding a six-high straight. Schock held only a pair of jacks and was drawing dead. Schock headed out in third place and received $100,165 for his strong effort.
Heads-up play started with James Van Alstyne holding a chip lead of 2.45 million to 980,000 for Tad Jurgens. Van Alstyne then started to apply the pressure and continued to catch the cards. He took a chunk out of Jurgens' stack during Omaha hi/lo when he rivered a queen-high straight. Jurgens then continued to bleed off chips during razz as he caught more than his share of the bring-in. After dropping to only 200,000, Jurgens decided to take a stand during stud with split deuces. Van Alstyne called with ten-high. Jurgens never improved from his starting baby pair and Van Alsytne caught a pair of tens on sixth to win the hand and the bracelet. Tad Jurgens finished in second place and took home a hefty $152,654 payday.
Twice was the charm for James Van Alstyne. After finishing runner-up in the $3,000 HORSE event, he was able to catch a non-stop rush of cards to knock out his last three opponents and take down his first gold bracelet. In addition to the bracelet, Van Alstyne received the top prize of $247,033. His two strong finishes in the first two HORSE events of the 2009 WSOP should make Van Alstyne one of the favorites in the upcoming $50,000 HORSE World Championship.
Stay tuned to PokerNews.com as we bring you coverage from the $50,000 HORSE event, along with all the events of the 2009 World Series of Poker.