2009 WSOP: HORSE #21, Fellows Clinches Bracelet in Epic Final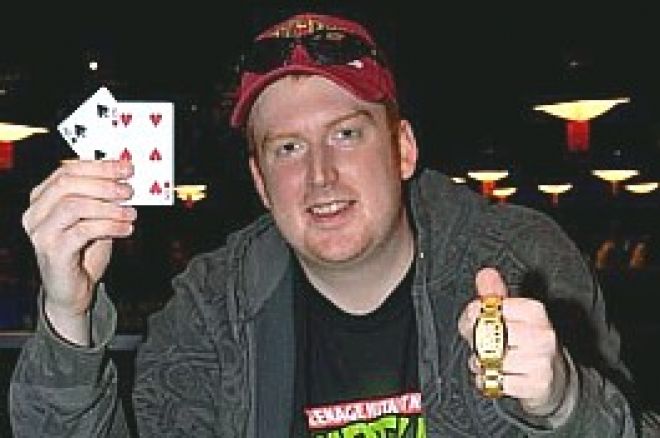 Day 3 of Event #21, $3,000 HORSE, was a very long day for the players who made the final table, as 21 players started the day early Thursday afternoon. But Zac Fellows didn't mind playing so long since the day ended as it began, with Zac Fellows on top as he became the latest bracelet winner at the 2009 World Series of Poker.
Five players were eliminated within the first hour of play to reach the final two tables. David Baker (17th), Ylon Schwartz (18th), Frank Debus (19th), Brian McKain (20th), and Jared Okun (21st) each received $8,782 for his efforts. In the second hour, Adam Heller (15th) and Chau Giang (16th) followed them out the door, each man collecting $11,477. Bill Blanda (13th) and Aaron Steury (14th) were the next players to lose the rest of their chips, each earning $14,209.
Asher Derei (12th) and Frank Cremen (11th) went out next, adding $17,939 to their bankrolls. The official final table was set with the elimination of Gavin Smith in tenth place ($23,777). Here's how the players were seated when play resumed, with the blinds at 8,000/15,000 in the flop games, and limits at 15,000/30,000 in the stud games:
Seat 1: Gabriel Nassif - 486,000
Seat 2: Timothy Finne - 444,000
Seat 3: Chris Amaral - 383,000
Seat 4: Stewart Yancik - 374,000
Seat 5: James Van Alstyne - 720,000
Seat 6: Michele Limongi - 520,000
Seat 7: Martin Eikeng - 285,000
Seat 8: Matt Hawrilenko - 230,000
Seat 9: Zac Fellows - 590,000
The crowd was anticipating the elimination of one more player, as the remaining players would then be moved to a featured table for better seating and viewing opportunities. Unfortunately for the fans, each time one player got low in chips, he'd win a big hand to double up and survive. Nearly two hours into nine-handed play, Chris Amaral rivered a flush in the stud round to best Stewart Yancik's aces up, leaving Yancik with just 24,000 in chips. The stud hi/lo round gave Yancik some hope when he doubled through Michele Limongi to move up to 60,000. But Yancik's comeback was short-lived, as Zac Fellows soon took him out in a hold'em hand. Fellows'
bested Yancik's
on the board of
to send Yancik home in ninth place ($23,777), as the remaining eight players took their one-hour dinner break.
Halfway through Level 24, with the blinds at 13,000/25,000 and limits of 25,000/50,000, high-stakes cash-game player Matt Hawrilenko would take his bow in eighth place ($32,647) after Chris Amaral's 7-4 low bested Hawrilenko's 7-6 low in the razz round. Michele Limongi moved into the chip lead, taking down a hand against Zac Fellows with just a pocket pair of threes in a stud hand, moving up to 1,100,000 while Fellows dropped to 400,000. Level 25 would be the end of the line for Gabriel Nassif ($38,947), with Chris Amaral finishing him off in seventh place during the Omaha hi/lo round, with Amaral's
holding against Nassif's
when the board came down
.
Six-handed going into Level 26, the 1,000-denomination chips were finally removed from play with 20,000/40,000 blinds and 40,000/80.000 limits. James Van Alstyne held the lead with over 1.7 million in chips, with Zac Fellows and Martin Eikeng both on life support. The stud round gave each of them new life, first Eikeng doubling through Michele Limongi, while Fellows doubled through Van Alstyne.
The stud round continued its excitement when Zac Fellows and Martin Eikeng got involved in a big hand. Eikeng got all his chips in the middle on fourth street with
/
against the
/
of Fellows. On fifth street, Eikeng took what appeared to be an insurmountable lead when he caught the
, giving him nines full of aces, while Fellows received the
. Sixth street gave Fellows jacks and eights when the
came, leaving him drawing to the two remaining jacks. Miraculously for Fellows, the
was dealt to him on the river, and when Martin Eikeng was received the case jack as his final card, he dejectedly left the table in sixth place for $48,590 while Zac Fellows was back in the game with 700,000 in chips.
The stud hi/lo round would be good to James Van Alstyne as Michele Limongi called down Van Alstyne's bets on every street, only to be scooped when Van Alstyne won with ace-high and a six-low to possess nearly half the chips in play five-handed. Another battle of the short stacks knocked out the next player in the hold'em round, as Timothy Finne's
bested Chris Amaral's
when the
fell on the river, leaving Amaral to collect his $63,536 for fifth place. Michele Limongi ($87,264) would be the next player to leave the table when Zac Fellows made a ten-low in the razz round to finish him off in fourth place.
Timothy Finne battled throughout the final table on the short stack, but he eventually succumbed during the hold'em round when Zac Fellows'
out-kicked Finne's
on a king-high board to send him out in third, good for $126,199.
James Van Alstyne and Zac Fellows were separated by just 30,000 in chips when heads-up play began at Level 28 with blinds at 30,000/60,000 and 60,000/120,000 limits, with just over 4,000,000 chips in play. Fellows was soon able to regain the chip lead, chopping Van Alstyne down to under 600,000. Van Alstyne gained a few chips back, but Fellows kept up the pressure, at one point having all but 150,000 of the chips in play sitting on his side of the table.
James Van Alstyne refused to give up as he kept doubling up his stack, only for Zac Fellows to remain in control and knock Van Alstyne back down to just a couple of bets. The final hand took place in the hold'em round, during Level 29 with 40,000/80,000 blinds. Zac Fellows made a raise from the button, with Van Alstyne making the call. The flop came down
, as Van Alstyne check-called Fellows' bet. The turn brought the
and Van Alstyne led out with a bet; Fellows responded with a raise. Van Alstyne gave it some thought and reraised all in. Fellows called quickly and turned over
for a flopped set, while Van Alstyne was drawing dead with
. James Van Alstyne added $192,866 to his impressive tournament resume as he finished in second place. The river brought the meaningless
, only good for the record books, as Zac Fellows finished the marathon final table with his first WSOP bracelet along with the $311,899 first prize for the Canadian player.
With more than 30 WSOP events still to be played out, join PokerNews as we follow all the exciting tournament poker action!