2009 WSOP: Michael Davis Prevails in Seniors #43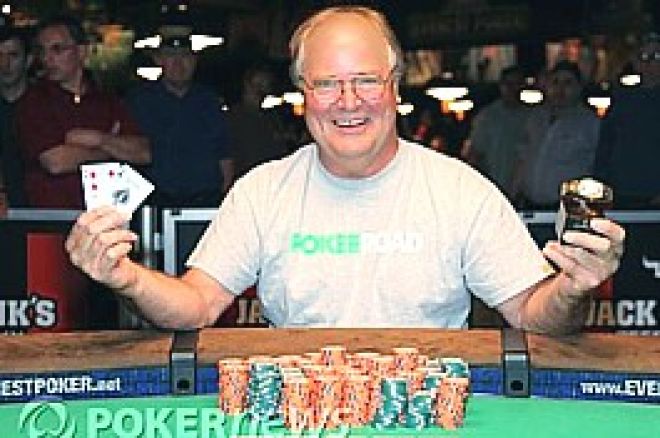 Two thousand, seven hundred and six. That's the number of players that Michael Davis had to defeat on his way to capturing the bracelet in the 2009 World Series of Poker Event #43, $1,000 Seniors World Championship. He did it by biding his time and picking his spots carefully, rather than by dominating his tables. In fact, he started the day well below average in chips, and never once held the chip lead until about ten minutes before the final hand was dealt. But sometimes in poker slow and steady wins the race, as Davis proved tonight.
Day 3 began at 1:00 p.m. with the final 28 contestants distributed over four tables. It only took about ten minutes for the first elimination to occur. Chuck McCormick began the day as the fourth-shortest stack with just 101,000, and Level 21 blinds and antes at 8000/16,000/2000. He was all in before the flop against Mitch Garshofsky and Charles Simon. His two opponents checked the
flop and the
turn. The
river, however, prompted a bet from Garshofsky and a fold from Simon. McCormick had caught a flush with his
, but he was edged out by the
of Garshofsky. McCormick's 28th-place finish earned him $10,149.
Usually in no-limit tournaments the biggest stacks try not to tangle with each other, partly because of the strategic advantage of working to eliminate the shorter stacks first, and also because of the potential threat presented by clashing with another big stack. But this event saw an exception to that general rule. Just after the first break of the day, Tom Thomas and Charles Simon, who had been the two overnight chip leaders, waged war against each other, despite the presence of more than a dozen shorter stacks still in the game.
Simon raised to 75,000 preflop with
. Thomas called from the small blind with
. Thomas flopped a set with
and bet 100,000. Simon raised to 300,000. Thomas pushed all in and Simon immediately called to find that his top pair and inside straight draw was in serious trouble. The trouble shifted to Thomas's side, however, when the
peeled off on the turn to fill Simon's straight. The river
changed nothing, and Simon became the monster big stack, while Thomas was reduced to a below-average 300,000 chips.
A little over an hour after this clash, Simon finished the job he had started. Thomas held
and pushed all in on the flop of
. Simon called with the better hand:
. The board finished
and
, making Broadway for Simon, and Thomas was eliminated in 12th place, good for $37,270.
Usual protocol in these events is for players to be consolidated to a single table when ten are left, though it is not considered an official final table for purposes of the record books until they are down to nine. In this case, however, a player was eliminated from each of the two remaining tables almost simultaneously, so there was no time to combine them at the ten-player stage.
The official final table was set upon the elimination of Mitch Garshofsky (tenth place, $37,270). He pushed all in before the flop with pocket kings and was called by Art Duncan, holding A-Q. The board of
gave Duncan top two pair and the pot. The timing was convenient for the remaining nine, as their move to the final table coincided with the dinner break, giving them time to reflect on their accomplishments and plan their strategies.
Robert Beck was the first player to vacate his final-table chair, after occupying it for only about ten minutes. He was stuck in one of those situations that's extremely difficult for a short-stacked player to escape, having flopped top pair against a disguised set. Specifically, he had
in the hole on the flop of
. Michael Morusty, with
, led out for 90,000. Beck moved all in, and Morusty made the easy call. The turn and river came
and
, and Beck was out in ninth place, taking home $53,208.
A similar top-pair trap awaited Richard McCall only about ten minutes later. Holding
, he shoved on the
flop, only to be called by Dan DeLatorre holding an almost unbeatable
. The board played out
and
to send McCall packing in eighth place, for $56,903.
The unusually rapid pace of eliminations continued when, just five minutes later, Art Duncan fell by the wayside. Preflop, Duncan put in an all-in reraise over the top of Simon's initial raise and was called. He found himself dominated, with
to Simon's
. The dealer put out
, and Duncan was the seventh-place finisher, picking up $64,047.
Dan DeLatorre exited in sixth place, good for $76,118, after pushing all in from under the gun before the flop. He was eventually called by Morusty, though it took a surprisingly long time, considering that Morusty held
. He apparently feared aces, because when he revealed his cards, he told DeLatorre, "OK, show me the bad news." But to his surprise, DeLatorre had only
. There wasn't even much for Morusty to sweat on the board of
. Morusty, incidentally, had been down to just 1,000 in chips during Day 1 — only a third of the original starting stack, but with the blinds many times higher. Not quite a "chip and a chair" situation, but an impressive comeback performance nonetheless.
Some of these players apparently had other things to be doing with their evenings, because they wasted no time sending one another home. Less than ten minutes after DeLatorre's elimination, Charles Simon was dismissed from the table (fifth place, $95,332). Scott Buller raised preflop and Simon responded with a move all in, which Buller called. Simon's
was in deep trouble against Buller's
. No rescue came from the community cards:
. Buller started the hand as the chip leader, and he finished it in possession of almost half of all the chips in play.
Yet another ten minutes was all it took for another player to relinquish his seat when Michael Morusty took by far the worst beat of this final table. Scott Buller made his standard preflop raise to 150,000 from under the gun, and action moved to Morusty in the big blind. "Are you picking on me again?" Morusty asked. Buller answered, "You know what? I like you, and because I like you, I'll show you much I'm picking on you." Morusty thought about it for a second and said, "What if I raise? OK, I raise," at which point Buller moved all in. Morusty snap-called and the hands were shown.
Morusty:

Buller:
(One pauses here to reflect on the wisdom of the oft-repeated poker maxim: "Beware of the speech.")
Morusty's fans let out a huge cheer before the board came down
. It was then Buller's camp who took over the cheering when the
landed on the turn and the
on the river, giving Buller an aces-cracking club flush. A shaken Morusty left the stage with a fourth-place finish, $126,863 in prize money, the knowledge that he got his chips in as a 93 percent favorite, and one hell of a bad-beat story to tell.
Yet another ten minutes of play saw the final ouster before the final table got down to two. Barry Bounds put in an all-in reraise before the flop, but he was already in hot water, with his
trailing the
held by Michael Davis. The board came
, completing a straight for Bounds but also giving a flush to Davis. Bounds earned $179,210 for third place.
Davis entered heads-up play at a roughly 2-to-1 chip deficit to Buller, but he reversed the situation on the very first hand when he picked up
at the same time the far more aggressive Buller was dealt
. All the chips went in, and Davis earned a double-up when the cards fell
.
The end came shortly thereafter. Buller opened with a raise from the button, Davis reraised, and Buller pushed all in. Davis hesitated, but finally made the call. Buller tabled
. Davis was an underdog with the
. Buller kept the lead when the flop came down
. But the
turn changed everything, as Davis vaulted into the lead. The
on the river was no help to Buller, and Davis's miracle turn card gave him every last one of the 8,000,000-plus chips used in this tournament. The entire final table had taken less than three hours, the entire day only about nine.
Scott Buller earned $268,507 for his runner-up finish. Michael Davis, meanwhile, pocketed $437,358, and on Thursday he will be presented with a nice piece of wrist jewelry as an additional memento of his accomplishment.