2009 WSOP: Thomas Tops Seniors #43, Lisandro Leads Razz #44, Schlein Caps #46 Omaha/8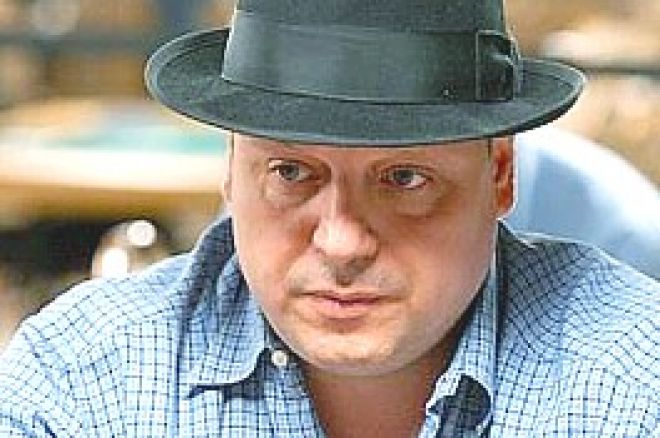 $1,000 Seniors World Championship Event #43, Day 2 – Tom Cruises
It's down to the last 28 in the 2009 World Series of Poker Event #43, $1,000 Seniors World Championship. Tom Thomas leads the 50-and-over set with 917,000 in chips, followed by Charles Simon with 626,000, Scott Buller with 541,000, and John Bennett with 487,000. Each remaining competitor is already guaranteed a cash of at least $10,149. Those making the final table will receive a minimum of $53,208, while the winner gets $437,358 and a WSOP bracelet.
Day 2 began at 2:00 p.m. with 397 of the original 2,707 veteran players left. The usual practice this year is to play down to a final table or until 3:00 a.m., whichever comes first. However, in deference to the reduced average stamina that comes with advancing years, tournament officials made a last-minute decision to terminate play at the end of Level 20, which occurred at about 2:15 a.m.
David Tuffing took an early chip lead, being the first to pass the 100,000 mark, after he flopped a set with
in the hole and
on the flop. He was paid off handsomely by an opponent who couldn't get away from top pair/top kicker, with
. The money bubble was reached just before 5:00 p.m. Two players — Mark Dolan and Charles Glorioso — went out at the same time during hand-for-hand play, but from different tables, meaning that they split the 270th-place prize money of $1,921, for $960 apiece.
As commonly happens in these tournaments, there was a flurry of bust-outs after that point. In fact, the players were exiting at such a clip that the field lost another 170 over the next four hours — just under one per minute, on average. "Minneapolis" Jim Meehan was eliminated in 206th place ($2,044). With blinds and antes at 100/2000/300 in Level 14, he pushed his last 21,000 chips into the pot from the button with
and was called by the small blind, holding
. Meehan couldn't pair either of his overcards when the board came
, and he hit the rail.
1986 Main Event champion Berry Johnston was taken out in 185th place, good for $2,044, though details of his final hand were not recorded. Similarly, we know that Barbara Enright took $2,621 for her 76th-place finish, but not how the hand went down. Noted tournament director Jack McClelland took a rough road to the exit. He took his stand preflop with A-K against a player holding just A-J. He didn't want to see his namesake card hit the board, but that's just what happened, and that jack sent McClelland to the exit in 132nd place, worth $2,414. Overnight chip leader Lloyd Shinn couldn't keep up the pace and went out in 130th, taking home $2,414.
This is not the crowd in which one would expect to see official penalties handed out for lack of decorum. But Adolfo "Speedy" Gonzalez was given one for excessive celebration. At least he had a good reason for his exuberance when he hit a two-outer on the river. His
, all in preflop, was way behind his opponent's
after the flop came
, and the
turn didn't help either. It was the river
that launched Gonzalez into a screaming outburst of "Oh yeah! Ship it! I told you! Ship it!" as he ran around in circles and hugged random onlookers. In one of the last hands of the night, Gonzalez won another race, beating the exact same
, this time with
in the hole, receiving a much-needed double-up. Nevertheless, he will return for Day 3 as one of the shortest stacks, at 107,000.
The remaining players will reassemble at 1:00 p.m. PDT Wednesday and continue until a winner is determined.
$2,500 Seven-Card Razz Event #44, Day 2 – Another Bracelet for Lisandro?
While the seniors were having their fun, the razz aficionados were having their pain. Day 2 of Event #44, $2,500 Seven-Card Razz, concluded with 13 out of the original 315 left. The chip leader is a familiar name: Jeffrey Lisandro, gunning for his third bracelet of the 2009 WSOP. He will have to stave off challenges from Steve Diano (302,000), Don Zewin (300,000), and Kenna James (284,000). Other notables still in the chase are Michael Craig, Nikolay Evdakov, and Al "Sugar Bear" Barbieri.
The day started at 2:00 p.m. with 118 left, shooting for the 32 paid spots, and concluded at 3:00 a.m., short of the final table goal. Play was halted for about 30 minutes around 5:30 p.m. due to a medical emergency. "Miami" John Cernuto collapsed while raking a pot, though he regained consciousness before paramedics wheeled him out of the Rio on a stretcher. Cernuto later called WSOP Media Director Nolan Dalla from the hospital in good spirits and reported that his collapse was found to be due to internal bleeding of yet-undetermined origin. His stack was blinded out short of the money.
John Juanda became this event's "bubble boy" on the following hand:
Juanda: (10)(6) 3-5-9-7 (4)
Lisandro: (2)(7) 10-5-6-4 (7)
Juanda completed on third street and Lisandro called. Juanda led out on fourth, Lisandro called. Juanda bet the rest of his chips, 1,700 all in on fifth and once again Lisandro made the call. In the end Juanda made a 7-6-5-4-3, and was beaten by the smallest possible margin, with 7-6-5-4-2 for Lisandro.
Other famous names who went out before the money included Hasan Habib, Mike Wattel, Dario Minieri, Alex Kravchenko, Chad Brown, James Van Alstyne, Shirley Rosario, Archie Karas, Chris Ferguson, John Phan, Katja Thater (winner of the 2007 WSOP razz event), Sam Grizzle, Daniel Negreanu, Justin Bonomo, Jerry Buss, Eli Elezra, Max Pescatori, Shawn Sheikhan, Annie Duke, Mike Sexton, David Levi, and Thor Hansen.
David Sklansky went out in 29th place, good for $4,745. He was all in against William Cole. Cole had already a made 7-5-4-3-2 low on fifth street, and with a 3-9-3 showing on his board, Sklansky simply mucked his hand before his final card was dealt, knowing that he was drawing dead. Then Matt Hawrilenko got the last of his chips in on fourth street against Eric Rodawig:
Hawrilenko: (5)(4) 3-K
Rodawig: (6)(3) 2-A
Hawrilenko bricked out with 10-K (J), for a J-10 low, while Rodawig caught far better than he needed: Q-2 (4), for a lovely 6-4 low. Hawrilenko picked up $6,086 for 20th place. Others in the money but out of the tournament include Mike Baxter, David Chiu, Michael Kinney, Tad Jurgens, Yan Chen, and Joe Tehan.
Play resumes at 1:00 p.m. PDT and will continue until the most torturous gold bracelet in poker is awarded.
$2,500 Omaha Hi/Lo Event #46, Day 1 – Schlein Climbs to the Top
Meanwhile, Event #46, $2,500 Omaha Hi/Lo, got underway at 5:00 p.m. with 424 runners, forming a total prize pool of $975,200. When eight levels of play had been completed, 196 were left standing, led by Joshua Schlein with 60,700, Thang Luu with 56,200, and Scott Bohlman with 48,300. This is a new event for the 2009 WSOP.
French pro Paul Testud fell out of the running soon after the dinner break. He had
against an unknown opponent's
. They got into a raising war on the turn, with the board showing
. With his opponent having already made a straight, Testud needed a ten for a higher straight or a heart to complete his flush, but neither came for him on the river
, and he was out.
Late in the day, Clonie Gowen got all her chips in twice in a short span, surviving only one of the encounters. First, she committed herself preflop as an underdog with
against an opponent's
. But the cards came
and her flush took the high half of the pot while the two players shared the nut low. She was heard to say, "I just won't die." That proved to be not quite true a short time later, however. She again put the last of her stack in before the flop, this time holding
and was called by an opponent with
. The board played out
. Gowen's trip threes lost to the nut straight, and her 7-4 low was beaten by a 6-5 low.
David Grey called all the action his two opponents threw at him to get to a three-way showdown on the board of
. But he mucked his cards when he saw that they had chopped him up with the nuts, one player holding
for a ten-high straight, the other with
for the best possible low. That took Grey down to a meager 200 chips, which all went in preflop at the next opportunity. He tripled up that time, holding
on the board of
, making a Broadway straight to best his opponent's
. Although that pot put him up to 600, in Level 8 that still constituted only one big bet, and he was out a short time later.
Others who did not punch a return ticket for Day 2 included Alex Kravchenko, Daniel Negreanu, Chris Ferguson, Marcel Luske, Gavin Smith, Thor Hansen, Kristy Gazes, Chau Giang, Mel Judah, Scott Clements, Shannon Elizabeth, Josh Arieh, Michael Binger, Dario Minieri, Katja Thater, Jimmy Fricke, Lee Markholt, Allen Kessler, Eli Elezra, Linda Johnson, Scotty Nguyen, Andy Bloch, Chip Jett, and Cyndy Violette.
But many prominent players remain in contention here, including Mike Sexton, Mickey Appleman, John Juanda, Lee Watkinson, Paul Darden, Max Pescatori, Shannon Shorr, John Monnette, Perry Friedman, Farzad Rouhani, Tony Ma, Jacobo Fernandez, Blair Rodman, Brett Jungblut, Dutch Boyd, Vanessa Selbst, Mark Gregorich, Mike Matusow, Marsha Waggoner, Jan Fisher, Shirley Rosario, Todd Brunson, Billy Argyros, Darus Suharto, Darrell Dicken, Barry Greenstein, Annie Duke, and Jeff Madsen.
Those and the rest of the survivors will play again starting at 2:00 p.m. PDT. As usual for a Day 2 this year, they will go until a final table is reached or until 3:00 a.m., whichever comes first. Based on recent experience, the latter is the more likely endpoint for a field this large. They are all looking to finish at least in the top 45 places for the money, and preferably at the top of the hill, for $229,192 and a gold bracelet.