2009 WSOP: #37 Stud/8, Mosseri Leads as Brunson Aims for #11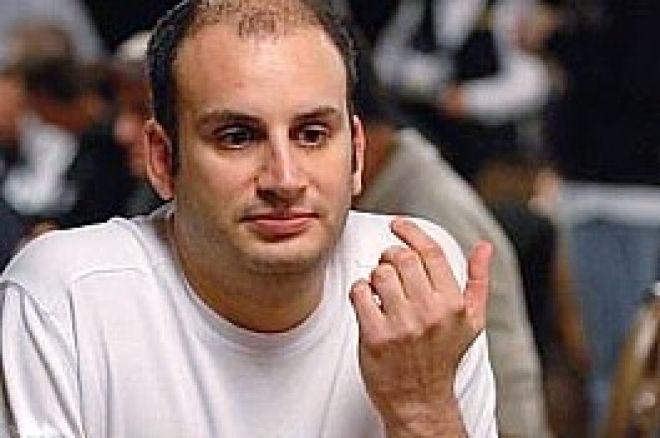 Day 2 of Event #37, $10,000 World Championship Seven-Card Stud Hi/Lo, saw the star-studded (no pun intended) field of 110 returning players narrowed down to just 12 – a little short of the final-table goal. Abe Mosseri is ahead of the pack with 950,000 in chips, with Jeffrey Lisandro (recent winner of the bracelet for Event #16, $1,500 Seven-Card Stud) in second with 786,000. Doyle Brunson currently sits in third place with 525,000, and is threatening to tie Phil Hellmuth's record of 11 gold bracelets if he can take down this event.
Nearly every player left in the running is somebody who has become world famous through televised tournaments, including Farzad Rouhani, Perry Friedman, Lyle Berman, and Scotty Nguyen. Because of the slow structure and frequent split pots, eliminations came at a snail's pace on Day 1, with the field getting reduced only from 164 to 110. That would change on Day 2, as the stacks shrank relative to the betting limits.
Phil Hellmuth had a frustrating day, though it started off nicely enough. He completed the action on third street and both Nick Schulman and David Benyamine called. Everyone checked fourth street. On fifth, Hellmuth bet, Schulman folded, and Benyamine raised. Hellmuth then called all in for his last 400.
Hellmuth: (
)
(
)
Schulman: (X-X)
-FOLD
Benyamine: (
)
(
)
The case trey made Hellmuth's straight for a scooper, and he finished the hand with 18,500 in chips. Just ten minutes later, though, he was back on life support. Schulman completed on third street with
and Hellmuth made the call with
. On fourth, Schulman checked his
, Hellmuth bet his
, and Schulman called. Hellmuth led on fifth
with his open pair of threes; Schulman raised with
, and Hellmuth called. Hellmuth checked
on sixth, Schulman bet his
, and Hellmuth called. Finally, Schulman led out again on seventh and Hellmuth folded. Late abandonment of the expensive pot cost Hellmuth most of his chips, and he was down to just 4,100.
Hellmuth went out less than 15 minutes later, again done in by Schulman. He was all in on fourth street, and the boards ran out:
Hellmuth: (
)
(X)
Schulman: (
)
(X)
Schulman made a higher two pair, and Hellmuth's quest for bracelet #12 was over.
Tuan Le had had an astonishing Day 1, ending with 234,000 – almost eight times the 30,000 he started with, over double his next-closest competitor, and more than five times the average chip count – yet he would exit the tournament two spots short of the money. His downturn started in the first level of play when he lost a big pot to John Juanda. Le completed on third street, Juanda raised, and Le called. Le check-called a bet on fourth street. Juanda made an open pair of fives on fifth and led out, with Le making the call. Le check-called another bet on sixth, despite making an open pair of kings, and called Juanda's river bet.
Le: (X X)
(X)
Juanda: (X X)
(X)
Juanda showed
for a full house and Le mucked.
Anybody who thinks limit games (and especially hi/lo games) show only glacier-slow movement in chip stacks hasn't watched Perry Friedman or Lyle Berman play. Starting one hand at around 20,000, Friedman made two pair and more than doubled to 47,000. A short time later, John Hennigan was all in against Friedman showing
, his ace-high and draw to a 6-4 low actually leading as the seventh cards were dealt to each. Friedman made a pair of deuces on the end while Hennigan missed with the
. The deuces were good enough to scoop, eliminating Hennigan and sending Friedman's stack up to 198,000.
Only a few hands after that, Friedman check-called Mike Wattel's lead bets all the way to sixth street, but threw in a check-raise on seventh. A frustrated Wattel mucked his cards and Friedman took down the pot, his stack climbing to 307,000. Soon after that, Friedman was again tangling with Wattel, making trip eights on sixth street as Wattel was forced to fold his aces. With that pot, Friedman hit 360,000 in chips after being down to only 20,000 a little more than a half hour before. He finally concluded the day at 378,000, in sixth chip position.
Lyle Berman rode a similar rocket ship after nearly bottoming out. Anthony Rivera scooped a big three-way pot with three queens, as Berman and Doyle Brunson both whiffed on their low and flush draws. The hand dropped Berman all the way down to 9,000, with limits of 12,000/24,000/3000 in Level 18. A few hands later, Berman had somehow gotten back up to 60,000. Soon after that he was all in once more, making a full house and jumping to 190,000. Berman's tear continued, making eights full of aces against Rivera's nine-high straight to move up to 280,000. He picked up yet more chips in the waning minutes, and finished Day 2 at 333,000, just behind Friedman. His net movement was a mind-boggling 324,000 chips in less than an hour.
The "bubble boy" honors went to Joe Tehan. Farzad Rouhani brought it in on third street, Tehan called the bring-in, Yan Chen completed, and both Rouhani and Tehan called. Rouhani checked on fourth street, Tehan bet, Chen raised and both Rouhani and Tehan called. The action was checked to Chen on fifth, he bet, Rouhani called, and Tehan called all in. Rouhani check-called one more bet from Chen on sixth street and both players checked on seventh.
Rouhani: (X X)
(X)
Tehan: (X X)
(X)
Chen: (X X)
(X)
Chen turned up
for two pair, queens and nines. Both Rouhani and Tehan mucked, as Tehan hit the rail in 17th place.
Other well-known players falling short of the cash included Annie Duke, Daniel Negreanu, Markus Golser, Tim Phan, Norman Chad, David Singer, Sabyl Cohen-Landrum, James Van Alstyne, Toto Leonidas, David Sklansky, Amnon Filippi, Dario Minieri, David Benyamine, Todd Brunson, and Dutch Boyd.
In-the-money finishes so far are as follows: Claudio Rinaldi (16th place, $24,650), Dan Heimiller (15th place, $24,650), Richard Anthony (14th place, $28,272), and Yuval Bronshtein (13th place, $28,272).
Play is scheduled to resume at 1:00 p.m. PDT Saturday, and will go until a winner is announced. The champion will receive the WSOP gold bracelet and $431,656 from the total prize pool of $1,541,600.