2009 WSOP: Kelly Heads PLHE #20 Final, Fellows Riding High in HORSE #21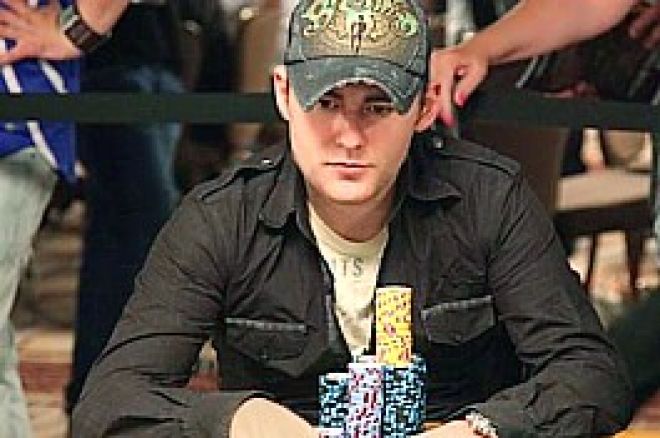 $1,500 Pot-Limit Hold'em Event #20, Day 2 – John-Paul Kelly Holds Lead Going into Final Table
Day 2 of Event #20, $1,500 Pot-Limit Hold'em resumed Wednesday afternoon with 61 players returning to the tournament area to play down to the final table. When play concluded early this morning, the final table was established with John-Paul Kelly as the chip leader. Day 1 chip leader Jason Dewitt follows in second chip position, with eight-time bracelet winner Erik Seidel ending the day in third.
The remaining players had already reached the money when play concluded on Day 1, with returning short stacks looking to double up or head to the pay window. Fred Berger was one of the first to leave, finishing in 55th, good for $2,851. Erik Seidel was more than happy to add to his stack, eliminating Philip Yeh with
against Yeh's
. Seidel hit a set on the
flop to send Yeh to the rail in 49th place ($3,352) while Seidel chipped up to over 90,000.
Jason Dewitt moved the wrong way in early action, when his pocket queens lost to Alexey Popov's
in a race situation, as Popov moved to 145,000, while Dewitt fell to 165,000. Jeremiah Vinsant started the day second in chips, but he couldn't get anything going when he took
against Nick Stowell's
and failed to improve, sending him home in 40th ($3,983). Other notables who saw the rail in the early going included Kathy Liebert (29th), Roland de Wolfe (34th), Joe Sebok (36th), and Mike Sexton (37th).
Alexey Popov moved into the lead with 290,000 when he eliminated Jacob Bazeley in 26th place ($5,901) after Popov's
turned an eight on the
board to best Bazeley's
. Andrew Radel closed in on the 300,000-chip mark as well, but John-Paul Kelly would move into the chip lead through Radel. Kelly flopped a set against Radel's top pair to go to 415,000 in chips with two tables remaining.
Michael Roche (16th), Nick Stowell (17th) and Michael Shelton (18th) were the next three players to depart from the tables, each picking up $7,586. Blake Stepp's
was out-flopped by Kyle Carlston's
on the
board to send him to the rail in 15th. John-Paul Kelly padded his chip count as he disposed of David Chicotsky in 14th place and Petteri Pirinen in 13th place, each player also collecting $9,919. Jason Dewitt took care of the next two players, ousting Alexey Popov in 12th place and David Sands in 11th, both players adding $13,332 to their tournament database figures.
The ten players combined into a single table, with one more elimination needed for play to conclude for the evening. Erik Seidel obliged by eliminating Phil "USCphildo" Collins in tenth place ($13,332), when Seidel's
bested Collins'
on the board of
. When play resumes at 2pm on Thursday, here's how the final table will be seated:
Seat 1: Marc Tschirch - 268,000
Seat 2: Erik Seidel - 337,000
Seat 3: Jason Dewitt - 476,000
Seat 4: Kyle Carlston - 320,000
Seat 5: Andrew Radel - 250,000
Seat 6: John-Paul Kelly - 627,000
Seat 7: Ravi Raghavan - 145,000
Seat 8: Kirk Steward - 231,000
Seat 9: Aaron Virchis - 191,000
Check out PokerNews and follow all the action from "Shuffle up and deal!" to the fall of the final river card as the final nine players return to play down to the latest WSOP bracelet winner.
$3,000 HORSE Event #21, Day 2 – Zac Fellows Tops 57 HORSE Survivors
Day 2 of the $3,000 HORSE Event #21 event also got underway Wednesday afternoon, with 197 players returning and only 48 destined to make any money out of the endeavor. When the last hand was dealt for the evening, 21 participants remained in contention to return Thursday afternoon for Day 3 in pursuit of a prized WSOP gold bracelet. Zac Fellows closed out the day as the chip leader, with James Van Alstyne finishing a strong second.
Jennifer Harman, Chip Jett, Bill Chen and Bryan Micon were among the short-stacked players making an early exit when play started; after two hours of play only 127 remained. Mark Newhouse, Billy "The Croc" Argyros, Mel Judah, and Berry Johnston were among the notables who were not among the 88 survivors when the dinner break arrived at the end of Level 12. Level 13 was not a lucky number for John Juanda and Daniel Negreanu as they both joined the line of people heading out the door in search of action elsewhere.
With 57 players remaining at the start of Level 15, the money was finally within reach. Andre Akkari, Chris Ferguson, and Michael Binger are some of the players who ran out of chips before the bubble burst. The dubious honor of being the bubble boy went to Al "Sugar Bear" Barbieri, eliminated by Stewart Yancik in 49th place. With a profit now guaranteed to the remaining players, action picked up with Fabrice Soulier (41st), Barry Greenstein (43rd), and Ali Sarkeshik (44th) all out in the first pay level, each collecting $5,277. Richard Tatalovich (35th), David Singer (37th) and Pat Poels (39th) all advanced to the next payout of $5,838.
The tournament staff decided to finish Level 18, ahead of the 3am deadline, returning Thursday afternoon to decide the winner. Toto Leonidas (25th), Marcel Luske (26th), and Markus Golser (29th) won't have to worry about an early wakeup call as they all fell from contention, each padding his wallet with $6,449. William McMahan (22nd), Steve Billirakis (23rd) and Dan Shak (24th) were the final three players to pick up their winnings at the end of the evening, with $8,782 waiting for each player at the cashier cage.
As the players bagged their chips and tournament staff noted their results, Zac Fellows was at the top of the standings with 471,000 in chips. James Van Alstyne (455,000), Timothy Finne (411,000), Michele Limongi (368,000) and Martin Eikeng (335,000) round out the top five. Ylon Schwartz (186,000), Chau Giang (149,000), Bill Blanda (144,000) and Gavin Smith (121,000) will also return at 1pm Thursday to determine the latest bracelet winner. PokerNews will be there to cover all the mixed-game action!