2009 WSOP: Lisandro Heads #16 Stud Final, Baron Rules NLHE #15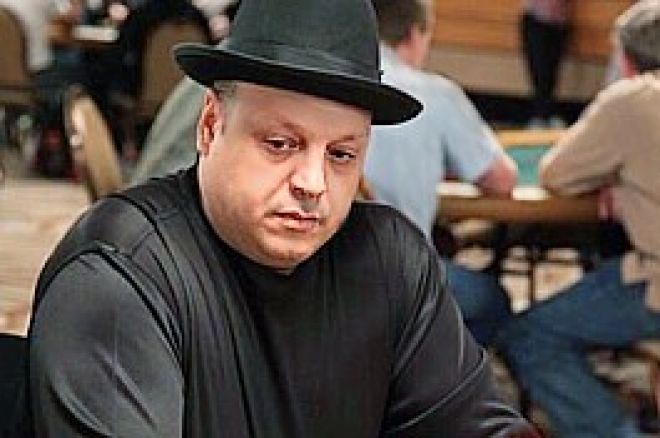 $1,500 Seven-Card Stud Event #16, Day 2 – Lisandro Holds Lead Going into Final Table
Day 2 of Event #16, $1,500 Seven-Card Stud, has concluded with a final table set for Day 3. Australian pro Jeff Lisandro is the chip leader with 334,000, followed closely by Steven Stencil on a stack of 323,000, with John Juanda in third chip position with 287,000.
The money bubble was burst at about 6:30 p.m., just before the dinner break. Craig Kaufman had the dubious honor of being the last one sent home without a paycheck. Other eliminations out of the money included Mel Judah, Bryan Devonshire, Allen Kessler, Michael Mizrachi, Rep Porter, and Eli Elezra – who exited just in time to console himself by buying into the 5:00 p.m. $10,000 World Championship Omaha Hi/Lo Event #18 that was just getting started.
The day brought a good news/bad news situation for Barbara Enright. The good news was that she made the money here (19th place; $3,646). The bad news was that getting so far in this event meant skipping the Ladies Event that had started at noon, breaking her remarkable 23-year streak of participation in that tournament.
Jason Mercier, who won the bracelet in Event #5 ($1,500 Pot-Limit Omaha) just a few days ago, ended his efforts at a second bracelet in 16th place, good for $4,646. He was felled in a quick succession of three hands. In the first, he was reduced to less than five big bets when "Miami" John Cernuto made aces up, and Mercier mucked without showing his cards. Next, Eric Pardey turned split nines into trips, besting Mercier's open pair of jacks. Finally, Mercier was all in on third street with
/
. Steven Stencil took him on with
/
and made a pair of nines by the end, while Mercier could only improve to a pair of deuces.
The 2008 defending champion in this event, Mike Rocco, made a valiant run for back-to-back bracelets, but came up a little short in 12th place for $7,522. Ironically, or perhaps fittingly, he was taken out by Rodney Pardey, who holds two WSOP bracelets in stud.
Cernuto was jettisoned from the match in 11th place ($7,522). Showing two pair on fifth street with
/
, he managed to catch a diamond flush on the river; unfortunately for "Miami" John, he was already drawing dead to the tens full of sevens that opponent Mitch Shock had made on sixth street.
This year's new "Rule 96" specifies that all Day 2s should end at 3:00 a.m. for events not scheduled for broadcast, even if the final table has not been set by then. However, the Tournament Director waived application of the rule in this situation, as only one more elimination would determine the final table of eight. Indeed, it only took about 15 additional minutes past the deadline to lose the last player: Thor Hansen (ninth place, $9,360).
Also in the money but not surviving to Day 3 were Sam Grizzle, Fabrice Soulier, Dutch Boyd, David Bach, and overnight chip leader David Levi. This final table will be a family affair, with two-time stud bracelet winner Rodney Pardey and his nephew Eric Pardey competing against each other for the title. The final table, which starts at 2:00 p.m. PDT Monday will look like this:
Seat 1: Jeffrey Lisandro (334,000)
Seat 2: Eric Pardey (217,000)
Seat 3: Nick Frangos (84,000)
Seat 4: John Juanda (287,000)
Seat 5: Mitch Schock (83,000)
Seat 6: Steven Stencil (323,000)
Seat 7: Rodney Pardey (245,000)
Seat 8: Daniel Struder (43,000)
The remaining players are each guaranteed to make at least $13,373, with the winner taking $124,959 of the $490,035 prize pool.
$5,000 No-Limit Hold'em Event #15, Day 2 – Isaac Baron Tops the Final 17
Another Day 2 concluded at just about the same time was Event #15, $5,000 No-Limit Hold'em. Isaac Baron goes to bed tonight as the only one of the 17 remaining players remaining to have topped the million-chip mark, with 1,001,000. Olivier Busquet is right on his heels, though, ending with a stack of 951,000, and David Pham finished in third chip position with 880,000.
The tournament began with 655 players, and only 164 of those came back for more fun today. Carlos Mortensen lasted no more than ten minutes before running his
into Theo Tran's
. The board of
ended the match for the former Main Event champion.
Vanessa Rousso lasted somewhat longer, but went out in a more dramatic manner. She raised preflop and was called by David Pham in the big blind. The flop of Q-J-8 looked good to both of them, making a set for Rousso's pocket jacks and two pair for Pham's
. All the chips went into the pot on the flop, with Pham was in bad shape. But a queen on the turn gave him the winning full house and propelled him into the tournament chip lead, while eliminating Rousso.
Seventy-five players survived to the dinner break, all with their hopes set on making it to the money, which meant surviving 15 more eliminations. The last one not to reach that goal was Shawn Farmer, picking up the label nobody wants: bubble boy. Also out before the money today were Blair Hinkle, Jimmy Fricke, Andy Black, Erick Lindgren, Michael Gracz, Tom Franklin, Alexander Kostritsyn, Rob Hollink, Chau Giang, Victor Ramdin, Gavin Griffin, and Masaaki Kagawa. Dan Heimiller came out on the good side of the bubble, being the first player to cash (63rd place, $10,159).
Scott Seiver, who won the bracelet in this event last year, was ousted in 43rd place ($14,192) by Isaac Baron. Seiver started the hand behind with
to Baron's
, and never caught up. Erik Seidel added another cash to his impressive WSOP career with a 22nd-place finish here ($21,026). Short-stacked, he pushed all in from under the gun with
, got called by Tom Braband with
, and Seidel was done when neither player improved by the river. He was followed about ten minutes later by Kathy Liebert (23rd place, $21,026), who got the last of her chips in with the best of it:
against the
of Billy Kopp. A cruel board of
gave Kopp a straight for the improbable win.
Also in money but out of the tournament are Day 1 chip leader Clemenceau Calixto, Anh Nguyen, Amit Makhija, Jason Somerville, Tony Cousineau, and Hasan Habib. At the conclusion of play, the Tournament Director announced that action would resume at noon, which caused some vocal disgruntlement among some of the players; it's going to be hard to get much sleep with only nine hours off between the last hand of Day 2 and the first hand of Day 3. The players were told, however, that the demands of live webcasting on ESPN.com required that brutal schedule.
The remaining players will each make at least $27,029, with $692,658 reserved for the winner. Notable names coming back for a shot at the gold bracelet include Danny Illingworth, Mike Sowers, Thomas Keller, David Benefield, and Liya Gerasimova (who happens to be the girlfriend of 2008 WSOP Main Event runner-up Ivan Demidov).