2009 WSOP: Event #13, Keven Stammen Nabs First Bracelet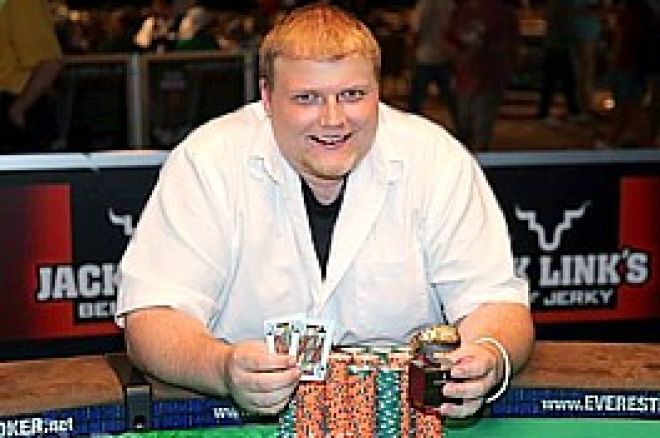 Day 3 of Event #13, $2,500 No-Limit Hold'em was down to its final 20 players when play resumed on Sunday afternoon. After getting down to the final table, it was Keven Stammen who was the last player standing at the shortest final table so far at this year's World Series of Poker, collecting his first gold bracelet and a $506,686 payday.
Phil Ivey, the shortest stack of the players remaining, was not at the table when the tournament restarted. Fortunately for him, Jochen Dickinger and Alan Keating were the first two players eliminated, each collecting $14,413 while everyone else made a small jump in the pay scale. While there was a redraw for the final two tables, Ivey finally made his appearance, down to just 25,000 in chips. Phil was able to double up one time, but was the next to be eliminated when Romeo Piro's
bested Ivey's
to send him home in 18th for $18,467.
Angel Guillen would be the first player to break the one-million chip mark when his pocket aces had Kirill Gerasimov's pocket tens drawing to two outs, and when neither ten showed up on the board, the Russian was exiled in 17th place for $18,467. Philip Sousa also earned $18,467 for 16th place when his A-4 was no good against Garrett Beckman's pocket sixes.
The next player to go over one million chips would be Keven Stammen, whose black aces went up against the
of Roland de Wolfe. No more kings were coming for de Wolfe, who finished in 15th for $25,824, while Keven Stammen moved into the lead with 1.1 million in chips. Brett Switzer would be the next player to make his exit in 14th place, followed by Qinghai Pan in 13th, each receiving $25,824 for his efforts. Jeff Tunkel was the next player to fall by the wayside, finishing in 12th place, good for $35,384.
The players would get to a ten-handed table after the elimination of Romeo Piro in 11th place ($35,584). After a pair of all-in hands that resulted in chopped pots, Garrett Beckman took
against Shawn Glines'
, but was unable to improve, finishing in tenth place ($35,584) to set our final table. Bahador Ahmadi remained the chip leader, while the other players were seated as follows:
Seat 1 — Oktay Altinbas (480,000)
Seat 2 — Shawn Glines (1,092,000)
Seat 3 — Antoine Berube (477,000)
Seat 4 — Keven Stammen (1,400,000)
Seat 5 — Gregg Merkow (495,000)
Seat 6 — Bahador Ahmadi (1,786,000)
Seat 7 — Matthew Lynn (348,000)
Seat 8 — Torrey Reily (380,000)
Seat 9 — Angel Guillen (1,500,000)
Gregg Merkow started the day as the chip leader, but a series of setbacks put him among the short stacks. On a five-high flop, Merkow went all in with his pocket sevens. Stammen held pocket tens, and when the third seven didn't come, it was no jackpot for Gregg Merkow, finishing in ninth place ($41,439) while Stammen broke the two-million chip mark to retake the lead. Matthew Lynn finished in eighth ($48,621) when Bahador Ahmadi regained the chip lead at his expense after Ahmadi's
outflopped Matthew Lynn's
.
Just 33 hands into the final table, only five players were remaining after Oktay Altinbas finished seventh ($59,356) and Antoine Berube finished sixth ($75,547). Meanwhile, Keven Stammen reclaimed the chip lead when his
flopped two pair against Bahador Ahmadi (who mucked without showing) to take down a pot worth over two million. Stammen moved to over 3.7 million in chips, while Ahmadi fell to 670,000.
When the players returned from their dinner break to the 20,000/40,000 blind level, Torrey Reily had just 495,000 remaining as he played few hands in his move up the pay scale. On the second hand back, Reily's
was dominated by Bahador Ahmadi's
, which made a flush to knock out Torrey Reily in fifth place ($100,446). Ahmadi looked to dispose of Angel Guillen next, but Guillen's A-Q outflopped Ahmadi's pocket fours to take Ahmadi's stack down to just 300,000. Keven Stammen dealt the coup de grace, finishing off Ahmadi in fourth place ($139,934) on the next hand when his
outraced Ahmadi's
.
Three hands later, Keven Stammen's pocket kings faced off against Shawn Glines' A-K, and no ace would come for Glines, who collected $202,694 for his third-place finish. Keven Stammen and Angel Guillen were left to play it out for a bracelet after just 70 hands at the final table, with Stammen holding over a 2-to-1 chip lead.
Stammen would eventually take his stack to over 6.7 million in chips, with Guillen holding the remaining 1.5 million. Guillen started to chip away at Stammen's stack, to bring himself within two million chips when the final hand of the tournament played out. Keven Stammen made a button raise to 150,000, which Angel Guillen called. When the flop came down
, a series of bets put Guillen all in holding
for top pair and a flush draw. Stammen held
for an overpair. The
on the turn gave Guillen additional outs with an open-ended straight draw. The river was the
as Guillen would be eliminated. Angel Guillen earned $312,800 for his second-place finish, while Keven Stammen collected $506,786 and his first WSOP gold bracelet.