2009 WSOP: Sagstrom Leads Final Table of HORSE #49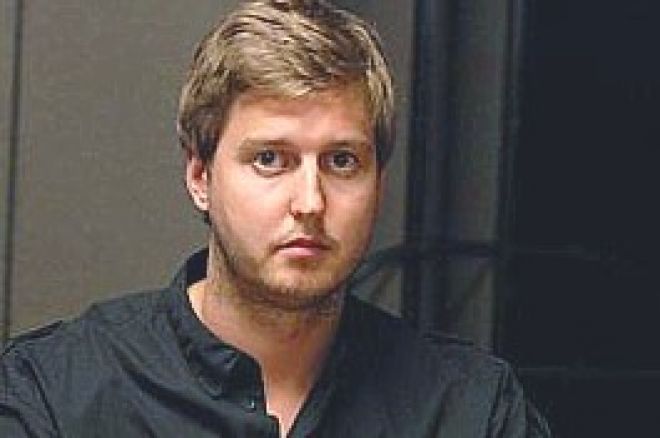 From nineteen to eight. That's all the ground covered in Event #49, $50,000 World Championship HORSE on Day 4, but those 11 spots felt like light-years for the 19 competitors returning to the Rio yesterday. Play resumed three spots off the money, and finished up at the final table, as the bubble burst early and the final table was set late. Along the way, the top names at the leaderboard barely budged, as Erik Sagstrom went from second to first, and Vitaly Lunkin shifted down one spot from first to second. The action behind them was fierce, though, as players fought to keep their chances at the final table and the coveted custom bracelet alive.
Todd Brunson came into Day 4 as the shortest of stacks, and it didn't take long for all his chips to end up in the middle. He squared off against Vitaly Lunkin in an early stud hi/lo hand, but bricked out for his demise. Brunson started with [
]
, but all he could muster at the end of the hand was a pair of sevens with no low. Lunkin started the hand with [
]
and made a pair of eights on fourth street, which held up to send Brunson home just out of the money.
Stud hi/lo was equally unkind to Brett Richey as he busted in 18th place. The hand started off with four players going to fourth street, as Richey completed and got action from Lunkin, Ray Dehkharghani, and Ville Wahlbeck. Wahlbeck made open queens on fifth street, and Dehkharghani and Lunkin both got out of his way. Wahlbeck showed [
]
to Richey's [
]
. Richey picked up the
on sixth for two pair of his own, but he failed to fill up on the river, and Wahlbeck's better two pair sent him packing.
Frank Kassela was the bubble boy, getting action from Huck Seed and Ray Dehkharghani in what turned out to be his final hand. In the razz round, Kassela completed on third street with the
in the door, and Seed and Dehkharghani both called. Seed folded to Kassela's bet on fourth street, and Dehkharghani raised. Kassela three-bet for all his chips, and Dehkharghani called with a 7-5 board. Kassela showed [6-8] 5-3 for a draw to an 8-6 low, as Dehkharghani showed [3-8] 7-5 for a draw to a worse eight. Kassela's board ran out 9-6 [4] to make an 8-6-5-4-3, and Dehkharghani bricked on fifth street with the
before catching running low cards on sixth and seventh to finish with 7-6-5-3-A. With Kassela's elimination the bubble was burst and the players redrew for the final two tables.
John Kabbaj was the first in-the-money elimination when he was sent packing in 16th place ($72,914), and his demise also came in razz. He and Erik Seidel kicked up the action on fifth street, when Seidel led out showing 4-3-7. Kabbaj raised with 5-5-3 up, and Seidel called. Seidel caught a nine on sixth and led out when Kabbaj bricked with a queen. Kabbaj called, and then raised Seidel on the river. Seidel called with a smooth seven, showing 7-4-3-2-A, and Kabbaj was drawing dead with a 7-5-3-2-x.
The action went back to hold'em before the next elimination, and this time it was Steve Billirakis heading the rail. Billirakis raised and got one caller in Vitaly Lunkin. The flop came down
, and Lunkin check-raised. Billirakis called, and the turn brought the
. Lunkin bet out, and Billirakis called once more. The
hit the river, and Lunkin led out one last time. Billirakis raised all in, and Lunkin quickly called with
for aces full of nines. Billirakis'
for aces full of sevens was no good, and he picked up $72,914 for his 15th-place finish.
Freddy Deeb held the title of last champ standing, but he relinquished the "standing" part of it when he was ousted in 14th place ($83,630) courtesy of Gus Hansen. Deeb lost most of his chips in a pot with Erik Sagstrom, and found himself all in from the big blind against Hansen, who raised from the button. Deeb was in good shape preflop as his
was marginally ahead of Hansen's
. All that changed on the flop as it came down
. Deeb needed a ten or an ace to stay alive, but the board missed him as it completed
and
.
Tony G headed to the rail in 13th place ($83,630) after a whopper of a stud hand that saw betting and raising all the way to the river. Tony G was the bring-in with the
in the door, and David Chiu, Erik Sagstrom, and Gus Hansen all came along for the ride. The fireworks started on fourth street as the raises and reraises started to fly. Chiu got out of the way as Tony G, Sagstrom, and Hansen went to war. When the dust settled, Tony G was all in by fifth street, but Sagstrom and Hansen kept hammering at each other in the side pot. By seventh street, Sagstrom's board read
, and Hansen's looked like
. Hansen folded to a river bet from Sagstrom, who opened
in the hole for a queens-up that rivered the flush. Tony G could only show [
]
[
] for two pair, and Tony G was on his bike in 13th place as Sagstrom solidified his chip lead.
David Chiu was the next to fall in a three-way Omaha hi/lo hand against John Hanson and Ville Wahlbeck. After a preflop raise from Hanson, the last of Chiu's chips went into the middle preflop, and Hanson and Wahlbeck checked down the
board. Chiu looked good when he showed
for the second-nut flush, but Wahlbeck tabled a pair of sevens for sevens full of jacks, and Chiu was done in 12th place ($99,590).
Omaha hi/lo claimed another victim in Ray Dehkharghani, who busted in 11th place ($99,590) in a three-way pot with Huck Seed and Vitaly Lunkin. Lunkin opened for a raise from the button, Dehkharghani three-bet all in from the small blind, Seed called from the big blind, and Lunkin called as well. The live players checked down the
board, and Dehkharghani showed
for aces up, but Seed tabled
for aces up with a better kicker. Lunkin's kings were no good as Seed scooped the pot and Dehkharghani headed to the rail.
When Mike Wattel busted in tenth place ($123,895), the remaining nine players gathered around one table for the final elimination of the evening. Wattel's demise came in Omaha hi/lo after Wattel got all his chips in against Chau Giang on the
flop. Giang tabled
for three pair and a gutshot Broadway draw, and Wattel was in trouble with
. The
on the turn locked up the hand for Giang as he made Broadway and there was no low possible. The river was an irrelevant
, and Wattel's tournament was done.
With big limits and aggressive players, it didn't take long to reach the final table once play consolidated to one nine-handed table. Gus Hansen was the victim, Omaha hi/lo was the game, and ninth was his finishing position. Five players saw the
flop after Vitaly Lunkin raised. Chau Giang led out after the flop, Ville Wahlbeck and Erik Sagstrom both folded, Hansen called all in, and Lunkin called as well. Giang fired again on the
turn, and Lunkin got out of the way. Giang opened
for trip kings, and Hansen needed help with
. The
on the river filled Giang's boat, and Hansen was the final table bubble boy in ninth place ($123,895).
The final table seating assignments and chip stacks looked like this as Erik Sagstrom bagged the biggest stack at the final table. Ville Wahlbeck finished Day 4 on the short stack, but locked up his impressive fourth final table of the 2009 WSOP. Event #2, $40,000 No-Limit Hold'em champ Vitaly Lunkin finished the day in good shape, as did David Bach.
Seat 1 - Ville Wahlbeck, 645,000
Seat 2 - Erik Sagstrom, 3,675,000
Seat 3 - John Hanson, 1,700,000
Seat 4 - Huck Seed, 1,380,000
Seat 5 - Vitaly Lunkin, 2,490,000
Seat 6 - David Bach, 2,345,000
Seat 7 - Erik Seidel, 965,000
Seat 8 - Chau Giang, 1,075,000
Join PokerNews at 2PM local time for all the live updates from the final table.